Jean Schulz awarded NASA achievement medal for sending Snoopy to the moon
'Jeannie's support through the NASA-Peanuts partnership has helped many recognize the value of NASA.'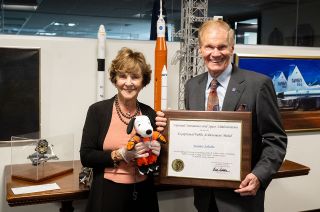 (Image credit: NASA/Joel Kowsky)
The widow of Peanuts' creator Charles M. Schulz has been recognized for being a "huge champion" of NASA and inspiring millions of people around the world by sending Snoopy to the moon.
NASA Administrator Bill Nelson presented Jean Schulz with the space agency's Exceptional Public Achievement Medal, one of its highest honors, on Wednesday (April 5). The award was in response to Schulz's role in extending the legacy and vision of her late husband by building upon the partnership between Peanuts Worldwide and NASA.
"Snoopy helped NASA inspire an entire generation about the limitless possibilities of space exploration during the Apollo era," said Nelson, speaking at the Kennedy Center for Performing Arts in Washington, D.C. as part of a performance of "Our Blue Planet," a celebration of Earth and its waters. "Today, Jeannie is helping keep that spirit alive with Artemis."
Related: Everything you need to know about NASA's Artemis moon program
During a visit to NASA Headquarters earlier that same day, Schulz and Melissa Menta, executive vice president at Peanuts Worldwide, showed Nelson the custom-made Snoopy that flew on board the uncrewed Artemis 1 mission in late 2022. The doll was dressed in a spacesuit that was both modeled after and made out of the same materials as NASA's Artemis astronaut launch and entry garment.
The plush "zero-gravity indicator," which was seen floating at the end of a leash (or tether) inside the Artemis 1 Orion spacecraft, continued Snoopy's association with NASA that began more than 50 years ago. The comic strip beagle has served as a safety mascot at NASA and was the namesake for the Apollo 10 lunar module (together with "Charlie Brown," the mission's command module).
Snoopy has even become an award himself. NASA's Silver Snoopy pin is presented to space program workers whose significant contributions have kept astronauts safe and/or led to mission success.
The NASA Exceptional Public Achievement Medal is awarded to individuals who are not in hire of the government and whose "significant specific achievement ... contributes to the mission of NASA."
Related: Snoopy comes home: NASA photos show 'zero-g indicator' after trip to the moon
In 2018, Peanuts Worldwide signed a new agreement with NASA to extend Snoopy's use by the agency to the whole Peanuts gang and beyond just internal communications to engage students in the science, technology, engineering and mathematics (STEM) fields, as well as NASA's deep space missions. The renewed partnership has led to McDonald's Happy Meal toys, a new Macy's Thanksgiving Day Parade giant balloon and an animated series on Apple TV+.
"Jeannie's support through the NASA-Peanuts partnership has helped many recognize the value of NASA. And she is helping NASA inspire a new generation of explorers and scientists the Artemis generation," said Nelson.
With his latest moon mission now over, the Artemis 1-flown Snoopy is heading to its final home for display at the Schulz Museum in Santa Rosa, California. Jean Schulz is president of the board of directors for the museum.
Snoopy's "backup," a similar doll sporting an additional helmet, is now on display at Kennedy Space Center Visitor Complex in Florida as part of the new Peanuts stage show, "All Systems Are Go."
Follow collectSPACE.com on Facebook and on Twitter at @collectSPACE. Copyright 2023 collectSPACE.com. All rights reserved.
Get the Space.com Newsletter
Breaking space news, the latest updates on rocket launches, skywatching events and more!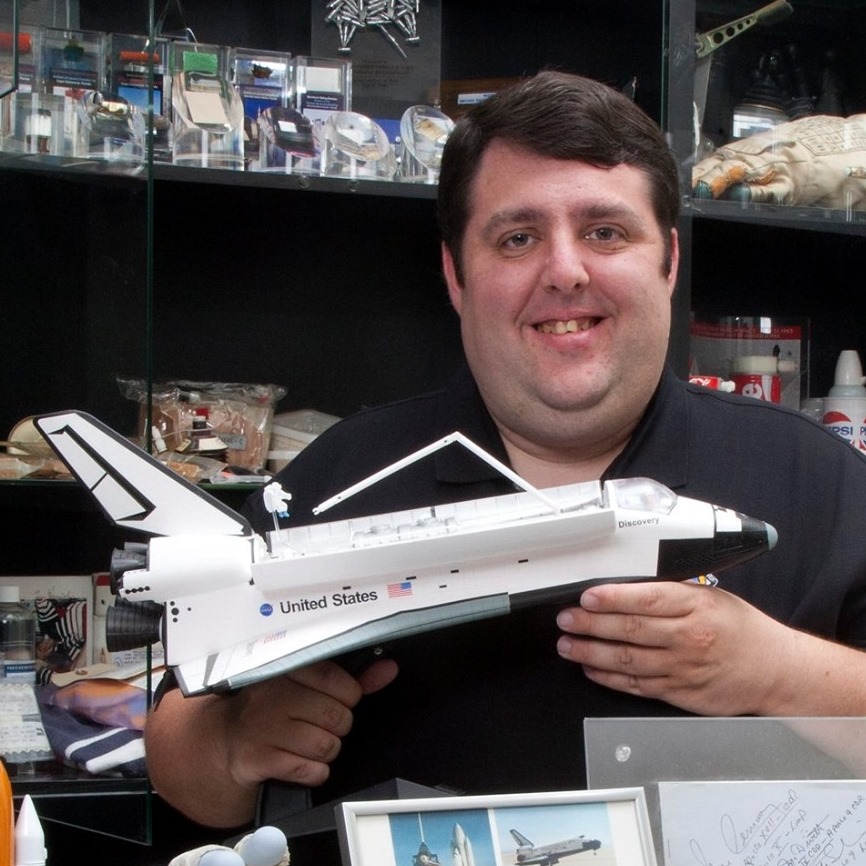 collectSPACE.com Editor, Space.com Contributor
Robert Pearlman is a space historian, journalist and the founder and editor of collectSPACE.com, an online publication and community devoted to space history with a particular focus on how and where space exploration intersects with pop culture. Pearlman is also a contributing writer for Space.com and co-author of "Space Stations: The Art, Science, and Reality of Working in Space" published by Smithsonian Books in 2018. He previously developed online content for the National Space Society and Apollo 11 moonwalker Buzz Aldrin, helped establish the space tourism company Space Adventures and currently serves on the History Committee of the American Astronautical Society, the advisory committee for The Mars Generation and leadership board of For All Moonkind. In 2009, he was inducted into the U.S. Space Camp Hall of Fame in Huntsville, Alabama. In 2021, he was honored by the American Astronautical Society with the Ordway Award for Sustained Excellence in Spaceflight History.