NASA Approves Extension of Boeing Starliner Commercial Crew Test Flight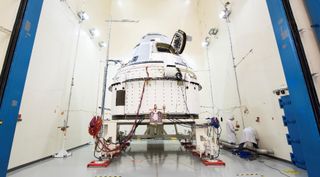 (Image credit: Boeing)
WASHINGTON — A day after Boeing confirmed delays in test flights of its commercial crew vehicle, NASA said that the company's crewed test flight will get an extended stay at the station when it does fly.
In an April 3 statement, NASA said that the Crew Flight Test of Boeing's CST-100 Starliner, expected no sooner than late this year, will be a long-duration flight that could potentially stay at the station for months. The exact duration of the mission will be determined "at a later date," the agency said.
NASA announced a year ago that it was working with Boeing to examine the feasibility of an extended Starliner test flight at the station. That extended mission would effectively turn the test flight into a crew rotation mission as NASA's access to Soyuz seats runs out.
Related: Get an Up-Close Look at Boeing's Starliner Spaceship (Photos)
The two NASA astronauts scheduled to fly on the Crew Flight Test, Nicole Mann and Mike Fincke, have been training on ISS systems in preparation for a potential extended stay at the station. They've been joined by the third crewmember for that mission, Boeing test pilot and former NASA astronaut Chris Ferguson.
"NASA's assessment of extending the mission was found to be technically achievable without compromising the safety of the crew," Phil McAlister, director of the commercial spaceflight division at NASA Headquarters, said in the statement. "Commercial crew flight tests, along with the additional Soyuz opportunities, help us transition with greater flexibility to our next-generation commercial systems under the Commercial Crew Program."
NASA issued a procurement notice in February that it planned to purchase two additional Soyuz seats from the Russian state space corporation Roscosmos, seats that the Russians didn't plan to use for their own cosmonauts. NASA said at the time that those seats would ensure "uninterrupted access to the ISS in the event of a delay in U.S. commercial crew launches."
Russian media has also reported that NASA has approached Roscosmos about adjusting the schedule and crews of upcoming Soyuz missions to the station, including the possibility of having one or more astronauts stay on the station for longer than the standard six-month crew rotation. NASA has not confirmed any changes to those plans.
Related: How Boeing's CST-100 Starliner Spacecraft Works
The NASA statement came a day after Boeing said it was delaying the first, uncrewed Starliner test flight, known as the Orbital Flight Test, from this spring to August. NASA said that "limited launch opportunities in April and May" for the mission on an Atlas 5, and a national security payload scheduled to launch from the same pad in June, prompted the delay.
The most recent official update of commercial crew test flight schedules, released by NASA Feb. 6, stated that the Orbital Flight Test was scheduled for no earlier than April. An April launch, though, was unlikely regardless of the readiness of the spacecraft and launch pad because of heavy traffic at the station in the form of Progress, Cygnus and Dragon cargo missions.
While the Starliner that will fly on the Orbital Flight Test is "nearly complete," according to the agency statement, Boeing will use the additional time to conduct additional testing of the spacecraft.
"While we have already made substantial progress this year, this shift gives us the time to continue building a safe, quality spacecraft capable of carrying crews over and over again after a successful uncrewed test, without adding unnecessary schedule pressure," John Mulholland, vice president and program manager for Boeing's commercial crew program, said in the statement.
There are no plans to extend SpaceX's crewed test flight of its Crew Dragon spacecraft, known as Demo-2, when it flies later this year. NASA astronauts Bob Behnken and Doug Hurley are expected to spend no more than a couple weeks on the station on that test before returning to Earth.
The Demo-2 mission is scheduled for no earlier than July, according to the schedule NASA released in February, a month after an in-flight abort test using the same Dragon spacecraft that flew the uncrewed Demo-1 mission in March. The agency said in its April 3 statement that it and SpaceX will "are expected to reevaluate its target test dates in the next couple weeks."
A SpaceX spokesperson said April 3 that it was still working to that earlier schedule. "SpaceX is on track for a test of Crew Dragon's in-flight abort capabilities in June and hardware readiness for Crew Dragon's second demonstration mission to the space station in July."
This story was provided by SpaceNews, dedicated to covering all aspects of the space industry.
Get the Space.com Newsletter
Breaking space news, the latest updates on rocket launches, skywatching events and more!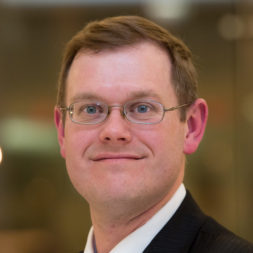 SpaceNews Senior Staff Writer
Jeff Foust is a Senior Staff Writer at SpaceNews, a space industry news magazine and website, where he writes about space policy, commercial spaceflight and other aerospace industry topics. Jeff has a Ph.D. in planetary sciences from the Massachusetts Institute of Technology and earned a bachelor's degree in geophysics and planetary science from the California Institute of Technology. You can see Jeff's latest projects by following him on Twitter.