The Celestron PowerTank is first and foremost a rechargeable portable 12V power supply, primarily for computerized telescopes but also suitable for many other electrical products thanks to the addition of two USB-A output ports.
The PowerTank usually costs around $185, but you can get it today for $125 as a Prime Day Deal; a $60 saving is nothing to be sniffed at.
It employs Lithium Iron Phosphate as opposed to less environmentally friendly lead acid. This means an increase in charge/discharge cycles (an impressive 2,000 recharges) and quicker recharge rates and once we get our hands on it for review we'll see if it lands in our best power banks guide.
Not only this, but the PowerTank also has a built-in red/white flashlight. The red light is to help preserve your night vision when moving around your astronomy or astrophotography setup.
---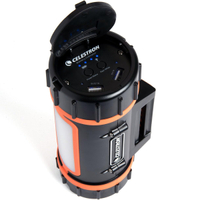 Celestron PowerTank: was $184.95 now $125.12 from Amazon.
Save $60 on the Celestron PowerTank and extend your sky-watching sessions without needing to take batteries. You can leave your flashlight at home too as this has one built in!
---
The PowerTank Lithium's 86.4 Wh capacity will keep your scope powered up for ten hours of continuous use, which should be more than enough for most observers, possibly even over a couple of nights.
There are two separate LED's inside — one red and one white. Preserve your night vision with the red LED until it's time to pack up when you can switch over to white. No need to carry a separate flashlight with you (though if you wanted to, you can find some of our favorites in our best flashlight guide).
The Celestron PowerTank Lithium can be strapped onto your telescope's tripod leg using the built-in strap, so there's no need for extra bungee cords or accessory trays either, and this minimizes the risk of misplacing it in the dark.
Don't forget, if you want to make the most of Amazon Prime Day 2023, check out our Amazon Prime Day hub for a roundup of the best discounts and deals on telescopes, binoculars, cameras, star projectors, drones, lego and much more.
Key Specs: The Lithium metal battery will last for up to 2000 charge cycles. It takes three hours to charge from flat and will keep your telescope powered up for up to ten hours. It only weighs 2.25 lbs and is 7.5 x 3-inches so it's a good bit of space-saving, multifunctional kit.
Consensus: A great astronomer-friendly power bank from one of the world's premier telescope brands. Charge your devices anywhere or extend your skywatching sessions without worrying about running out of power.
Buy if: You're fed up with replacing AA batteries in your electronic telescope, especially if you have a power-hungry scope like the Celestron NexStar 4SE.
Don't buy if: You prefer wearing a headlamp (thus making the light functionality redundant) or are looking for something with a much bigger capacity for multi-day trips.
Alternative models: If you need backup or emergency power for more than one day, consider investing in a power station. We have recently reviewed the Zendure SuperBase Pro Power Station and the Ugreen PowerRoam 1200 PowerStation (which we've yet to publish but would highly recommend). The latter has 25% off for today only. If you don't need a power bank with a 12V connection, there are plenty of alternative power banks in our best power banks guide such as the BioLite Charge ar the Zendure SuperTank Pro.