Amelia Earhart's goggles — the pair she wore to become the first woman to fly solo across the Atlantic Ocean in 1932 — have now spanned another divide: the boundary between Earth and space.
The well-traveled aviator specs, which Earhart once described as "rather historic," lifted off again Tuesday (July 20) aboard Blue Origin's first crewed flight of its New Shepard suborbital launch vehicle.
"You can see she put tape over them to make less light come in because it was so bright all the day and she was flying for so long," said Jeff Bezos, Blue Origin's billionaire founder, at a press conference following his and his three crewmates brief flight into space.
Related: Jeff Bezos launches into space on Blue Origin's 1st astronaut flight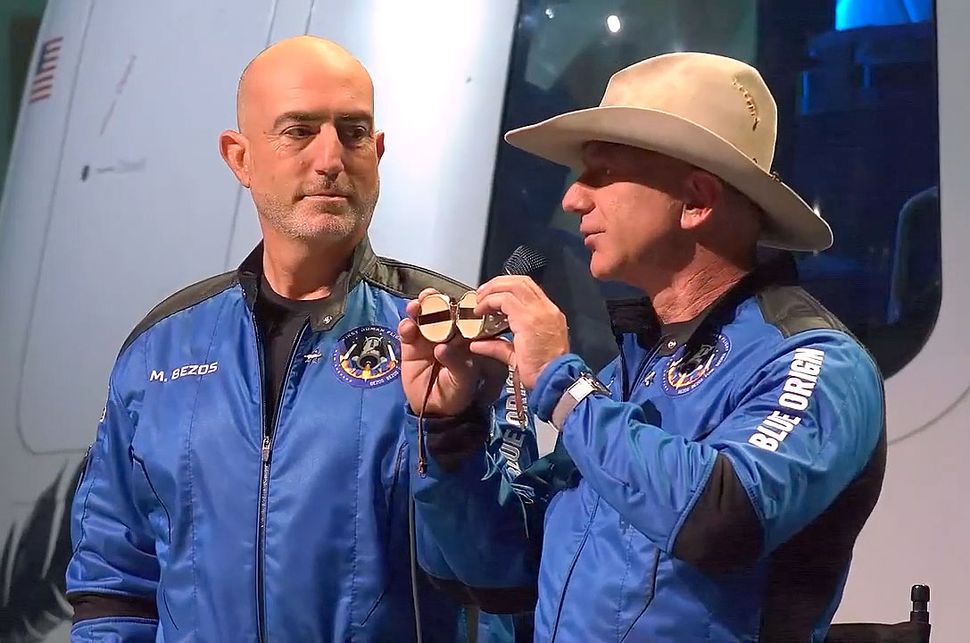 Earhart famously disappeared in flight in 1937, leaving the goggles behind. Once on loan to the Smithsonian's National Air and Space Museum, the eyepieces sold for $141,600 at a 2009 auction to an unidentified bidder.
Bezos, still on a high from achieving his own dream of spaceflight, could not resist and held the goggles up to his eyes.
"I like to think if Amelia was here, she would be very, very proud of... Wally," he said, referring to his New Shepard crewmate, Wally Funk.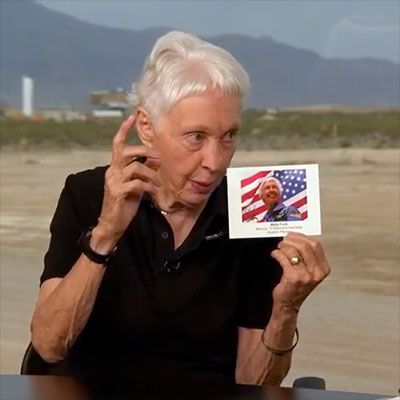 An accomplished pilot in her own right, who in her youth joined a group of women, the so-called "Mercury 13," to undergo some of the same medical tests as NASA's first astronauts, Funk on Tuesday became the oldest person to fly into space at the age of 82. She chose to fly a picture postcard of herself showing her standing in front of an American flag.
"That is what is going to be on the window when I go up and I am going to take a picture of it with Earth behind me," Funk said in a Blue Origin interview prior to the launch.
Related: 'Woohoo!' Jeff Bezos and Blue Origin's first passengers revel in their launch to space
Mark Bezos, Jeff's younger brother and the third crewmate aboard New Shepard, arranged for the loan of two other aviation artifacts to make the journey. The Bezos brothers are now the first blood relatives to launch into space together, just as another pair of siblings made aeronautical history more than a century ago.
"We were able to fly a piece of canvas from the Wright Flyer, the plane that the Wright brothers flew," said Mark. "We brought a piece of that canvas, which was really powerful."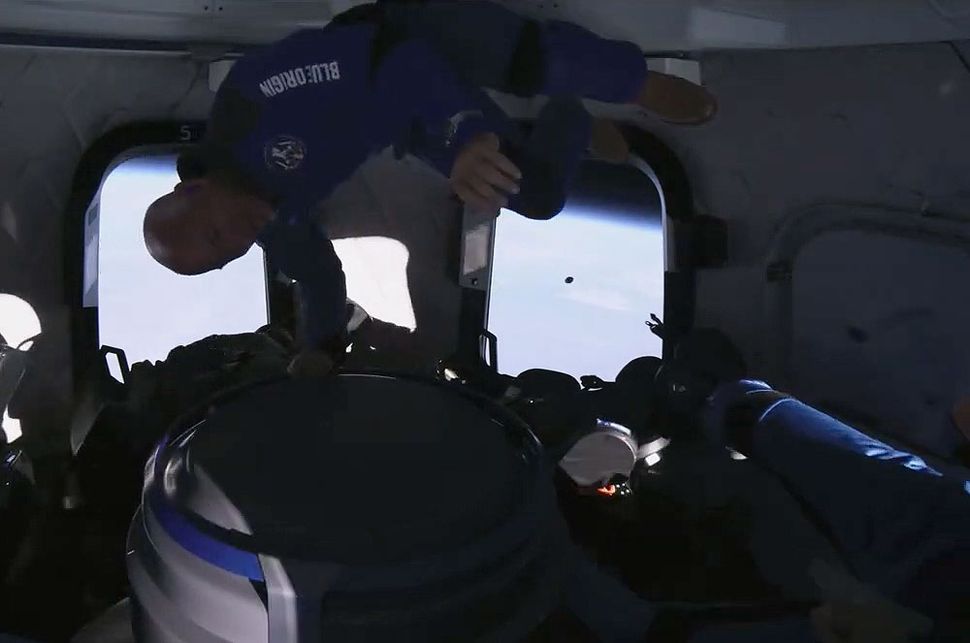 The 10-minute flight marked the latest space journey for Flyer fabric. Previous fragments were flown to the moon by Apollo 11 astronaut Neil Armstrong, into Earth orbit with astronaut John Glenn on his second flight into space and attached to NASA's Perseverance rover for its trip to search for life on the surface of Mars.
The Bezos brothers also flew a bronze medallion that was "made from the first hot air balloon flight in 1883," which was the first time humans departed the ground in controlled flight."
"We were very thrilled to bring both of those items with us," said Mark.
Related: Blue Origin's launch with Jeff Bezos: Everything you need to know
"And we brought those precious items back," Jeff was quick to add. Both the Flyer fabric and medallion were on loan from The Explorers Club in New York City.
Jeff Bezos had one more freshly-flown memento to present, a necklace with a silver pendant in the shape of Blue Origin's feather logo, which he carried to space for his and Mark's mother.
"I wore this up in space and now it is for you," he said.
Together with Oliver Daemen, an 18-year-old Dutch physics student who became Blue Origin's first paying passenger to fly into space, the Bezos brothers and Funk also received a memento of their flight.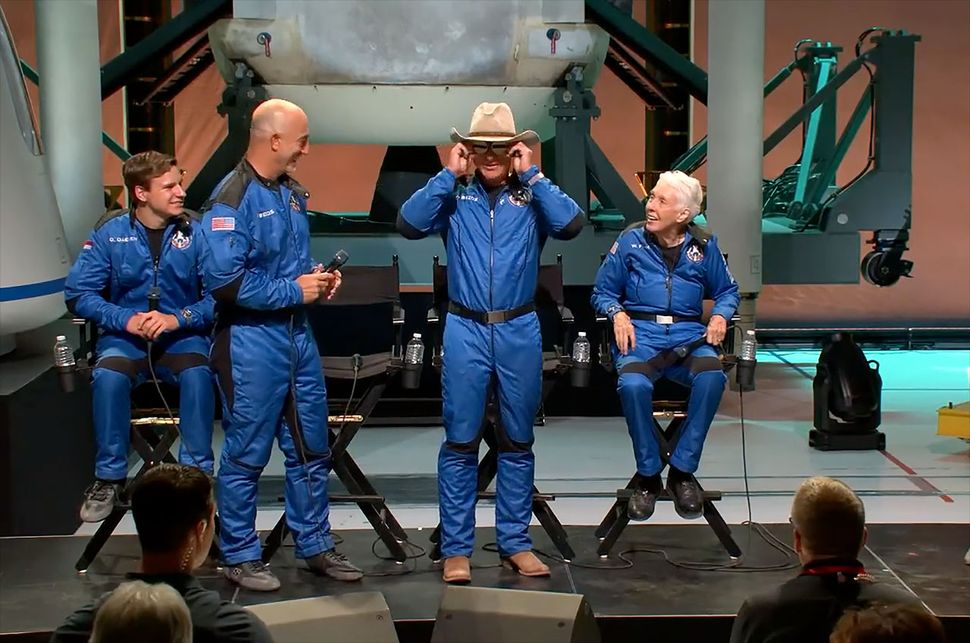 "These astronauts will wear a set of wings in the shape of the letter 'A,'" said Jeff Ashby, Blue Origin's chief of mission assurance and a former NASA astronaut. "The side pieces represent the road to space and our feather logo is the cross bar. At the top, a tiny blue sapphire [is there] to remind these folks that they are from planet Earth and they have a mission to protect this home."
Video of the crewmates floating inside the New Shepard's capsule revealed they had at two other items along for the ride. The four tossed around small, ping-pong-size orange balls and took turns trying to catch Skittles-brand fruit candies.
"Who wants a Skittle? See if you can catch this in your mouth," said Jeff Bezos.
Follow collectSPACE.com on Facebook and on Twitter at @collectSPACE. Copyright 2021 collectSPACE.com. All rights reserved.