Amazon Prime Day has now ended but you can still save 25% on the Celestron SkyMaster 25x70 binoculars by grabbing them from Walmart in this anti-Prime Day deal. An anti-Prime Day deal is simply a deal from another retailer while Amazon hosts its Prime Day event and Walmart is carrying on this deal even though Prime Day has now ended. Here you can view the night sky in all its glory with quality optics for a quarter of the price.
Save 25% when you grab the Celestron SkyMaster binoculars from Walmart instead of Amazon, now only $59.
So what makes these binoculars worth getting? Not only is it a pretty good price to pay but Celestron is a manufacturer known for quality and reliability. In fact, three of their SkyMaster binoculars feature in our best binoculars guide. This particular model offers plenty of power (25x magnification) and plenty of light-gathering ability with its 70mm aperture. A carry case is also included in the price and you can check the specs of this model below.
This is a pretty good deal to bag but if it's not quite what you're looking for then we invite you to check out our round-ups of the best binoculars deals on the market. You can also take a look at the best telescopes and telescope deals around.
---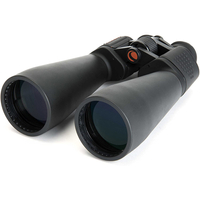 Celestron SkyMaster 25x70 Binoculars: was $79 Now $59 on Walmart.
Save 25% ($20) on an excellent pair of binoculars. The 25x magnification makes them powerful enough for decent views of the moon and stargazing. The 70mm aperture means plenty of light passes through the lens so objects appear brighter in darker settings. The baK-4 prisms and multi-coated optics also allow for crisper, clearer views.
---
There's a lot to like about this deal, yes you get a quality, powerful pair of binoculars but you also get a carry case which means transporting them is no issue. It comes with BaK-4 prisms and multi-coated optics which allow for enhanced contrast and clearer views of your targets. The eye relief on these binoculars also means they're more friendly for people who wear eyeglasses.
Don't forget, if you want to make the most of Amazon Prime Day 2023, check out our Amazon Prime Day hub for a roundup of the best discounts and deals on telescopes, binoculars, cameras, star projectors, drones, Lego and much more.
Key Specs: 70mm objective lens diameter, 25x magnification, baK-4 prisms, multi-coated optics, long eye relief and a carry case are all included.
Consensus: You get quite a lot for just $59, there are other binoculars on the market for more that offer less. If you're looking for a relatively low-risk investment for stargazing, you can't really go wrong here. It's a good deal.
Buy if: You want a pair of binoculars to view the stars and get a decent look of the moon and long-distance terrestrial targets.
Don't buy if: You want the absolute best views of the moon a pair of binoculars can offer or you want to view deep space, in which case we would recommend a telescope.
Alternative models: If these binoculars aren't quite to you're liking then we would recommend the Celestron SkyMaster 15x70 as their similar but slightly less powerful and we rate them as the best for moon views. We would also recommend the Celestron SkyMaster 25x100 as they're the best for magnification and they have a larger aperture.