Disney's Buzz Lightyear, Wall-E Explore Space For NASA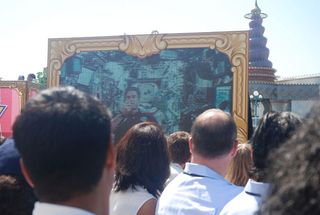 (Image credit: <a href=http://www.collectspace.com/>collectSPACE.com</a>)
"Pleasegive a big green welcome to everybody's favorite space ranger ... BuzzLightyear!" hollered the sergeant of the green army men, as Sheriff Woody,his horse Bullseye, cowgirl Jessie and Bo Peep looked on.
But the toyspaceman did not appear.
"Everybody'sfavorite space ranger, Buzz Lightyear!" the sergeant restated, but Buzzwas no where to be found. Instead, his creator, John Lasseter, jumped onto thestage.
"Iforgot to tell you that Buzz blasted off on a special mission in outer space.Not toy outer space ... real outer space," explained Disney-Pixar's chiefcreative officer.
No, thiswas not an early preview of "Toy Story 3," which is targeted fortheaters in 2010, but rather a part of the opening ceremonies for "ToyStory Mania," the newest attraction at Disneyland Resort's CaliforniaAdventure in Anaheim. The festivities, held on June 17, included the on orbitdebut for the space ranger who was introduced in Lasseter's 1995 film,"Toy Story".
Now it was thescience of NASA rather than the magic of Disney that garnered the "oohsand aahs" from the crowd of invited guests and the loudest perhaps, fromLasseter himself. A large screen projected video of the 12-inch toy BuzzLightyear floating alongside NASA astronaut GregChamitoff on-board the International Space Station (ISS).
Click here for thevideo of astronaut Greg Chamitoff and Buzz Lightyear on the ISS, as well asfootage of Buzz floating through the outpost and NASA's Wall-E public serviceannouncement.
"Wow!That is awesome!" exclaimed Lasseter. "Oh man, I am sorry, but to seea character you created floating in space ... that is amazing."
It was asentiment Lasseter repeated in an interview withcollectSPACE.com as he discussed the educational partnership between NASA and Disney that led to Buzz being launched on the space shuttle and, separately, Pixar's title character Wall-E appearing in a new NASA public service announcement.
"Theyapproached me with the idea of what do you think about having Buzz actually goup in space and I'm like, 'Are you kidding?!?'" said Lasseter, reenactinghis pose, with his mouth wide open. "You mean we can actually dothis?"
"Iknow how certain things have been taken up into space and kind of put in thehold so they can say that this 'blank' or flag was up in space. Then they said,'No, he's actually going to be out, you know, with the astronauts floating inweightlessness.' And I thought 'Oh, this is so cool!' cause part of it for meis that I love to have these characters ... live beyond the boundary of thefilm. I think in how that manifests itself in so many different ways isexciting," he shared.
"Tohave Buzz Lightyear, a character that has become so loved by kids and families,to be used to help kids become interested in science and space and physics andall those things, that was so cool," said Lasseter.
NASAagrees. Under the terms of their partnership with Disney Parks, Buzz's sixmonth-stay on the ISS was traded for use of Lightyear's likeness in a newseries of educational games available through NASA's website. The games aredesigned to teach students the basics of space flight, as is Buzz's missionitself, which continued the space agency's popular Toys in Space program. Theaction figure will be used to draw the attention of kids to experimentsperformed by Chamitoff on-boardthe station.
"Thecritical aspect is the kids and getting them excited about math, science andspace," said Jim Kelly, who flew as pilot of space shuttle Discovery in2005. "If we can catch the kids when they are young with things that theylove, like Buzz Lightyear being on orbit, and that excites their imagination,that's critical to getting them to go into those areas later in life."
Kelly, norelation to Mark Kelly who commanded the mission thatdelivered Buzz to the station at the start of this month, attended theDisneyland event representing NASA with Assistant Administrator for EducationJoyce Leavitt Winterton. According to Kelly, who spoke with collectSPACEafterwards, Disney made the right choice of characters to send to space.
"Ithink that was a good choice on their part, given his background and hismission 'to infinity and beyond.' I think he was the right one to pick to go upto the space station," said Kelly.
Click here tocontinue reading about John Lasseter's inspiration for BuzzLightyear and how director Andrew Stanton was personally inspired by the spaceprogram to create Wall-E.
Copyright 2008 collectSPACE.com. All rightsreserved.
Get the Space.com Newsletter
Breaking space news, the latest updates on rocket launches, skywatching events and more!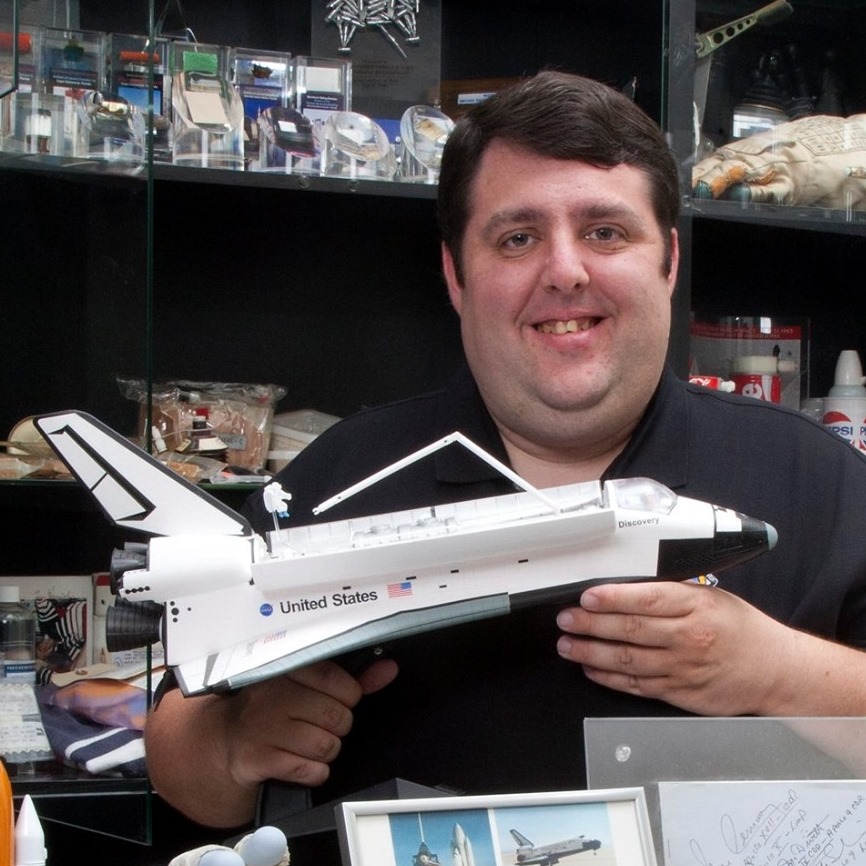 collectSPACE.com Editor, Space.com Contributor
Robert Pearlman is a space historian, journalist and the founder and editor of collectSPACE.com, an online publication and community devoted to space history with a particular focus on how and where space exploration intersects with pop culture. Pearlman is also a contributing writer for Space.com and co-author of "Space Stations: The Art, Science, and Reality of Working in Space" published by Smithsonian Books in 2018. He previously developed online content for the National Space Society and Apollo 11 moonwalker Buzz Aldrin, helped establish the space tourism company Space Adventures and currently serves on the History Committee of the American Astronautical Society, the advisory committee for The Mars Generation and leadership board of For All Moonkind. In 2009, he was inducted into the U.S. Space Camp Hall of Fame in Huntsville, Alabama. In 2021, he was honored by the American Astronautical Society with the Ordway Award for Sustained Excellence in Spaceflight History.