Old Galaxy Finds Fountain of Youth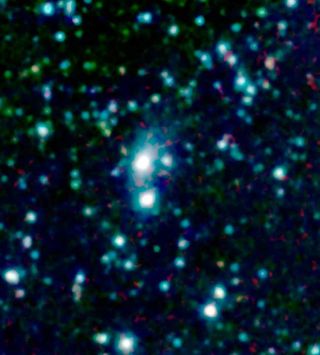 (Image credit: NASA/JPL-Caltech)
In a galaxy far, far away, a theft of cosmic proportions is taking place in an effort to claim the fountain of youth.
A massive galaxy is stealing a billion suns worth of gas from a smaller galactic neighbor. In space, gas is a hot commodity. Really hot. In this case, about 1,340 degrees Fahrenheit (730 degrees Celsius). And it's great for making new stars.
"We may be viewing the larger galaxy in a rare, brief stage of its reincarnation from an old galaxy to a youthful one studded with brilliant stars," said Patrick Ogle of NASA's Spitzer Science Center at the California Institute of Technology.
The robber, called 3C 326 North, is about the mass of our Milky Way galaxy, and its victim, 3C 326 South, is about half its mass. They are close enough to perturb each other gravitationally and might eventually collide. Such galaxy mergers are common in the universe: Gas and stars in two nearby galaxies become tangled until they become one larger galaxy. The case of 3C 326 is the clearest example yet of large quantities of gas being heated and siphoned from one galaxy to another.
"This could be an important phase in galaxy mergers that we are just now witnessing," Ogle said.
The scene was imaged by NASA's Spitzer Space Telescope and are reported in the Oct. 20 issue of the Astrophysical Journal.
The scene of the crime is about a billion light-years away. So in reality, the theft took place a billion years ago, but the light revealing it has only just arrived.
Top 10 Strangest Things in Space
Top 10 Star Mysteries
Get the Space.com Newsletter
Breaking space news, the latest updates on rocket launches, skywatching events and more!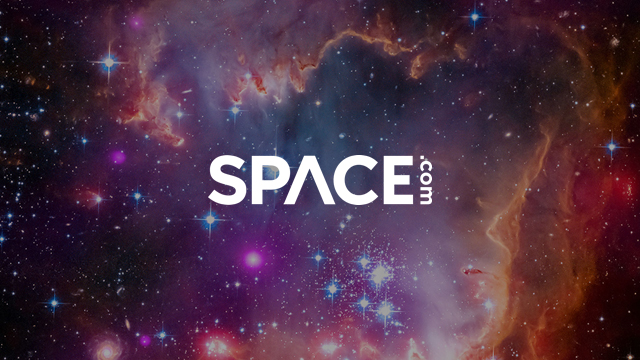 Space.com is the premier source of space exploration, innovation and astronomy news, chronicling (and celebrating) humanity's ongoing expansion across the final frontier. Originally founded in 1999, Space.com is, and always has been, the passion of writers and editors who are space fans and also trained journalists. Our current news team consists of Editor-in-Chief Tariq Malik; Editor Hanneke Weitering, Senior Space Writer Mike Wall; Senior Writer Meghan Bartels; Senior Writer Chelsea Gohd, Senior Writer Tereza Pultarova and Staff Writer Alexander Cox, focusing on e-commerce. Senior Producer Steve Spaleta oversees our space videos, with Diana Whitcroft as our Social Media Editor.