Rocket Lab Sets Date for First Commercial Launch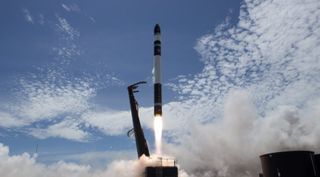 (Image credit: Rocket Lab)
WASHINGTON — Rocket Lab plans to perform the first commercial launch of its Electron rocket later this month, carrying satellites for at least two companies, the company announced April 3.
In a statement, Rocket Lab said the launch window for the mission, dubbed "It's Business Time," from its New Zealand launch site will open April 19 at 8:30 p.m. Eastern time (April 20 12:30 p.m. local time). That launch window is open for four hours each day, extending for two weeks.
The launch will be the third for Rocket Lab, headquartered in the United States but with launch operations in New Zealand. An inaugural test launch in May 2017 failed to reach orbit after a telemetry problem triggered range safety systems, while a second test launch Jan. 20 was a success, placing several small satellites into orbit. After the second test launch, Rocket Lab declared the Electron operational and would begin regular commercial service.
On the upcoming Electron launch, the Electron will carry two Lemur-2 cubesats for Spire, a company that operates a constellation of such satellites for collecting weather and ship-tracking data. It will also carry a satellite built by Tyvak Nano-Satellite Systems for GeoOptics, a company that also is developing a constellation to collect weather data through GPS radio occultations.
Rocket Lab spokesperson Morgan Bailey said April 3 that the company could not disclose yet if there will be other payloads on the launch, citing ongoing licensing of the mission by the New Zealand government. She also did not say if this mission will also use a kick stage tested on the January launch to circularize the orbits of the payloads and space out their deployments.
Swarm Technologies, a California company developing cubesats to provide Internet of Things communications services, had reportedly planned to launch four satellites on this launch. However, the Federal Communications Commission revoked its authorization for those satellites after finding that the company launched four other satellites in January without an FCC license.
Rocket Lab plans to increase its launch rate as the year progresses, reaching a rate of one launch a month by the end of the year. In the statement, the company said it is accelerating production of the Rutherford engines used on the Electron at its California facility.
"Rocket Lab is the only small launch provider that has reached orbit and delivered on promises to open access to space for small satellites," Peter Beck, chief executive of Rocket Lab, said in a statement. "We can have payloads on orbit every 72 hours and our rapidly expanding manifest shows this is frequency is critical for the small satellite market."
The company also announced April 3 it had hired a new chief financial officer. Adam Spice joins Rocket Lab from MaxLinear, an electronics company. He has more than 20 years of finance and related experience from work at MaxLinear and several other electronics companies.
This story was provided by SpaceNews, dedicated to covering all aspects of the space industry.
Get the Space.com Newsletter
Breaking space news, the latest updates on rocket launches, skywatching events and more!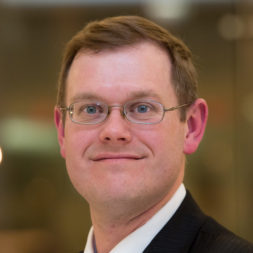 SpaceNews Senior Staff Writer
Jeff Foust is a Senior Staff Writer at SpaceNews, a space industry news magazine and website, where he writes about space policy, commercial spaceflight and other aerospace industry topics. Jeff has a Ph.D. in planetary sciences from the Massachusetts Institute of Technology and earned a bachelor's degree in geophysics and planetary science from the California Institute of Technology. You can see Jeff's latest projects by following him on Twitter.