Rocket Lab Reveals 'The Humanity Star,' a 'Disco Ball' Satellite Shining From Space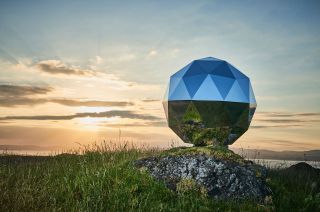 (Image credit: Rocket Lab)
A commercial space company seeking to shine among the satellite launch industry has secretly sent its own "star" into orbit.
Rocket Lab on Wednesday (Jan. 24) revealed to the world that "The Humanity Star" is circling Earth and is expected to become the brightest object in the night sky. Covered in 65 highly-reflective panels, the satellite is rapidly spinning, reflecting the sun's light back onto the planet, much in the same way that a disco ball casts light onto a dance floor.
From the ground, the geodesic sphere-shaped satellite will appear as a bright, glinting star quickly traversing the night sky. [NASA Put a Big Disco Ball in Space 40 Years Ago, and It's Still There]
"No matter where you are in the world or what's happening in your life, everyone will be able to see the Humanity Star in the night sky," said Peter Beck, Rocket Lab founder and CEO, in a statement. "Our hope is that all those looking up at it will look past it to the vast expanse of the universe and think a little differently about their lives, actions and what is important for humanity."
"Humanity Star is a way of looking beyond our immediate situation, whatever that may be, and understanding we are all in this together as one species, responsible collectively for innovating and solving the challenges facing us all," he said.
Secretly launched on board "Still Testing," the second test flight of Rocket Lab's Electron carbon-composite booster, The Humanity Star satellite lifted off on Sunday (Jan. 21) at 2:43 p.m. local time (0143 GMT; 8:43 p.m. EST Jan. 19) from the U.S.-based company's Launch Complex-1 on the MÄhia Peninsula in New Zealand.
The 55-foot-tall (17-meter) Electron rocket also lofted three commercial nanosatellites: a Dove Pioneer Earth-imaging satellite for Rocket Lab's launch customer, Planet, and two weather and ship tracking Lemur-2 satellites for Spire. The latter two satellites were subsequently sent into a circular orbit by Rocket Lab's kick stage, also revealed this week.
The Humanity Star was deployed into orbit 8 minutes and 31 seconds after leaving the Earth. Now circling the planet every 90 minutes, the satellite was designed to serve as a "bright symbol about our fragile place in the universe."
"We need to make big decisions in the context of humanity as a whole, not in the context of individuals, organizations or even nations," stated Beck, whose idea it was to launch The Humanity Star satellite. "We must come together as a species to solve the really big issues like climate change and resource shortages."
Though unique in its symbolic purpose, The Humanity Star is not the first "disco ball" launched into Earth orbit.
The Starshine project comprised three spherical satellites fitted by the United States Naval Research Laboratory with small mirrors polished by students from around the world. The Starshine-1 and -2 satellites were launched on NASA space shuttle missions STS-96 in June 1999 and STS-108 in December 2001, respectively. The 19-inch diameter (48 cm) spheres were each covered in more than 850 mirrors.
Starshine-3, which was almost twice the size of the earlier satellites and fitted with 1500 polished mirrors, was lofted into orbit on an Athena I uncrewed rocket from the Kodiak Launch Complex in Alaska in September 2001. It reflected light back at the Earth for two years, completing more than 7,400 revolutions.
Japan also launched a mirror-covered satellite, "Ajisai," in August 1986, on board the maiden launch of its H-I rocket. The 85-inch (215 cm) experimental geodetic satellite is still in orbit and can be seen with binoculars.
The Humanity Star is expected to be visible for about nine months before its orbit begins to decay and it is destroyed re-entering the atmosphere. Rocket Lab has established a website to track the satellite in real time.
Follow collectSPACE.com on Facebook and on Twitter at @collectSPACE. Copyright 2018 collectSPACE.com. All rights reserved.
Get the Space.com Newsletter
Breaking space news, the latest updates on rocket launches, skywatching events and more!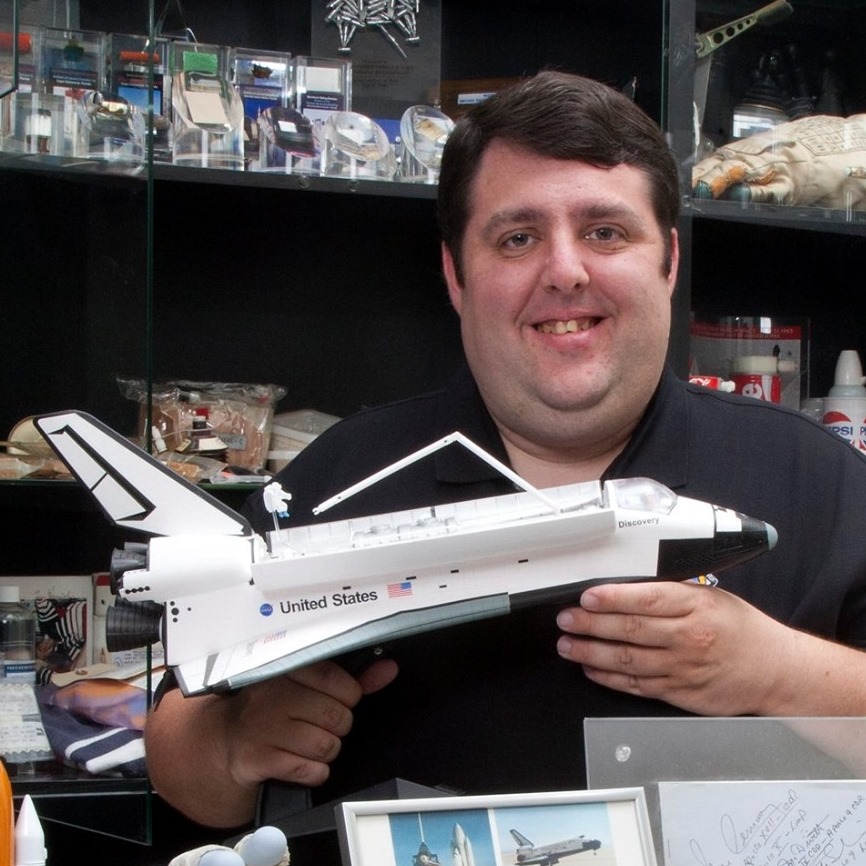 collectSPACE.com Editor, Space.com Contributor
Robert Pearlman is a space historian, journalist and the founder and editor of collectSPACE.com, an online publication and community devoted to space history with a particular focus on how and where space exploration intersects with pop culture. Pearlman is also a contributing writer for Space.com and co-author of "Space Stations: The Art, Science, and Reality of Working in Space" published by Smithsonian Books in 2018. He previously developed online content for the National Space Society and Apollo 11 moonwalker Buzz Aldrin, helped establish the space tourism company Space Adventures and currently serves on the History Committee of the American Astronautical Society, the advisory committee for The Mars Generation and leadership board of For All Moonkind. In 2009, he was inducted into the U.S. Space Camp Hall of Fame in Huntsville, Alabama. In 2021, he was honored by the American Astronautical Society with the Ordway Award for Sustained Excellence in Spaceflight History.