SpaceX to Skip First Stage Landing for Upcoming Iridium Launch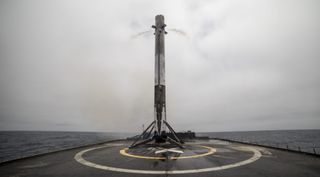 (Image credit: SpaceX)
BROOMFIELD, Colo. — In a break from its now-standard practice, SpaceX will not attempt a landing of the first stage of its Falcon 9 rocket on its next launch this week, the company confirmed Dec. 19.
A SpaceX spokesperson said that the company is not planning to land the first stage of the Falcon 9 that is launching a fourth set of 10 Iridium Next satellites Dec. 22 from Vandenberg Air Force Base in California. The company carried a successful static fire test of the booster at the pad Dec. 17.
SpaceX offered few details about the decision not to land the booster. "These are case-by-case decisions and are based on mission requirements and the needs of our manifest," a company spokesperson said in response to a SpaceNews inquiry.
Prior to the company's statement, there were reports on discussion boards that the Falcon 9 appeared to lack the landing legs and grid fins required for a landing. Matt Desch, chief executive of Iridium, confirmed that was a case in a number of tweets asking about it.
"That appears to be true," he said in response to one tweet asking if the first stage would not make a landing. "I understand that it won't be recovered," he said in another.
Desch appeared to rule out requirements specific to the mission that prevent the first stage from landing. The launch doesn't require any "dogleg" maneuvers, he said, and there are no special maneuvers planned to place satellites in different orbital planes.
The three previous Falcon 9 launches of Iridium satellites all included first stage landings on SpaceX's "drone ship" landing pad in the Pacific Ocean. The first stage for the upcoming launch is a reused stage that first flew on a June launch that placed the second set of 10 Iridium satellites into orbit.
This has led to speculation that SpaceX is no longer interested in landing older versions of the Falcon 9. This stage is of the "Block 3" variant of the rocket that, along with the Block 4, is carrying out Falcon 9 missions today. The company expects to introduce a Block 5 version early next year that will incorporate lessons from the earlier versions to enable greater reuse.
However, SpaceX has landed the four reused boosters it has previously flown, including the Dec. 15 launch of a Dragon cargo spacecraft from Cape Canaveral, Florida. None of those four stages have been launched again, but a company official said prior to that launch that the older first stages are not necessarily limited to a single reflight.
"Everything has a service lifetime," Jessica Jensen, Dragon mission manager at SpaceX, said at a Dec. 11 briefing about that mission. "Dragons and Falcons, depending on where they are and what the service lifetime is for that specific unit, can fly more than twice. We do have plans to fly more than twice in the future."
The upcoming Block 5, though, is intended to be flown 10 or more times. "We're certifying for at least 10 flights, and hoping for a lot more," Jensen said at a Dec. 15 post-launch briefing.
SpaceX has in the recent past not attempted landings only because of performance requirements. Three Falcon 9 launches in 2017 — of the EchoStar 23, Inmarsat-5 F4 and Intelsat 35e geostationary communications satellites — did not attempt first stage landings in order to maximize performance for those large satellites. The other 14 launches this year to date all made landings on drone ships or the company's landing pad at Cape Canaveral.
This story was provided by SpaceNews, dedicated to covering all aspects of the space industry.
Get the Space.com Newsletter
Breaking space news, the latest updates on rocket launches, skywatching events and more!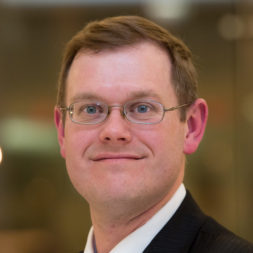 SpaceNews Senior Staff Writer
Jeff Foust is a Senior Staff Writer at SpaceNews, a space industry news magazine and website, where he writes about space policy, commercial spaceflight and other aerospace industry topics. Jeff has a Ph.D. in planetary sciences from the Massachusetts Institute of Technology and earned a bachelor's degree in geophysics and planetary science from the California Institute of Technology. You can see Jeff's latest projects by following him on Twitter.