NASA Creating Online Multiplayer Video Game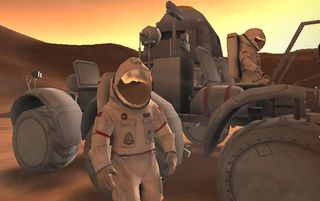 (Image credit: Virtual Heroes)
Spaceexplorers, ready your virtual engines — three game developers have signed on tocreate NASA's massively multiplayer online video game (MMO), called"Astronaut: Moon, Mars & Beyond."
NASAplans to let Virtual Heroes, Project Whitecard and Information in Place takethe lead in creating a game thatemphasizes fun first and foremost. The game community sent in 800 pagesworth of responses to NASA's initial outreach on developing an MMO.
"Thesingle biggest point that was pushed forward by the game community was that youhave to let game design lead the development," said Daniel Laughlin,project manager for NASA Learning Technologies at the agency?s Goddard EarthScience and Technology Center in Maryland. "It's easy to build a gamethat's no fun. It's hard to build a game that's successful and fun."
Aplayable demo of the game is slated for release before the end of the year,based on a tech demo that uses Epic's Unreal Engine 3. Players will get to roamaround in a multiplayer experience focused on moon base operations, althoughreal astronauts onthe International Space Station may have to hold off until they return toEarth.
"We've had to create anew genre of gameplay, creating what we call first person exploration,"said Jerry Heneghan, founder and CEO of Virtual Heroes. He noted that the fullgame will emphasize player cooperation to master both harshspace environments and complex machinery. Players would take on astronautroles such as roboticist, rather than becoming a grenadier or sniper in a morecombat-oriented game.
Eventuallyplayers may get the chance to provide their own user-created content, rangingfrom scouting out new paths for space exploration to creating and flying theirown ships. But unlike other space-themed MMOs such as EVE Online or Star TrekOnline, such ships probably won't be toting laser weaponry.
Thegame developers also hope to have game missions connected with what Heneghantermed the "near-futurereality" of space exploration. NASA has already created many conceptsof future space tech that the developers plan to incorporate into the game,which has the added advantage of saving on game development costs.
"Thismodel has been proven with America's Army," Heneghan told SPACE.com,pointing to how Virtual Heroes has already worked with the U.S. Department ofDefense in developing the Army's free and popular online game. "Thedifference here is that we're talking about first person exploration, so it'sall about exploring the environment, expanding and building things rather thanshooting other players."
Eachgame developer has already amassed considerable experience working with oneanother on space-related games. Virtual Heroes and Project Whitecard arefinishing up a different project for the Canadian Space Agency, while VirtualHeroes is also working with Information in Place on a "VirtualAstronaut" project funded by the U.S. National Science Foundation.
Laughlinsaid that he was pleased to see development of the game moving quickly, atleast for NASA. The MMO project first started in 2004, and NASA selected thethree developers just after the New Year.
"I'mworking with NASA and video games at the same," Laughlin said. "It'sthe coolest job in the world."
New Video - Return to Jupiter: The Europa Jupiter System Mission
New Video - Target Titan
Get the Space.com Newsletter
Breaking space news, the latest updates on rocket launches, skywatching events and more!
Jeremy Hsu is science writer based in New York City whose work has appeared in Scientific American, Discovery Magazine, Backchannel, Wired.com and IEEE Spectrum, among others. He joined the Space.com and Live Science teams in 2010 as a Senior Writer and is currently the Editor-in-Chief of Indicate Media. Jeremy studied history and sociology of science at the University of Pennsylvania, and earned a master's degree in journalism from the NYU Science, Health and Environmental Reporting Program. You can find Jeremy's latest project on Twitter.