Court Bars US Launch Provider from Buying Russian-built Rocket Engines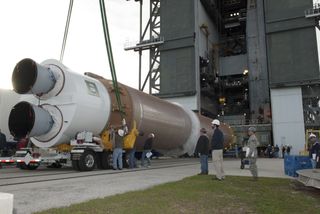 (Image credit: NASA/Charisse Nahser)
WASHINGTON — The U.S. Air Force and United Launch Alliance must temporarily stop buying the Russian-made rocket engines used to launch many national security missions because of sanctions against Russian leaders, a U.S. federal judge ruled Wednesday (April 30).
The ruling, from Judge Susan Braden of the U.S. Court of Federal Claims, said the Air Force and ULA are prevented "from making any purchases from or payment of money to NPO Energomash or any entity, whether governmental, corporate or individual, that is subject to the control of Deputy Prime Minister [Dmitry] Rogozin," court documents said.
ULA's Atlas 5 rocket is powered by the RD-180 engine, which is built by NPO Energomash in the Moscow region and sold to ULA by RD-Amross, a joint venture between the Russian manufacturer and United Technologies Corp.
The injunction stands until the court receives input from the U.S. Treasury, State and Commerce departments on whether buying the engine contradicts White House sanctions issued March 16 that specifically bar business with Rogozin. The sanctions came shortly after Russia's occupation of Crimea, which along with subsequent instability in eastern Ukraine have raised tensions between Washington and Moscow to Cold War levels.
Rogozin is the outspoken deputy prime minister of the Russian Federation. He recently suggested that without the help of the Russians, the United States could use a trampoline to get to the International Space Station. He also said that those who think he personally benefits from sales of the RD-180 engine are "morons."
In addition to relying on the RD-180-powered Atlas 5 to launch a large portion of its civil-space and national security missions, the U.S. government relies on Russian rockets and capsules to transport astronauts to and from the space station.
The injunction barring further RD-180 purchases came just two days after upstart rocket maker Space Exploration Technologies Corp. filed suit with the court, which rules on government contracting bid protests, seeking to block Air Force plans to buy a large number of rockets from ULA on a sole-source basis.
"ULA is deeply concerned with this ruling and we will work closely with the Department of Justice to resolve the injunction expeditiously," Kevin MacCary, ULA's general counsel, said in a May 1 email. "SpaceX's attempt to disrupt a national security launch contract so long after the award ignores the potential implications to our National Security and our nation's ability to put Americans on board the International Space Station."
Two of three U.S. companies vying to launch U.S. astronauts to the space station starting in 2017 are developing spacecraft that would launch atop Atlas 5 rockets.
The ruling does not include RD-180 engine purchases made prior to April 30. ULA currently has two-and-a-half years' worth of Atlas 5 engine inventory on hand at its factory in Decatur, Alabama, and is expected to receive five engines next year and six engines in 2015.
Follow Mike on Twitter @Gruss_SN. This story was provided by SpaceNews, dedicated to covering all aspects of the space industry.
Get the Space.com Newsletter
Breaking space news, the latest updates on rocket launches, skywatching events and more!
Editor-in-Chief, Sightline Media
Mike Gruss is a veteran defense reporter and Editor-in-Chief of Sightline Media Group, which includes Army Times, Air Force Times, Dense News, Military Times and Navy Times. From 2013 to 2016, Mike served as a Senior Staff Writer for SpaceNews covering national security space programs and military space policy in the U.S. Congress. Mike earned a bachelor's degree in English and American Studies from Miami University and has previously wrote for the Journal Gazette in Fort Wayne, Indiana and the Virginian-Pilot in Virginia before joining SpaceNews. Prior to joining Sightline in 2017, he was a senior editor of FedTech magazine covering technology in federal government. You can see Mike's latest project on Twitter.