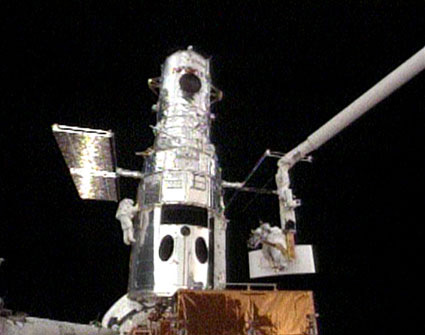 This story was updated at 9:25 p.m. EDT.
HOUSTON - While spacewalking astronauts struggled with a stuck bolt on the Hubble Space Telescope Thursday, scientists on Earth were on edge as it seemed that years of preparation to make the observatory more powerful than ever might slip away.
The Atlantis shuttle astronauts were eventually victorious in their battle against the bolt and left the 19-year-old?Hubble with a powerful new camera eye, but the glitch kept scientists on edge until the very end.
?I can tell you that I?m five years older now than when I came to work this morning,? said a relieved Dave Leckrone, Hubble?s senior project scientist, after the spacewalk.
A recalcitrant bolt
That the orbital drama unfolded around the storied Wide Field Planetary Camera 2, an accomplished instrument that has produced the bulk of Hubble?s most recognized images of the universe since its 1993 installation, made it that much more frustrating. That camera is destined to come back to Earth and be celebrated in a museum.
But a bolt used to latch the camera down refused to budge and it almost looked like the instrument - which still works fine - might have to stay put. Its long-awaited replacement - the new $132 million Wide Field Camera 3 - would then have to return home before it had a chance to shine.
In the end, after all other backup tools failed, it came down to an astronaut?s brute strength and delicate touch.
Spacewalker Andrew Feustel put a little extra oomph in his ratchet to loosen the bolt, but was careful not to overdo it and shear it off. He and fellow spacewalker John Grunsfeld then seamlessly went on to install the new camera, which scientists hope will allow Hubble to see baby galaxies forming 500 million years after the birth of the universe. The universe is 13.7 billion years old. The astronauts also replaced a vital computer data unit among other tasks.
?There was just a huge outburst, a rush of elation and emotion when that came loose,? Leckrone told reporters here at NASA?s Johnson Space Center. ?I just hope the rest of the mission is a bit smoother.?
And, Leckrone added, there?s a lot more mission to go.
Ambitious work ahead
Thursday?s successful spacewalk marked the first in a marathon of five back-to-back excursions by the seven astronauts aboard Atlantis. The once-canceled mission is the fifth and final shuttle flight to overhaul Hubble before NASA retires its three-orbiter fleet next year.
Working in two-man teams on alternating days, the shuttle?s four spacewalkers hope to install two new instruments, perform delicate maintenance work and attempt unprecedented repairs on two instruments that were never designed to be fixed in space.
For the repairs in particular, there are no guarantees, NASA has said. Everything required just to attempt them - including 116 new tools invented from scratch - is completely new.
?We had a few rough spots today and we had some emotional ups and downs,? said Hubble program manager Preston Burch, of NASA?s Goddard Space Flight Center in Greenbelt, Md., that oversees the telescope. But Burch said he?s confident Atlantis? crew will have a full five spacewalks in which to upgrade Hubble.
The mission was ambitious to begin with, and with the intricate and uncertain repair attempts still ahead, it should only get harder, mission managers said.
On Friday, astronauts will attempt the delicate work of replacing Hubble?s gyroscopes, which keep the telescope pointed properly, and batteries. A spacewalker will have to go inside Hubble with only a few inches of clearance.
On Saturday, astronauts will try to fix Hubble?s broken main camera - the Advanced Camera for Surveys. It has been broken since 2007 and astronauts will try to revive by removing 32 screws and replacing faulty electronics cards while clad in bulky spacesuits.
Then one day later, on Sunday, spacewalkers will attempt the unprecedented fix of a powerful spectrograph that will require the removal of 111 fasteners and the replacement of an electronics card. The last spacewalk on Monday will give Hubble another fresh set of batteries, extra thermal insulation and a new guidance sensor.
?Today was a speed bump, but two days from now is going to be the hold your breath time for most of the day,? Leckrone said.
SPACE.com is providing continuous coverage of NASA's last mission to the Hubble Space Telescope with senior editor Tariq Malik in Houston and reporter Clara Moskowitz in New York. Click here for mission updates, live spacewalk coverage and SPACE.com's live NASA TV video feed.
New Videos - Hubble's High Art, New Camera

New Video Show - Hubble's Final Shuttle Service Call

Image Gallery - The Hubble Repair Missions: Part 1, Part 2