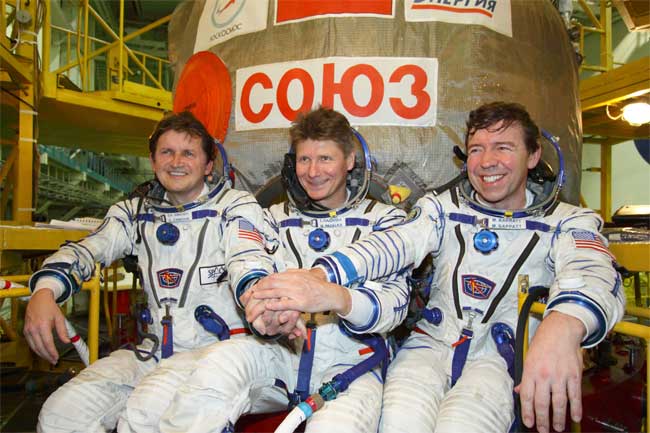 An astronaut, a cosmonaut and the first repeat space tourist are poised to launch toward the International Space Station (ISS) early Thursday.
NASA astronaut Michael Barratt, Russian cosmonaut Gennady Padalka and paying American billionaire Charles Simonyi are due to liftoff Thursday aboard a Soyuz TMA-14 rocket from Kazakhstan's Baikonur Cosmodrome at 7:49 a.m. EDT (1149 GMT).
The new station crew and space tourist are launching one day after the departure of NASA?s shuttle Discovery, which delivered new solar wings to the orbiting lab to complete its power grid.
Commander Padalka and flight engineer Barratt will join Japanese Space Exploration Agency astronaut Koichi Wakata, currently onboard the ISS, to make up the station's Expedition 19 crew, the last three-person crew planned before expanded six-person teams take up residence this summer. Wakata arrived aboard Discovery and is staying aboard to join the station?s new crew.
Here?s a look at the space station?s new crew, which will replace the outpost?s Expedition 18 commander Michael Fincke and flight engineer Yury Lonchakov:
Doctor and naval enthusiast
Barratt, a rookie astronaut, is a medical doctor specializing in aerospace medicine.
"For me it?s quite a dream come true, because having that keen interest in how the human body changes in space and being able eventually to experience it is going to be a wonderful thing," Barratt told SPACE.com in a recent interview.
Barratt is married and has two daughters and three sons. He said he'll be taking up to space a music mix compiled by his children, who each have different tastes, including country music, classical, heavy metal, oldies, and Disney tunes (his youngest is 8 years old).
While on the space station, Barratt also plans to assemble a model of the 18th century tall ship HM Bark Endeavour, after which the NASA space shuttle Endeavour was named.
"I plan to do some comparisons and contrasts between space voyaging and sea voyaging," Barratt said.
Expert commander
Padalka will be the first spaceflyer to serve as station commander twice; he previously commanded the orbiting lab for a six-month stint during Expedition 9 in 2004. His return to station is a reunion of sorts. During Expedition 9, he served alongside the station?s current skipper Fincke, who was a flight engineer on that mission.
"It?s a big honor for me, to be crew commander for a second time onboard International Space Station, and at the same time it?s a big responsibility for me, because as a crew commander I need to ensure safety [of the] crew," Padalka said in a preflight interview. "I need to ensure ? very comfortable psychological climate, inside the crew and between crewmates, because we are supposed to have many nations, and with different customs, mentalities, traditions."
Padalka, who is married and has three daughters, is an experienced pilot and parachuter.
"He's one of the best spaceflyers and commanders in the business," Barratt said of his crewmate. "I'm lucky enough to be his flight engineer on the Soyuz."
Padalka and Barratt will be joined for the ride into space by American billionaire Charles Simonyi. A software developer and former Microsoft executive, Simonyi will become the first civilian to fly to space twice, though a $35 million deal with the Russian Federal Space Agency Brokered by the U.S. firm Space Adventures. For more about Simonyi, click here.
Gearing up for more roommates
The Expedition 19 crew will have their work cut out for them setting the stage to welcome double-sized crews to their orbiting habitat. They will host two visiting shuttle missions, STS-127 in May and STS-128 in August, which are set to drop off NASA astronauts Timothy Kopra and Nicole Stott to join the space station crew.
Padalka and Barratt have two to three spacewalks planned to help prepare the station for the arrival of the Mini Research Module 2, a node very similar to the Pirs docking compartment currently in orbit, set to launch on a Russian Soyuz spacecraft in August.
"One of our biggest milestones is increasing to a six-person crew, so there will be a lot going on and all the attendant activities that go with that, including robotics and EVA, experiments and everything that makes ISS what it is," Barratt said in a NASA preflight interview.
Padalka and Barratt are due to stay aboard the station for 200 days.
SPACE.com will provide full coverage of Simonyi's second space tourist flight and the Expedition 19 mission with reporter Clara Moskowitz and senior editor Tariq Malik in New York. Click here for mission updates and SPACE.com's live NASA TV video feed.
Video - Expedition 19: Priming ISS for Larger Crew
New Show - Inside the International Space Station