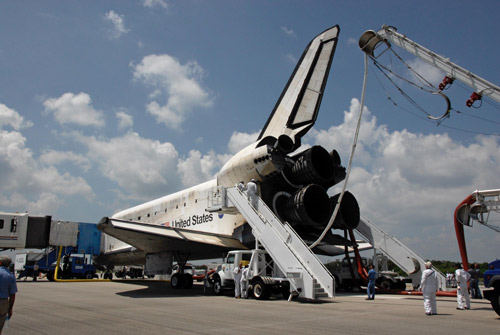 NASA wants to move up launch dates for its next two shuttle missions to ensure the second can be sent up before a window of opportunity closes in late November, officials said Tuesday.
But it is unlikely NASA can advance the Oct. 8 launch of a Hubble Space Telescope servicing mission more than a couple days.
And a proposed six-day move for a Nov. 10 launch would put liftoff of an International Space Station supply run on the same day as the 2008 presidential election.
"Whether we get three days or two days, anything obviously would help at the front end of that window," NASA spokesman Kyle Herring said.
The sun angle on the station between Nov. 25 and Dec. 17 will be such that the outpost would not be able to generate enough power, or dispel enough heat, to support a shuttle.
Consequently, missions to the station cannot be launched during that period, and NASA prefers not to launch during the Christmas or New Year's holidays. That effectively means Nov. 24 would be the last day NASA could launch a station mission in 2008.
Expect launch date decisions when shuttle managers meet Aug. 14.
Published under license from FLORIDA TODAY. Copyright ? 2001 FLORIDA TODAY. No portion of this material may be reproduced in any way without the written consent of FLORIDA TODAY.
Images: Hubble's Photos: When Galaxies Collide

Video: Hubble Repair Missions