Shuttle Mission to Hubble: Some Assembly Required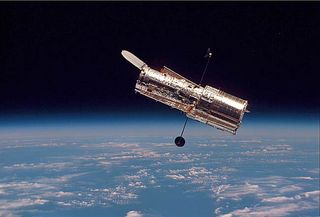 (Image credit: NASA)
Thedelicate equipment to refurbish the 18-year-old Hubble Space Telescope hasbegun arriving at Kennedy Space Center, presenting payload managers with one oftheir greatest challenges.
The gear includes spareparts for failing components, two new instruments, six gyroscopes and six,125-pound (57 kg) batteries. The nearly 2,500 pounds (1,133 kg) of electronics will fillfour pallets, each of which must be provided electrical power and climatecontrol.
"On thisparticular mission we are carrying more flight hardware to orbit than anyother of the previous (Hubble) missions," said Hubble Observatory ManagerThomas Griffin, whose team is responsible for installing the instruments ontothe carriers.
Astronauts havevisited Hubble four times to make repairs since it was launched in 1990.
This payload is lightcompared with the 32,000-pound (14,514 kg) Kibo module that shuttle Discoverytook to the International Space Station in May. However, Atlantis must climb toan orbit of nearly 360 miles (579 km), much higher than the station atapproximately 220 miles (354 km).
Each piece of equipment forthe Hubble must be tested at Goddard Space Flight Center in Maryland, shippedto KSC, attached to its pallet and loaded into the shuttle payload canister.
Pallets began arriving, thefirst of 16 shipments to KSC. The shipments end Sept. 4, only one month beforethe launch.
"Every week we bringanother flight element here, process it and get it ready," Griffin said."Everything's not coming at the same time, so we can focus the individualhardware team on a particular element.
"The schedule is wellthought out and paced," Griffin said. "A good analogy is building avehicle at an auto assembly plant."
As the observatory manager,Griffin is eager to see what the Hubble Space Telescope will produce with newcameras that improve resolution by 15 to 35 times. Hubble's spectacular viewsof faraway galaxies willbe even more detailed.
"It's great to see itall come together," he said. "The (new) cameras are going to provideorders of magnitude improvement.
"Who knows the sciencewe'll get from the upgraded Hubble. We've always been surprised."
Though loading theinstruments into the payload canister without damage is crucial, the intensecare continues all the way to the launch pad.
"The complexities ofthe interfaces and the criticality are much greater with the Hubble than withthe space station payloads," NASA payload manager Deborah Hahn said.
Hahn's team will care forthe Hubble equipment once it's loaded into the shuttle payload canister, whereits temperature and condition will be monitored.
"There's a lot moredata to review and understand," she said.
At the pad, the fourpallets will be loaded into the shuttle at once, with four sets of power anddata cables to hook up in the shuttle payload bay.
"The closeouts are alittle more involved," Hahn said. Ground support equipment, such as airconditioners and generators, won't be removed from the launch pad until justbefore launch.
"It'll be very late inthe countdown," Hahn said. "We're going out to the pad a month beforelaunch. Right up to the last minute, they'll be doing battery charging.
"Basically, we'regetting out just before the payload door closing starts."
Atlantis will be rolled outto Pad 39A on Aug. 29, and Endeavour will be moved to Pad 39B to be ready toact as a rescue craft. Hubble orbits about 150 miles (241 km) above the spacestation, too far for Atlantis to seek safe harbor there in an emergency.
Even if all goes well withloading the parts, Atlantis with its delicate cargo will be on the launch padduring September, which makes the shuttle vulnerable to bad weather that mightdelay the Oct. 8 launch.
"What we're dreadingright now is a hurricane," Hahn said. "That is because of being inthe flow (and) having two orbiters at the pad. We're very concerned."
Published under license from FLORIDA TODAY. Copyright ? 2001FLORIDA TODAY. No portion of this material may be reproduced in any way withoutthe written consent of FLORIDA TODAY.
Images: Hubble?s Photos: When Galaxies Collide
Video: Hubble Repair Missions
Get the Space.com Newsletter
Breaking space news, the latest updates on rocket launches, skywatching events and more!