End in Sight: Final Space Shuttle Missions Slated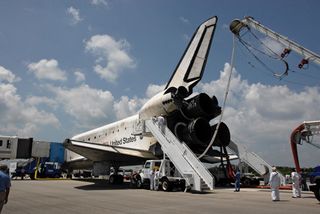 (Image credit: NASA/Kim Shiflett)
NASA has set target launch dates for the eight spaceshuttle missions in 2009 and 2010 that are expected to be the fleet's last.
The pre-retirement schedule for the shuttle has 10remaining flights, including missions already scheduled for Oct. 8 and Nov. 10of this year.
The plan is to replace the shuttle fleet with theOrion craft, which is being built and tested now.
But first, seven assembly flights are slated to completeconstruction on the International Space Station, with an additional twocontingency flights planned for completion before the end of the fiscal year2010.
The space shuttle Atlantis? upcoming STS-125 mission, setto launch Oct. 8, aims to repair the Hubble Space Telescope. NASA initially delayedthe flight to make improvements to the shuttle external fuel tanks.
More concern arose when the previous launch of shuttleDiscovery damagedthe flame trenches extending from one of two main launch pads at CapeCanaveral, Florida. But repairs that started in late June should allow theHubble repair mission to goon schedule, NASA officials said.?
The on-time launch of Atlantis and Endeavour?s STS-126mission would make 2008 the busiest shuttle flight year since NASA?s return toflight following the 2003 Columbia tragedy.
NASA has long planned to phase out its three remainingshuttles by 2010, and anticipates losing3,000 to 4,000 related jobs at the Kennedy Space Center in Florida. Theagency has already begun transitioning toward a newera of spaceflight with its Constellation program.
The final shuttle flight is currently scheduled for May31, and would represent the 35th flight to the space station.
Get the Space.com Newsletter
Breaking space news, the latest updates on rocket launches, skywatching events and more!
Jeremy Hsu is science writer based in New York City whose work has appeared in Scientific American, Discovery Magazine, Backchannel, Wired.com and IEEE Spectrum, among others. He joined the Space.com and Live Science teams in 2010 as a Senior Writer and is currently the Editor-in-Chief of Indicate Media. Jeremy studied history and sociology of science at the University of Pennsylvania, and earned a master's degree in journalism from the NYU Science, Health and Environmental Reporting Program. You can find Jeremy's latest project on Twitter.