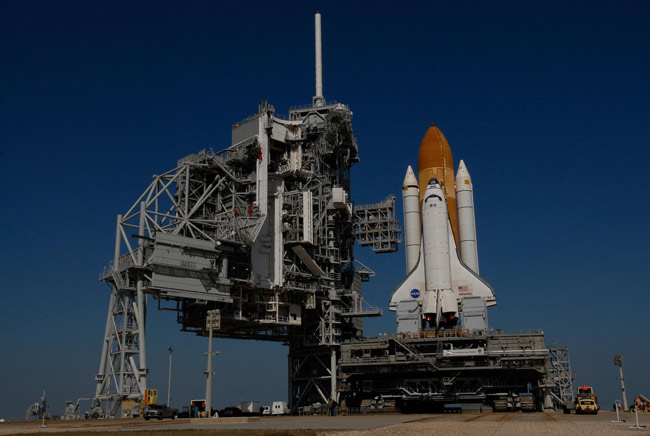 CAPE CANAVERAL, Fla. - NASA?s shuttle Atlantis is ready to haul a new European laboratory toward the International Space Station (ISS) this week, top mission managers said Tuesday.
Atlantis and its seven-astronaut crew are poised to launch toward the station with the European Space Agency?s (ESA) Columbus laboratory on Thursday at 4:31 p.m. EST (2131 GMT) to mark NASA?s fourth shuttle flight of the year.
?It?s a very good day for us,? said LeRoy Cain, Atlantis? mission management team chairman, in an afternoon briefing here at the Kennedy Space Center (KSC). ?The vehicle is ready, the crew is ready and the flight control team is ready.?
Commanded by veteran shuttle astronaut Stephen Frick, Atlantis? STS-122 crew will install Columbus, replace one space station crewmember and outfit the orbital lab?s exterior with new hardware and experiments during their planned 11-day mission. If the shuttle?s power supply holds out, the mission may be extended by two days to add an extra spacewalk so astronauts can inspect a balky ISS solar array joint.
During their spacewalks, Atlantis? STS-122 crew will wear protective overgloves on top of their normal spacesuit gloves to prevent the types of slices and cuts seen by astronauts on previous spacewalks, Mike Suffredini, NASA?s ISS program manager, told reporters.
Aside from the last-minute repair of three minor dings on Atlantis? foam-covered fuel tank, the orbiter?s launch preparations have gone smoothly, mission managers said.
?It?s been a very, very smooth, clean countdown,? added NASA shuttle launch director Doug Lyons. ?And, of course, we like it that way.?
Current forecasts predict a 90 percent chance of favorable weather conditions at liftoff, with the slight possibility of low clouds over Atlantis? Pad 39A launch site posing the only threat for the planned space shot, mission managers said.
NASA?s slim window in which to launch Atlantis and its Columbus cargo to the ISS closes on Dec. 13, when the angles between the space station?s power-generating solar wings and the sun become unfavorable to support docked operations. If Atlantis cannot launch this month, NASA would likely stand down until Jan. 2, shuttle officials have said.
Frick and his STS-122 crew arrived at KSC on Monday and spent much of today rehearsing shuttle landings, flying on NASA T-38 jets and undergoing final preflight medical checks. The ESA?s 13-ton Columbus lab, meanwhile, is packed inside Atlantis? payload bay and ready to fly.
Two members of the shuttle?s crew - veteran spaceflyers Hans Schlegel and Leopold Eyharts - are ESA astronauts who will help break in their agency?s first permanent manned space laboratory after years of development and delay.
?We are extremely excited,? said Alan Thirkettle, the ESA?s space station program manager, adding that the European astronauts are eager to open Columbus for business. ?We?re looking forward to seeing Columbus being where it belongs.?
NASA will broadcast Atlantis' STS-122 mission live on NASA TV. Click here for SPACE.com's shuttle mission coverage and NASA TV feed.
VIDEO: ISS Commander Peggy Whitson Takes Charge

NEW IMAGES: Discovery's STS-120 Mission in Pictures

SPACE.com Video Interplayer: NASA's STS-120 Mission Brings 'Harmony' to ISS