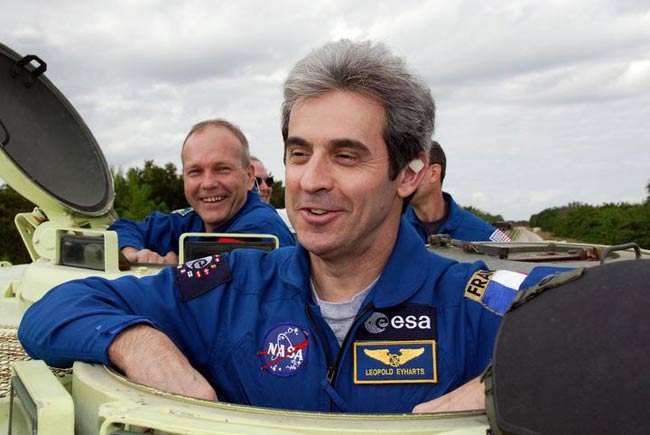 CAPE CANAVERAL, Fla. - Astronauts from Germany and France will make the International Space Station (ISS) a bit more international when they help ferry a new European module to the orbital laboratory this week.
Veteran spaceflyers Hans Schlegel and L?opold Eyharts will haul the European Space Agency?s (ESA) Columbus laboratory into orbit with the help of five crewmates when NASA?s shuttle Atlantis launches on Thursday.
?Columbus is the biggest contribution from Europe for the International Space Station,? Schlegel, of Germany, told reporters Monday. "By doing this, Europe will become a senior partner in human spaceflight and I?m very glad."
Schlegel, Eyharts and their STS-122 crewmates will deliver the 13-ton Columbus module during a planned 11-day mission that is set to launch Dec. 6 at 4:31 p.m. EST (2131 GMT).
Return to space
Hailing from Aachen, Germany, Schlegel is a former Federal Armed Forces paratrooper who is returning to space more than 14 years after launching on his first mission in 1993.
?The first burning question for me is, how much will I remember?? Schlegel, 56, said in an interview. ?How much will my body still remember and will it be functioning as I would like it to function??
Schlegel, a scientist-turned-astronaut, first flew as a mission specialist for the Spacelab D-2 research expedition during NASA?s STS-55 flight aboard Columbia, where he participated in some 88 experiments over the course of 10 days. On STS-122, he will serve as Mission Specialist-3 and participate in two of the flight?s three planned spacewalks.
?The most joy will be when the first laughter comes over through the space-to-ground [comm],? said Schlegel, adding that, as the fifth of nine children with eight children of his own, he?s learned the value of teamwork. ?That means we know our mission is going well, we are doing as expected and everything is going to be good so we can continue building up and working to our common goal.?
It was science that led Schlegel to Germany?s astronaut corps. While studying the properties of semiconductor materials, the trained physicist had the chance to work with substances made in orbit, which galvanized his interest in spaceflight. He gladly applied when his country made a new call for astronauts.
?I never thought I would have had a chance, but I was lucky enough to be selected,? said Schlegel, who joined Germany?s astronaut ranks in 1988 before shifting into the ESA?s spaceflying corps in 1998. He served as backup to fellow German astronaut Reinhold Ewald during the joint German-Russian Mir-?97 mission to the Mir Space Station.
?I think the International Space Station is a role model of how in the future we, as humankind, have to tackle our big problems and solve them,? Schlegel said. ?Only in cooperation, in taking advantages of the capability of other nations, other people, other cultures, this is the way to go.?
ISS or bust
Like Schlegel, Eyharts is also making a return to space after a years-long hiatus. But this time, the veteran French astronaut is heading for a very different space station.
Eyharts, 50, first flew in space in February 1998, when he launched to the Mir Space Station aboard a Russian Soyuz spacecraft on France?s 20-day P?gase science expedition. On STS-122, Eyharts will serve as Mission Specialist-5 aboard Atlantis until the shuttle reaches the ISS, where he will replace NASA astronaut Dan Tani as an Expedition 16 crew flight engineer for the next three months.
?As I?ll probably be gone for awhile, I?d like to wish you Merry Christmas and a Happy New Year,? Eyharts told reporters Monday. ?See you in 2008.?
A general in the French Air Force, Eyharts flew fighter jets, conducted parachute jumps and served as a test pilot, but spaceflight has always been his main goal.
?I decided that I would like to be an astronaut when I was about 12 years old and I saw the first U.S. astronauts stepping on the moon and walking on the moon,? he said in a NASA interview. France selected Eyharts to join its astronaut corps in 1990.
Eyharts will be the first astronaut to enter the ESA?s Columbus lab once it is finally attached to the ISS, and he hopes to savor the moment once the requisite safety checks are complete.
?I think there will be some emotion, even though that?s just a partial ingress,? he said, adding that many people on Earth have worked for up to 25 years to see Columbus fly.
Eyharts is married and has a nine-year-old child, and said he will definitely miss his family during the months he will spend in orbit. The long duration of his spaceflight, and the months of training and travel that preceded it, cannot help but cause some stress to those he will leave behind, he added.
He has also steeled himself to forgo the traditionally French glass of wine while in space.
?I will miss it actually,? Eyharts said with a laugh. ?I am very French.?
NASA will broadcast Atlantis' STS-122 mission live on NASA TV. Click here for SPACE.com's STS-122 mission coverage and NASA TV feed.
VIDEO: ISS Commander Peggy Whitson Takes Charge

NEW IMAGES: Discovery's STS-120 Mission in Pictures

The Orbital Chef: The Top 10 Space Foods