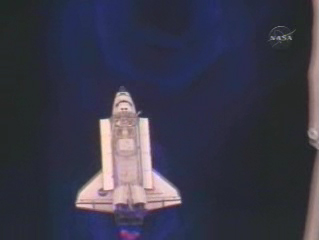 CAPE CANAVERAL, Fla. -- NASA cleared the space shuttle Endeavour for a Tuesday landing today, with little concern that Hurricane Dean could impact flight operations at Mission Control.
Endeavour's seven astronauts are set to land Tuesday here at NASA's Kennedy Space Center (KSC) at 12:32 p.m. EDT (1632 GMT) after cutting their space station construction mission short by one day due to the hurricane. Strong crosswinds and the slight possibility of rain around the landing site are the only weather concerns for the shuttle's return, NASA said.
"I would say our chances are pretty good," Steve Stich, NASA's launch and entry flight director for Endeavour's STS-118 mission, told reporters Monday of tomorrow's planned landing.
An analysis of imagery from a late inspection of the orbiter's heat shield also yielded no concerns Monday.
"The vehicle has been cleared for entry after late inspection," NASA astronaut Chris Ferguson told Endeavour's astronaut crew from Mission Control. "So that's great news."
Endeavour's latest bill of good health comes after an earlier heat shield inspection just after its Aug. 8 launch. NASA also found that a small but deep gouge on Endeavour's underbelly - carved by launch debris - and a tiny window scuff from a micrometeorite hit posed no danger for the shuttle's safe return.
"I can assure you that Endeavour is not going to suffer any catastrophic damage," Stich said.
NASA has kept a close watch on the integrity of its shuttle heat shields since the tragic 2003 loss of the Columbia orbiter and its astronaut crew.
Stich said flight controllers did notice a minor nitrogen leak in one of Endeavour's rear engine pods, but it should not hinder Tuesday's planned landing.
Commanded by veteran shuttle flyer Scott Kelly, Endeavour's 13-day mission delivered more than two tons of cargo to the International Space Station (ISS), replaced a broke gyroscope outside the orbital laboratory and installed spare parts and a new girder to the outpost's starboard side.
Endeavour's crew also includes teacher-turned-spaceflyer Barbara Morgan, who served as Teacher in Space Christa McAuliffe's backup for NASA's ill-fated 1986 Challenger mission. Earlier today, she joined Kelly and STS-118 mission specialist Dave Williams, a Canadian Space Agency astronaut, in a video chat with students in Canada's La Ronge, Saskatchewan.
Early return
NASA opted to land Endeavour and its STS-118 crew one day early due to concerns that Hurricane Dean could swing north and disrupt Mission Control operations at the Johnson Space Center (JSC) in Houston, Texas.
While shuttle mission have repeatedly been prolonged by bad weather at their landing sites, NASA has rarely abbreviated flights for that reason or bad weather in Houston.
"I cannot recall when we've had any situation like this where we've actually moved landing up by a day in order to sort of give people here to prepare for a hurricane," Stich said from JSC.
But as of Monday, the massive category four Hurricane Dean was expected to continue on towards central Mexico, rather than imperil coastal Texas and Houston, according to the National Hurricane Center.
"It won't affect how we prepare for landing," Kelly told the Saskatchewan during a space-to-ground educational event. "It's unfortunate for the people in Mexico that it's going there."
NASA is broadcasting Endeavour's STS-118 mission live on NASA TV. Click here for mission updates and SPACE.com's NASA TV feed.
NEW VIDEO: STS-118: Coming Home

VIDEO: Teaching the Future: Teacher-Astronaut Barbara Morgan

Complete Space Shuttle Mission Coverage