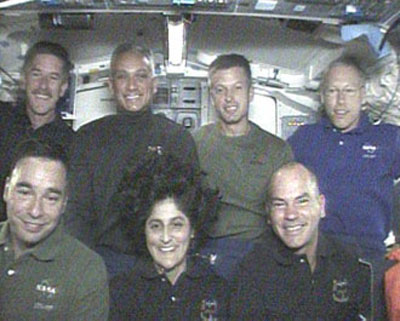 CAPE CANAVERAL, Fla. -- The seven-astronaut crew of NASA?s shuttle Atlantis is hoping to beat the weather to make a Florida landing today after a successful construction flight to the International Space Station (ISS).
Commanded by veteran spaceflyer Rick Sturckow, Atlantis? STS-117 crew is due land at 1:55 p.m. EDT (1755 GMT) here at NASA?s Kennedy Space Center (KSC) to close a busy mission to help power up the ISS.
?We?ll be ready tomorrow if the weather cooperates,? Sturckow told Mission Control late Wednesday.
Afternoon thunderstorms around NASA?s Shuttle Landing Facility here at KSC, as well as thick clouds, may prevent Atlantis from landing during either of two windows today. But the turbulent weather is typical for the shuttle landing site this time of year, NASA has said.
?No landing is easy with weather, and we?re used to it,? said Norm Knight, NASA?s lead entry flight director. ?I?m always optimistic about it.?
Sturckow and his crewmates are completing a 13-day mission to the ISS, where the astronauts installed a pair new starboard solar arrays and trusses, stow an older solar wing and swap out one member of the outpost?s three-person Expedition 15 crew. They also helped the station?s crew endure, and ultimately win over, a major computer meltdown before swapping out one of the orbital laboratory?s astronauts.
The Atlantis crew undocked from the space station on Tuesday and has two opportunities to return to Earth today. In addition to a 1:55 p.m. EDT touchdown, the shuttle could fire its engines a bit later for a 3:30 p.m. EDT (1930 GMT) landing before standing down for the day, Knight said.
Additional landing opportunities arise at KSC, as well as at NASA?s backup runway at Edwards Air Force Base in California, on both Friday and Saturday. The shuttle does have enough supplies to stay in orbit until Sunday, but mission managers want to keep that final day in reserve to handle any unforeseen technical glitches.
A third landing option, Northrup Strip at New Mexico?s White Sands Space Harbor, is also available Saturday and Sunday if needed.
Homeward bound
Returning to Earth aboard Atlantis with Sturckow are shuttle pilot Lee Archambault and mission specialists Patrick Forrester, Steven Swanson, James Reilly II, Danny Olivas and Sunita Williams. Swanson, Olivas and Williams are completing their first spaceflights.
The astronauts staged four spacewalks - one more than planned - while at the ISS to install a $367.3 million pair of new starboard solar wings and the 17.5-ton Starboard 3/Starboard 4 (S3/S4) truss segments that lend the station its new balanced look. ?
?It?s really one of those things that you?ll remember forever,? Reilly said of working on the ISS during two spacewalks.
The new solar arrays will prime the station for the arrival of new modules and international laboratorys later this year.
Williams is returning to Earth after a six-month mission to the ISS and joined the shuttle crew in mid-flight as part of the NASA astronaut swap for the station?s Expedition 15 crew. Fellow U.S. astronaut Clayton Anderson, who launched with the STS-117 crew on June 8, took up Williams? post.
?I just can?t wait to get back, to feel the air on my face and feel the sea breeze,? Williams told reporters Wednesday, adding that she is looking forward to seeing her family, husband and beloved dog Gorby, whom she frequently mentioned during her spaceflight.
Today marks Williams? 193rd day in space, a world record for a female astronaut, though she has expressed some uncertainty at how she will cope after more months of life in weightlessness. She will return to Earth in a reclined position using a recumbent seat to ease the transition.
?I?m a little bit nervous about that,? Williams said, adding that she?s tried to keep up a rigorous exercise regime. ?I?ve never done this before so I don?t know how everything is going to work out.?
Meanhile, flight controllers on Earth said they were looking forward to today?s landing attempt despite the dire weather forecasts.
?We?re looking forward to watching a pretty reentry,? Cathy Koerner, NASA?s lead STS-117 shuttle flight director, told the crew Wednesday.
NASA is broadcasting the space shuttle Atlantis' STS-117 mission live on NASA TV. Click here for mission updates and SPACE.com's video feed.
SPACE.com Video Interplayer: Space Station Power Up with STS-117

IMAGES: Atlantis Shuttle?s STS-117 Launch Day

Complete Shuttle Mission Coverage