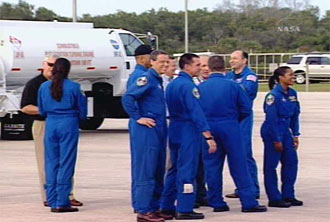 CAPE CANAVERAL, Fla. - The astronaut crew of NASA's next shuttle mission arrived here at the Kennedy Space Center (KSC) late Sunday, flying in aboard white and blue T-38 training jets.
The seven-member STS-116 crew was greeted by veteran astronaut Jerry Ross and Mike Leinbach, NASA's launch director for the upcoming space shot. The astronauts' family members also welcomed their Florida spaceport arrival.
"It was a beautiful flight out...I'm very, very excited to be here," the mission's shuttle pilot, William Oefelein, said at NASA's KSC Shuttle Landing Facility. "We seven certainly are very ready to go and we're looking forward to executing a great mission."
The astronauts are slated to launch aboard NASA's shuttle Discovery on a 12-day construction flight the International Space Station (ISS) on Dec. 7 at 9:35:47 p.m. EST (0235:47 GMT). The planned liftoff will mark NASA's third shuttle mission this year and the agency's first night launch since 2002.
"We're going to go ahead and hopefully have one heck of a night show to give everybody this Thursday night," Discovery's STS-116 commander Mark Polansky said.
The mission will include the delivery of a new portside piece of the ISS and a trio of spacewalks to rewire the outpost's power grid. It will also include the swap of Expedition 14 crewmember Sunita Williams for European Space Agency astronaut Thomas Reiter, who is finishing up a nearly six-month stint aboard the orbital laboratory.
"I'm just really happy to be here. It's been a long time coming," Williams said, adding that she's spoken with her Expedition 14 crewmate-to-be Mikhail "Misha" Tyurin. "Misha Tyurin called the other day and said 'Suni, we're waiting for you!', so I just can't wait to get to my new home."
STS-116 mission specialists and multilingual crewmembers Nicholas Patrick and Christer Fuglesang--Sweden's first astronaut to fly--added a few words in Spanish and Swedish, respectively.
Not to be outdone, Alaskan native Oefelein added a few words in his state's official language: English. "I'll start by saying a few words in Alaskan--It's warm out here," he said.
Mission specialist Robert Curbeam turned the attention away from his fellow astronauts.
"This is a tribute to the guys that got our vehicle ready, to get all of us ready as well, for our 12 day trip and Suni's six month trip," Curbeam said. "We appreciate it and thank all of them...Also thanks to our family and friends and coaches and relatives for all the years of motivating us to do our best. We hope to make all those people who helped get us here proud."
For mission specialist Joan Higginbotham, the flight to KSC was a return home of sorts.
"I'm very happy to be here...I actually began my career here at Kennedy Space Center," she said. "To finally come back as an astronaut and get to work and fly on the vehicle that I used to work on is absolutely beyond words.
"When I got out the plane, Mike said to me 'That's a megawatt smile,' and that's how I feel," Higginbotham added. "I'm not going to wipe this grin off my face until December 19 when we land and I'm sure you'll still have a hard time wiping it off my face."
STS-116 VIDEO: Major Tasks
IMAGES: Shuttle Discovery Poised for STS-116
STS-116 VIDEO: Power is Everything
Complete Space Shuttle Mission Coverage
STS-116 VIDEO: Back in Business
Mission Discovery: The ISS Rewiring Job of NASA's STS-116
STS-116 VIDEO: Building Blocks
The Great Space Quiz: Space Shuttle Countdown
All About the Space Shuttle