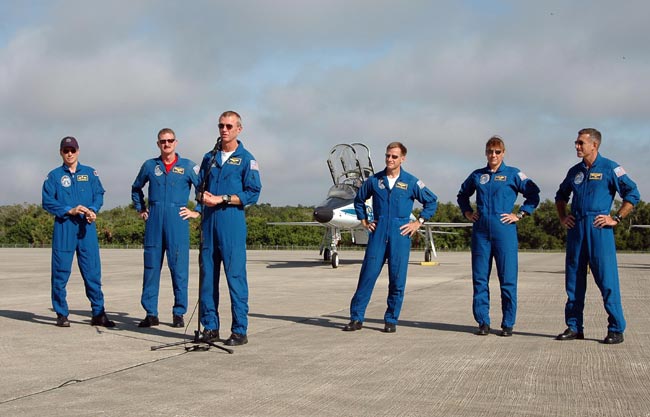 The clock is once more ticking down towards the launch of NASA's space shuttle Atlantis as six astronauts prepare to rocket towards the International Space Station (ISS) on Wednesday.
The launch countdown for Atlantis' STS-115 mission to deliver new solar arrays and trusses to the ISS began at 8:00 a.m. EDT (1200 GMT) as planned, NASA officials said. The shuttle is set to launch at about 12:29 p.m. EDT (1629 GMT) on Wednesday.
"There's a saying that says if you work hard you bring yourself good luck," STS-115 shuttle commander Brent Jett said Saturday of the mission controllers, technicians and workers preparing Atlantis for flight. "And if that's true, these guys deserve some good luck with the weather."
Jett and his fellow Atlantis crewmates - shuttle pilot Chris Ferguson and mission specialists Joseph Tanner, Daniel Burbank, Heidemarie Stefanyshyn-Piper and Steven MacLean, of the Canadian Space Agency - have trained for their 11-day orbital construction mission for more than four years and weathered delays following NASA's 2003 Columbia accident.
Atlantis' cargo of a $371.8 million set of new solar wings and 17.5-ton pair of trusses will mark NASA's first major ISS addition since late 2002 and the third shuttle flight following the loss of Columbia and its crew.
The mission has been delayed several times in the last week, first due a powerful lightning strike to the shuttle's Pad 39B launch site that prompted spacecraft checks which prevented launch attempts on Aug. 27 and 28. Mission managers stood down on Aug. 29 to ready Atlantis to weather then-Tropical Storm Ernesto.
Gallery: Prepping Atlantis
Complete Space Shuttle Mission Coverage
NASA's STS-115: Shuttle Atlantis to Jump Start ISS Construction
The Great Space Quiz: Space Shuttle Countdown