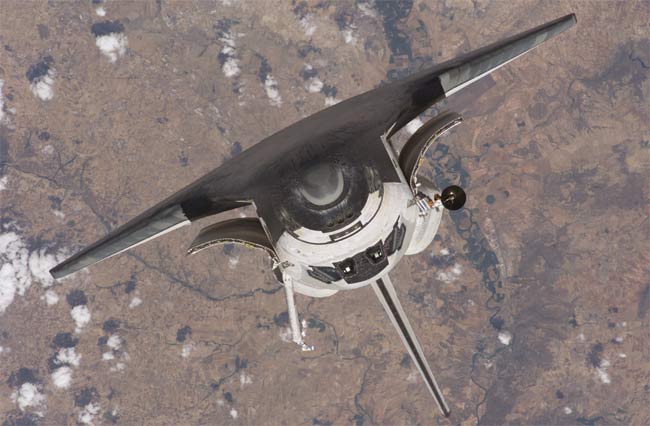 HOUSTON - The heat shield that protects the space shuttle Discovery from the searing temperatures of reentry has a clean bill of health, NASA mission managers said Sunday.
Final analysis of a protruding bit of ceramic cloth and two dinged thermal blanket patches yielded no concerns over Discovery's ability to bring its six-astronaut crew home safely, shuttle officials said.
"Not only did the team pound these issues flat, they put a dimple in the board when it was all said and done," said Steve Poulos, NASA's orbiter project manager, during a briefing here at the Johnson Space Center. "We are absolutely clear and ready to bring this vehicle home whenever the mission is accomplished."
The announcement comes four days after Discovery's STS-121 crew made their first inspection of their spacecraft's heat shield, and two days after a second look at six areas of interest chosen by a team of analysts.
"That is great news, that's fantastic," Discovery's commander Steven Lindsey told flight controllers today after hearing the news. "To get all that done by Flight Day 6 when we did focused inspections on Flight Day 4 is amazing."
Poulos said that detailed analysis of a small, ceramic cloth gap filler jutting from between tiles on the mid-aft region of Discovery's belly have shown that - in a worst case scenario of maximum heating - the added stress it could cause during reentry would not exceed the thermal or structural limitations of the surrounding shuttle tiles or spacecraft structure. The heating would also not affect the eight shuttle subsystems that are positioned inside the orbiter near that area of the vehicle, he added.
Similarly, engineers conducted pull tests on test articles, and then NASA's space shuttle Endeavour, to determine that a paid of small thermal blanket patches on Discovery's nose should not rip off as the vehicle reenters the Earth's atmosphere. Additional debris transport analysis - using computer models to determine whether any bits could damage Discovery if they did break free - also found no issues, NASA said.
Poulos said STS-121 mission managers have taken the lessons learned from the heat shield studies of NASA's first post-Columbia mission, July 2005's STS-114 mission also aboard Discovery, to streamline the process of evaluating the shuttle's thermal protection system.
"What we found was that a lot of the team members were spinning their wheels waiting on people to hand off data," Poulos said of the STS-114 effort, adding that new systems are in place to cut down on that time. "Basically, all the data is available simultaneous to everybody."
Lindsey and his STS-121 crew launched toward the International Space Station (ISS) on July 4, and are nearing the midpoint of their 13-day mission in orbit. Their shuttle mission is NASA's second orbiter test flight since the 2003 Columbia accident, and is aimed at resupplying the ISS, ferrying a third crewmember to the orbital lab, and testing shuttle heat shield repair tools and techniques.
In addition to completing NASA's post-Columbia return to flight goals - which includes developing the hardware and methods to fix damaged shuttle heat shield tiles and panels - Discovery's STS-121 mission is delivering more than 5,000 pounds (2,267 kilograms) of cargo, 2,000 pounds (907 kilograms) of ISS equipment and European astronaut Thomas Reiter to the orbital space station.
Reiter, a native of Germany and the first European Space Agency (ESA) astronaut to take a long-duration post aboard the ISS, has joined the station's Expedition 13 crew and will stay on through the beginning of Expedition 14 before returning to Earth aboard Discovery in December.
"This has really been two missions for us," said John Shannon, NASA's deputy shuttle mission manager and chief of the STS-121 Mission Management Team. "The other piece of it, which is just as important, is what we have done for the station."
Gallery: Shuttle's First Flight
Gallery: Rare Space Shuttle Images
Shuttle Discovery: Complete Mission Coverage
Great Space Quizzes: Space Shuttle Countdown
Great Space Quizzes: The Space Shuttle
Great Space Quizzes: Life in Orbit