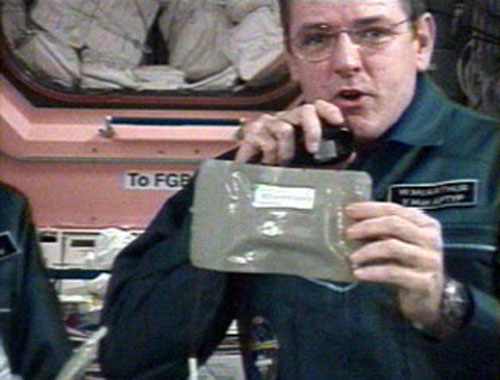 It may not be fresh out of the oven, but Thanksgiving dinner will still be a treat for two astronauts circling the Earth aboard the International Space Station (ISS).
ISS Expedition 12 commander Bill McArthur and flight engineer Valery Tokarev have set aside sealed packs of turkey, dehydrated vegetables and drinks for the traditional American holiday.
"I'm going to try to prepare, what for the McArthur family is a traditional Thanksgiving dinner," McArthur said during a video message describing his upcoming holiday meal. "Did you know that mashed potatoes with onions could be dehydrated?"
McArthur and Tokarev are in the eighth week of their six-month mission aboard the ISS.
While Tokarev said Thanksgiving is a primarily American holiday, he looks forward to sharing the day with his spaceflight partner.
"We don't have so many options of celebration for the day in Russia," said Tokarev, a cosmonaut with Russia's Federal Space Agency. "But we also like to get together for some celebration. We are like brothers on board."
Setting the table
McArthur's plan for Thanksgiving dinner calls for packaged smoked turkey, lemonade and tea, as well as dehydrated green beans, asparagus and other vegetables.
"They feel a little bit like Styrofoam before they've had water," McArthur said of the dehydrated vegetables.
Space station astronauts sample a full menu of available U.S. and Russian food before launch to allow nutritionists to set up a 10-day in-flight meal rotation. While they don't have chilled water available for cold items, they do have warm and hot water available for rehydration, as well as food warmer for other items, NASA officials said.
"Each day is set up with three meals and a snack," said Vickie Kloeris, flight food systems manager at NASA's Johnson Space Center in Houston. "But we don't really store a Thanksgiving meal per se."
Instead, meals aboard the ISS are pantry style, with astronauts choosing from the variety of foods in their 10-day schedule, Kloeris said. Shipping up specific holiday foods to the ISS is tough since their menus are prepared months in advance when some theme items are not in season, but general foods – like turkey – can be set aside in space or included in bonus treat containers for each astronaut, she added.
"For me, cranberries have always been a traditional part of our Thanksgiving dinner," McArthur said, waving a sealed package of the fruit before the ISS camera in the video message.
Future eats
Future astronauts serving aboard expeditions to Moon or Mars may have more on their holiday plate than the ISS crew.
The potential to grow vegetables, fruits and other plants on a lunar or Mars base would add a much appreciated texture to mealtimes, NASA officials said. Initial short trips to the Moon will likely rely on the same foodstuffs used aboard the ISS, but long duration trips could expand their diet, they added.
"We're going to start growing crops," said Michele Perchonok, head of NASA's advanced food system group at JSC. "We'll start with vegetables and fruits like spinach and onions…then on to white and sweet potatoes."
A live turkey will still not be in the cards for lunar Thanksgivings, but packaged and irradiated versions can still be shipped up to future explorers, Perchonok said.
"We're in a closed environment and you may not want to live so close to live animals," Perchonok said. "But instead of dehydrated mashed potatoes and candied yams, you could make it from real vegetables."
In addition to the tasty advantages of cooking at least some of your dinner from fresh crops, there is also a psychological plus to new aromas, crunchy textures and the presence of growing plants in a sterile environment, NASA officials said.
Aboard the ISS, astronauts have grown soy beans, radishes and some other plants to study their growth, but the arrival of fresh fruits aboard Russian cargo ships has always been a landmark event.
McArthur and Tokarev are awaiting a fresh cargo delivery aboard the unmanned Progress 20 supply ship set to dock at the ISS on Dec. 23 to deliver food, supplies and gifts to the station crew in time for Christmas.
"Perhaps the most difficult thing for use being in orbit is being away from our family," McArthur said. "But when we look down at the Earth, we realize that we have a home planet and we realize that all members of humanity are one big family with us."
Complete Coverage: ISS Expedition 12