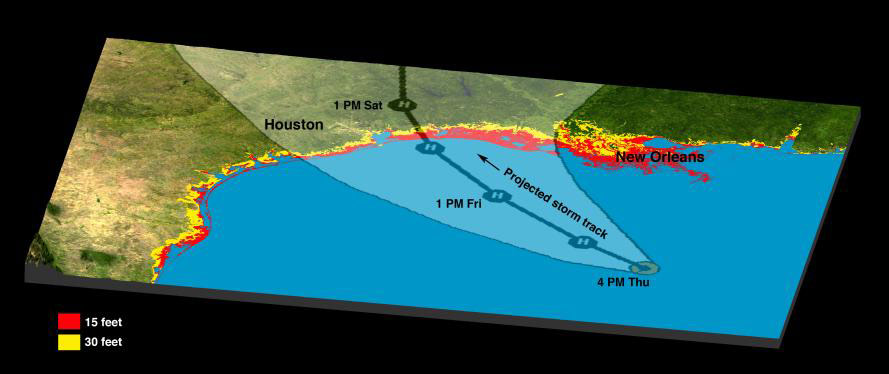 While NASA's Johnson Space Center (JSC) sat all but empty Friday awaiting the arrival of Hurricane Rita, two other Gulf Coast space facilities are also preparing for the storm.
NASA officials said only a small security team - rather than a ride out crew -remained at JSC, which shut down Wednesday as Hurricane Rita grew in strength. The storm is expected to make landfall on the Texas Gulf Coast early Saturday.
"Johnson Space Center will be closed at least through Monday," NASA spokesman Allard Beutel said, adding that stretching the closure to Tuesday was also a possibility depending Hurricane Rita's impact.
JSC and its surrounding area are prone to flooding, a primary concern since the space center sits less than one mile from Galveston Bay.
Meanwhile, 40 emergency personnel hunkered down at NASA's New Orleans-based Michoud Assembly Facility, where space shuttle external tanks are built, while a skeleton crew watched over Stennis Space Center in Mississippi, Beutel said.
NASA officials said Michoud crews were using nets and blue tarps to shield shuttle fuel tanks from damage during the impending storm. Stennis officials expected heavy rain and wind from Hurricane Rita.
Both Michoud and Stennis suffered damage this month from Hurricane Katrina, a Category 4 hurricane that slammed into the Gulf Coast three weeks ago and devastated New Orleans, the Mississippi coast and other areas.
Beutel said 100 Michoud employees had returned to the New Orleans facility before once more evacuating to avoid Hurricane Rita. They were relocated to Pensacola, Florida, NASA officials added.
As of Friday, Hurricane Rita was a Category 3 storm, weakening from a Category 5 - the highest on Saffir-Simpson hurricane scale - earlier this week.
JSC is home to NASA's space shuttle and International Space Station (ISS) mission controls. ISS flight controllers powered down their consoles Wednesday as the space center shut down, turning flight operations over to Russian mission controllers in Korolev, just outside Moscow.
The last storm to threaten space station operations at JSC was Hurricane Lili in 2002 during ISS Expedition 5, NASA officials said, adding that flight control was shifted to Korolev then as well.
NASA officials have set up a call-in number (877-470-5240) for JSC employees to check in after Hurricane Rita has passed.