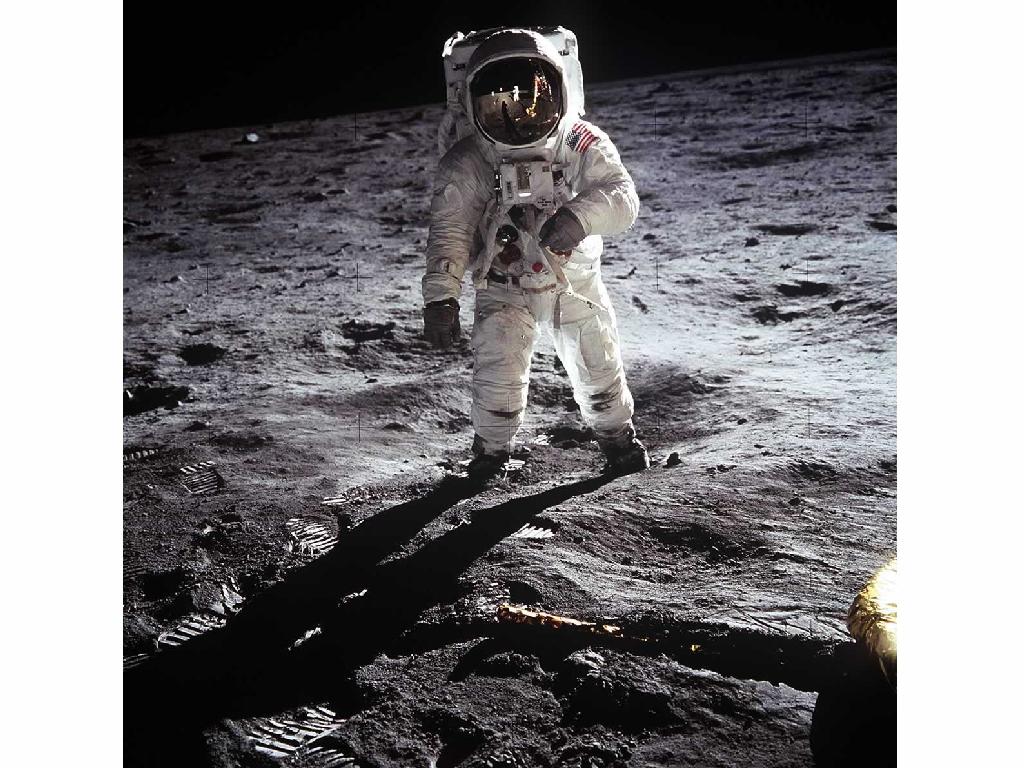 To mark the occasion of the 50th anniversary of human spaceflight, SPACE.com has selected just over 50 of the most memorable and iconic images of astronauts in space or taken by spaceflyers. Vote on your favorites!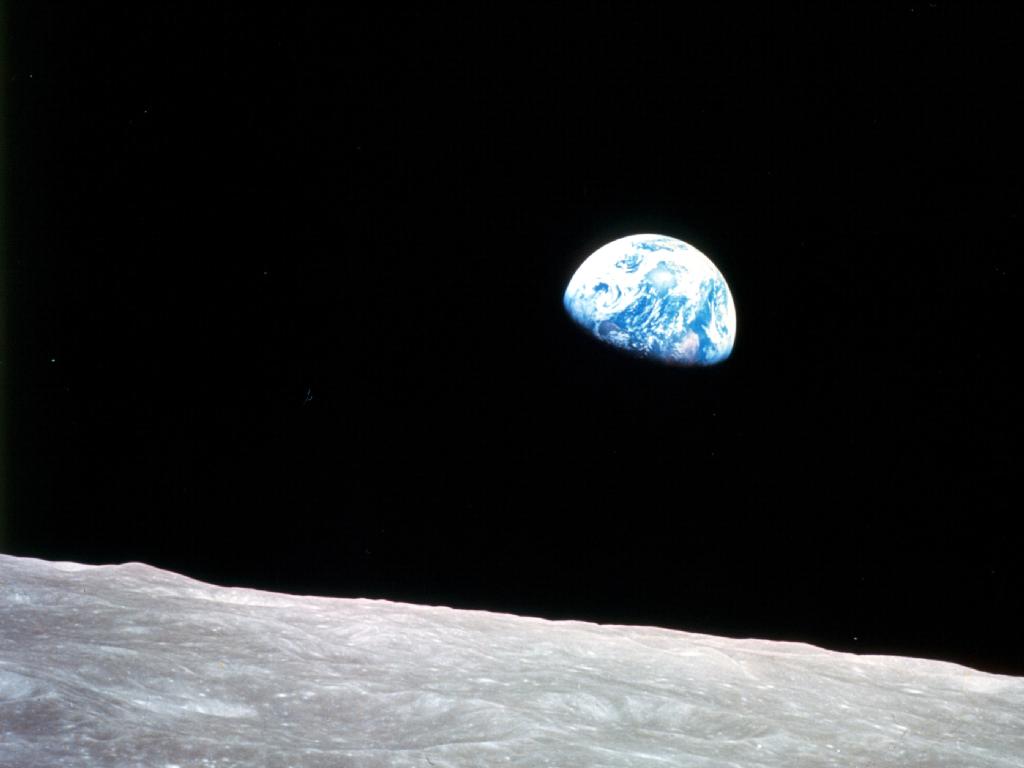 The Apollo 8 astronauts broadcast never-before-seen views of the Earth and moon on December 24, 1968.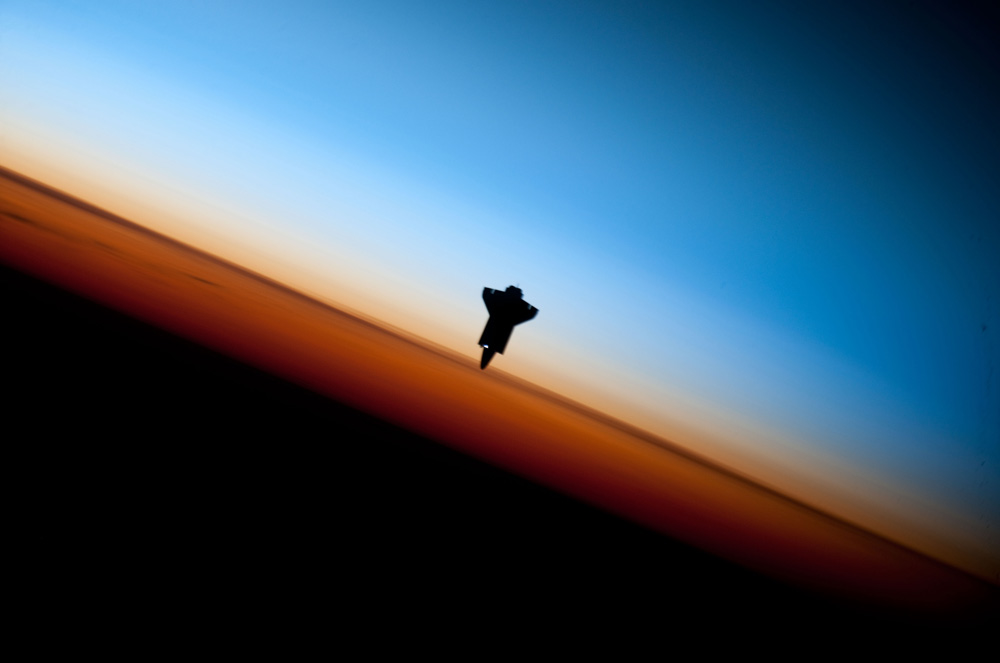 In a very unique setting over Earth's colorful horizon, the silhouette of the space shuttle Endeavour is featured in this image photographed by an Expedition 22 crewmember prior to STS-130 rendezvous and docking operations with the International Space Station. Docking occurred at 12:06 p.m. (EST) on Feb. 10, 2010.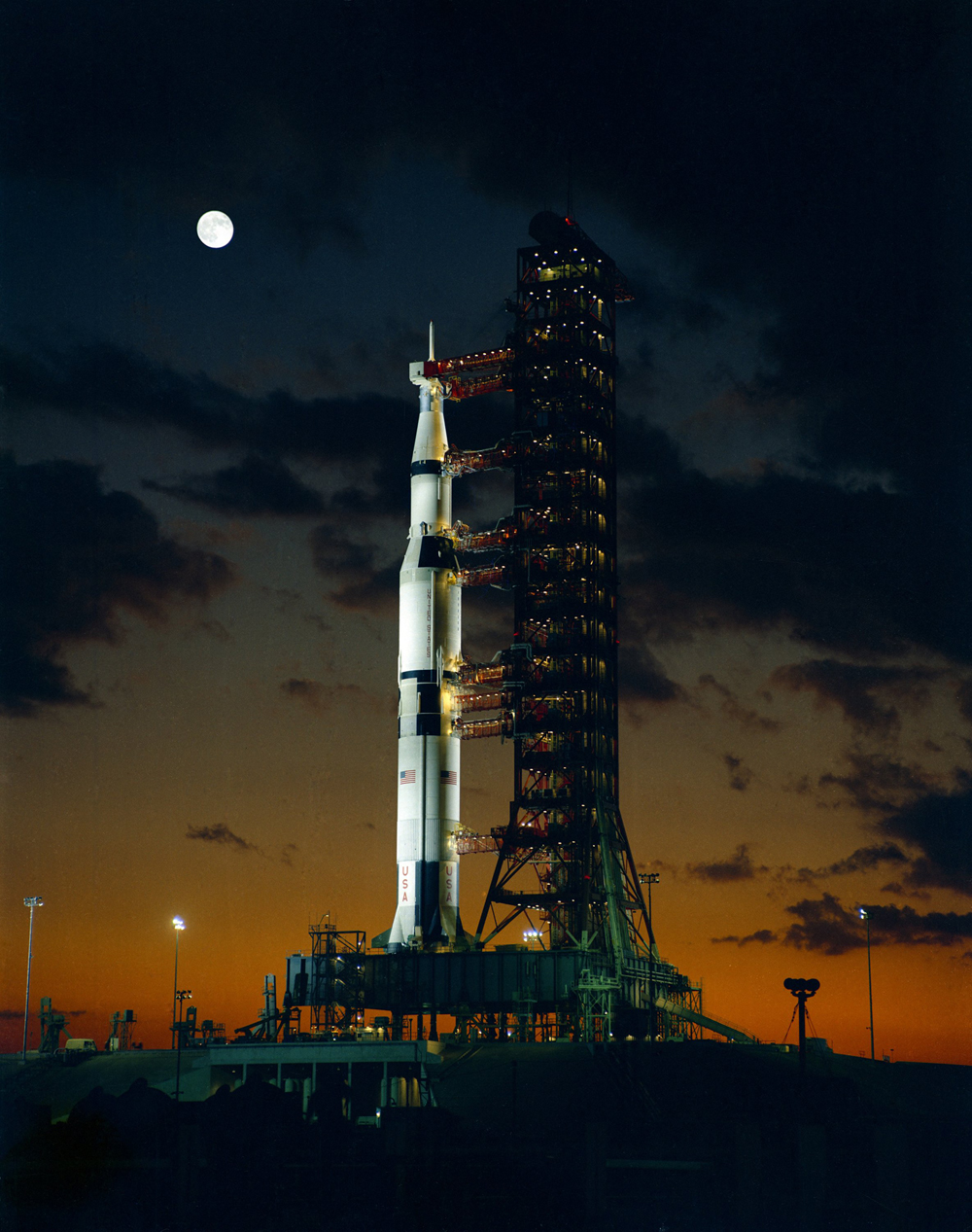 The giant Saturn V rocket for the Apollo 4 mission at the Kennedy Space Center's launch complex 39A stands at the dawn of November 8, 1967, during the pre-launch alert.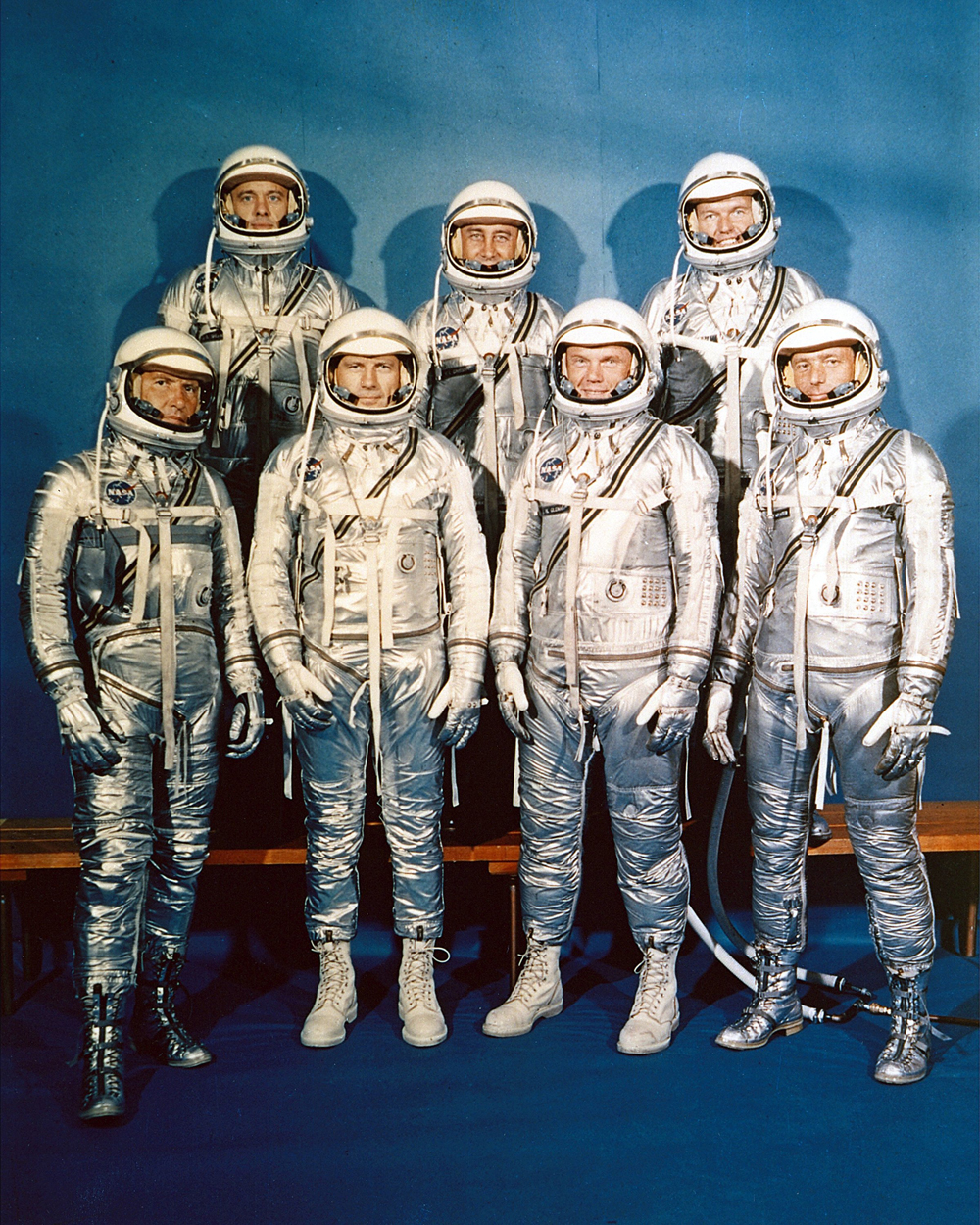 The National Aeronautics and Space Administration came into being on October 1, 1958. NASA announced the seven Project Mercury Astronauts on April 9, 1959, only six months later. They are: (front, l to r) Walter H. Schirra, Jr., Donald K. Slayton, John H. Glenn, Jr., and Scott Carpenter; (back, l to r) Alan B. Shepard, Jr., Virgil I. Gus Grissom, and L. Gordon Cooper.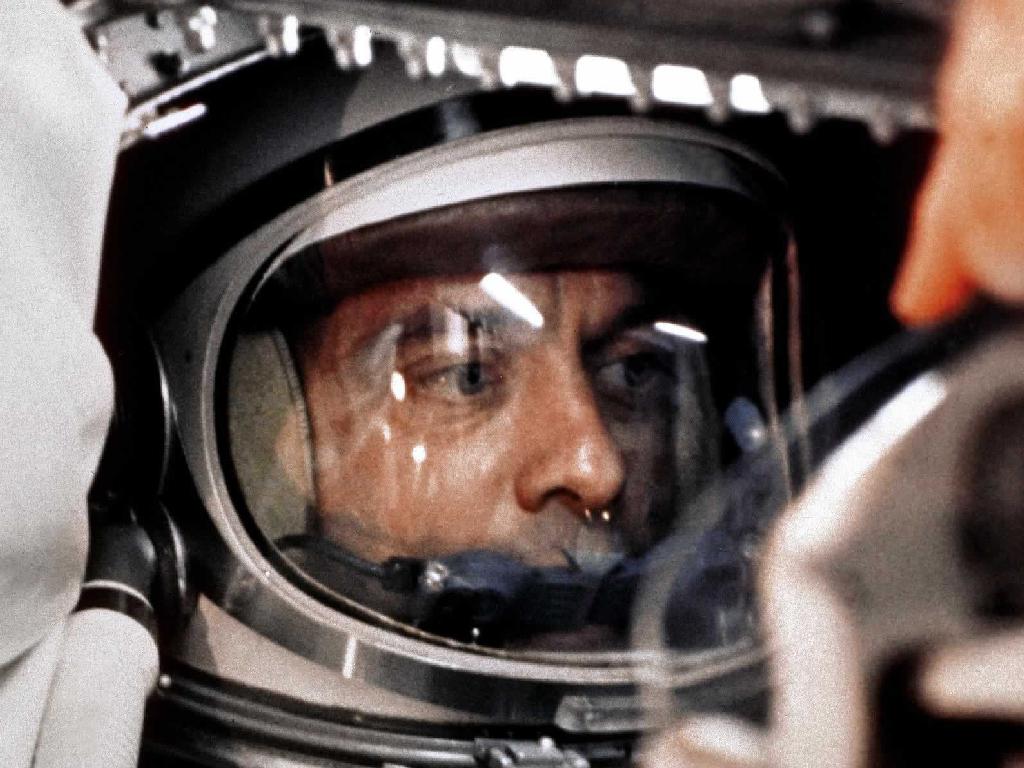 Alan Shepard flew in space on May 5, 1961, the first American to do so. He launched aboard a Mercury-Redstone 3 rocket named Freedom 7. The suborbital flight lasted 15 minutes.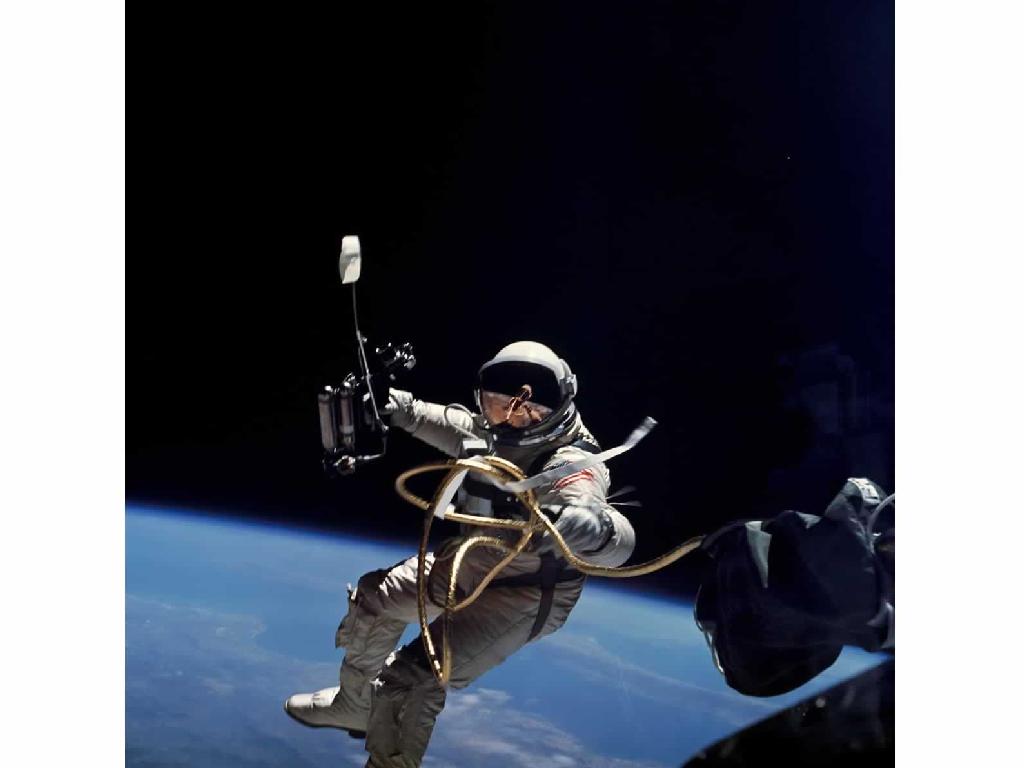 Ed White conducted the first American spacewalk on June 3, 1965.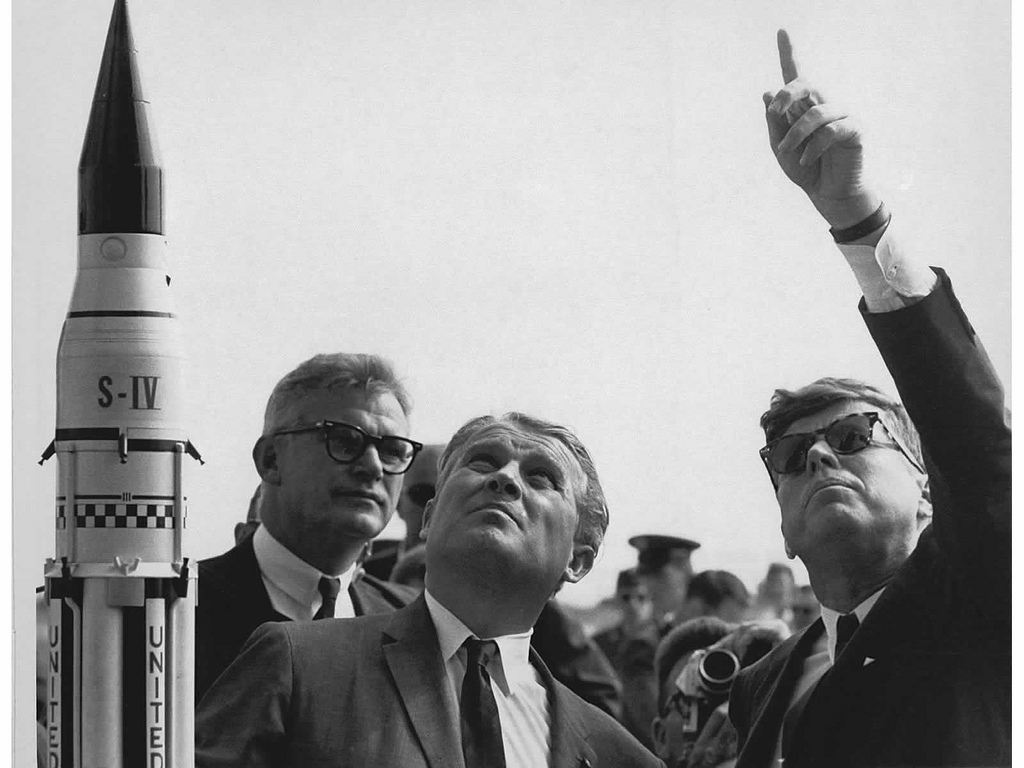 Dr. Wernher von Braun (center) describes the Saturn Launch System to President John F. Kennedy (right, pointing). NASA Deputy Administrator Robert Seamans stands to the left of von Braun.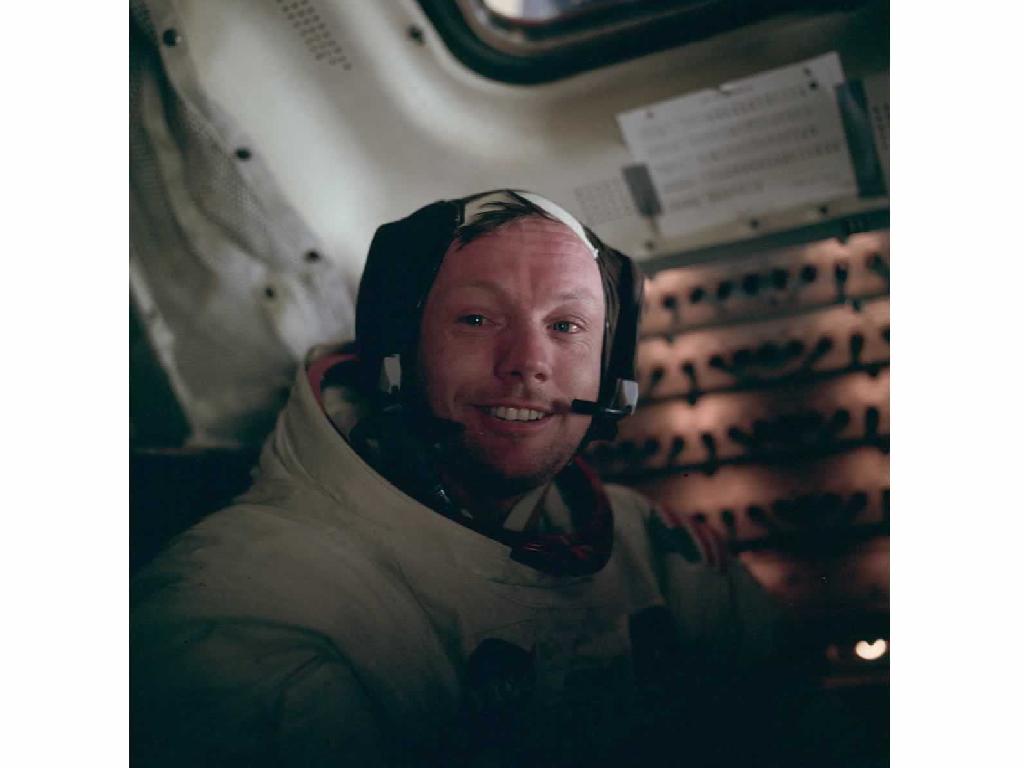 Neil Armstrong sits in the lunar module after a historic moonwalk.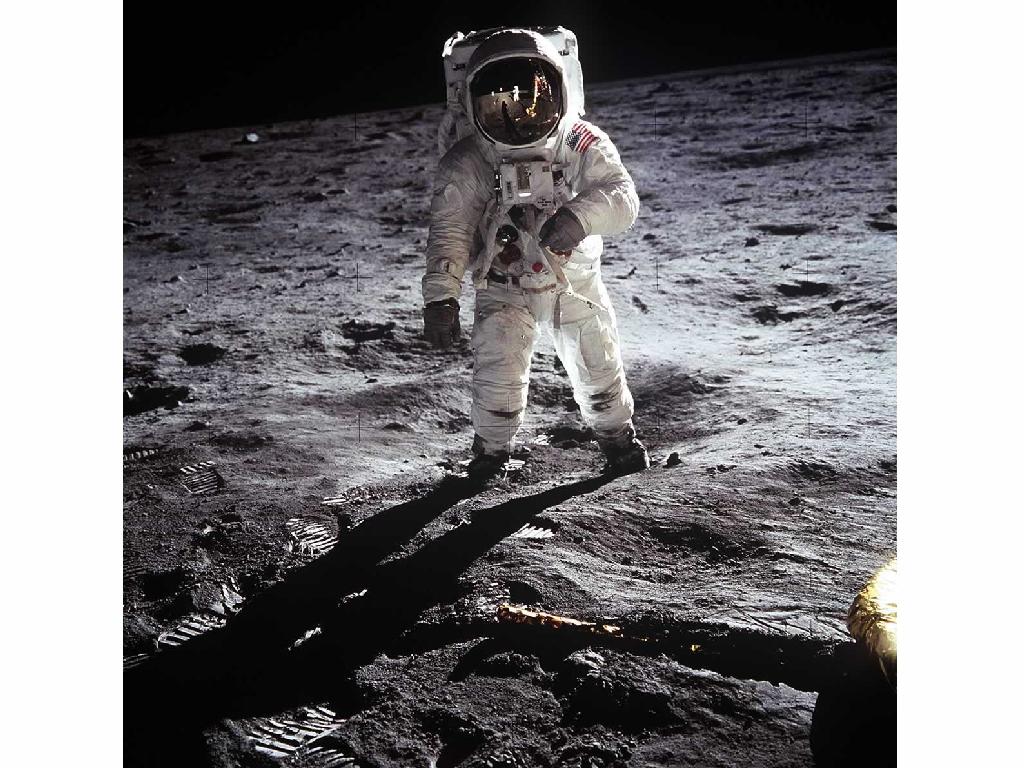 Astronaut Buzz Aldrin, lunar module pilot, walks on the surface of the Moon during the Apollo 11 mission, July 1969.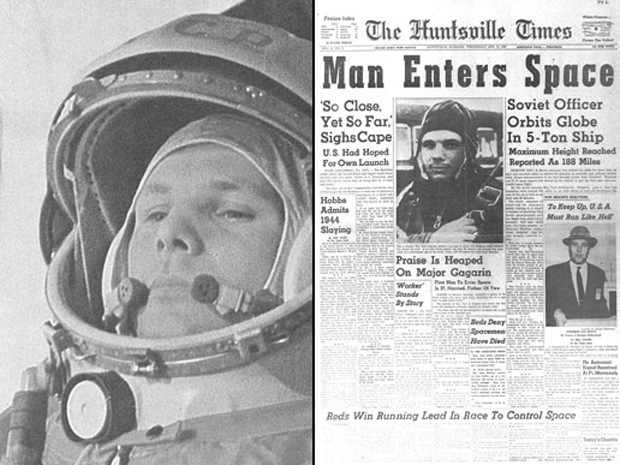 On April 12, 1961, Russian cosmonaut Yuri Gagarin (left, on the way to the launch pad) made the first human spaceflight, a 108-minute orbital journey in his Vostok 1 spacecraft. Newspapers like The Huntsville Times (right) trumpeted Gagarin's accomplishment.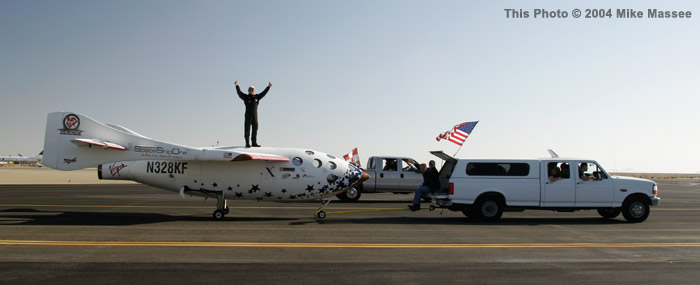 Pilot Mike Melvill has some fun celebrating his successful private suborbital flight atop SpaceShipOne, as the tow vehicle pulls it to the general viewing area.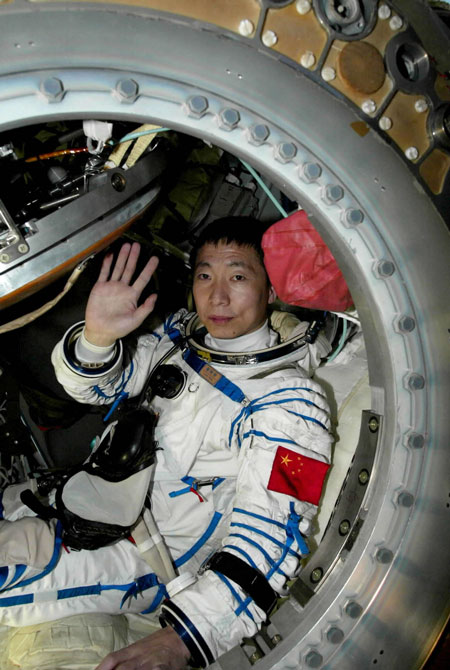 First Chinese astronaut Yang Liwei waves as the capsule door was opened after landing on the Inner Mongolian grasslands of northern China Thursday, Oct. 16, 2003.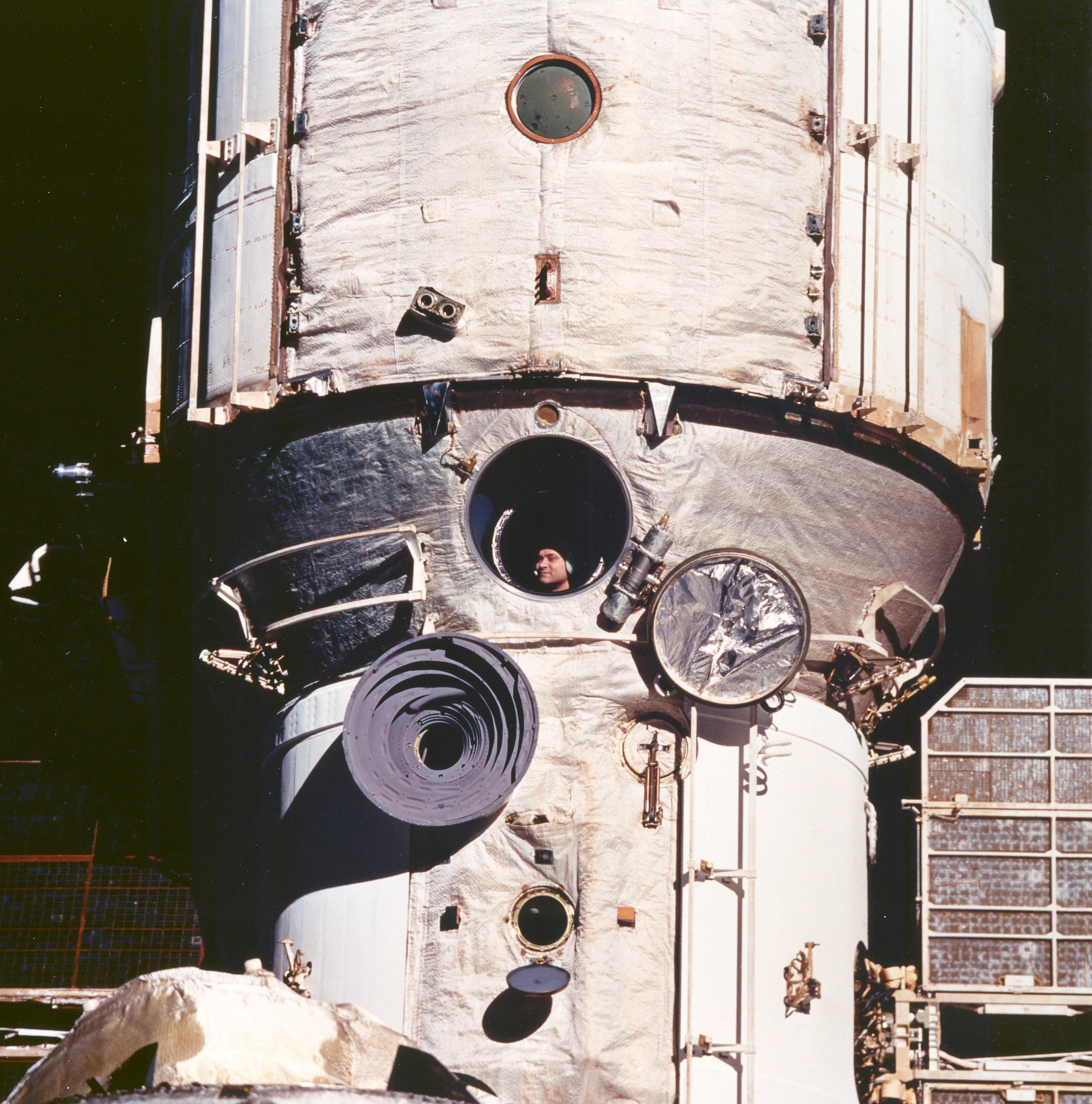 Cosmonaut Valeriy V. Polyakov looks out space station Mir's window during rendezvous operations with the space shuttle Discovery on February 6, 1995. He holds the record for the longest spaceflight, just under 438 days, aboard Mir.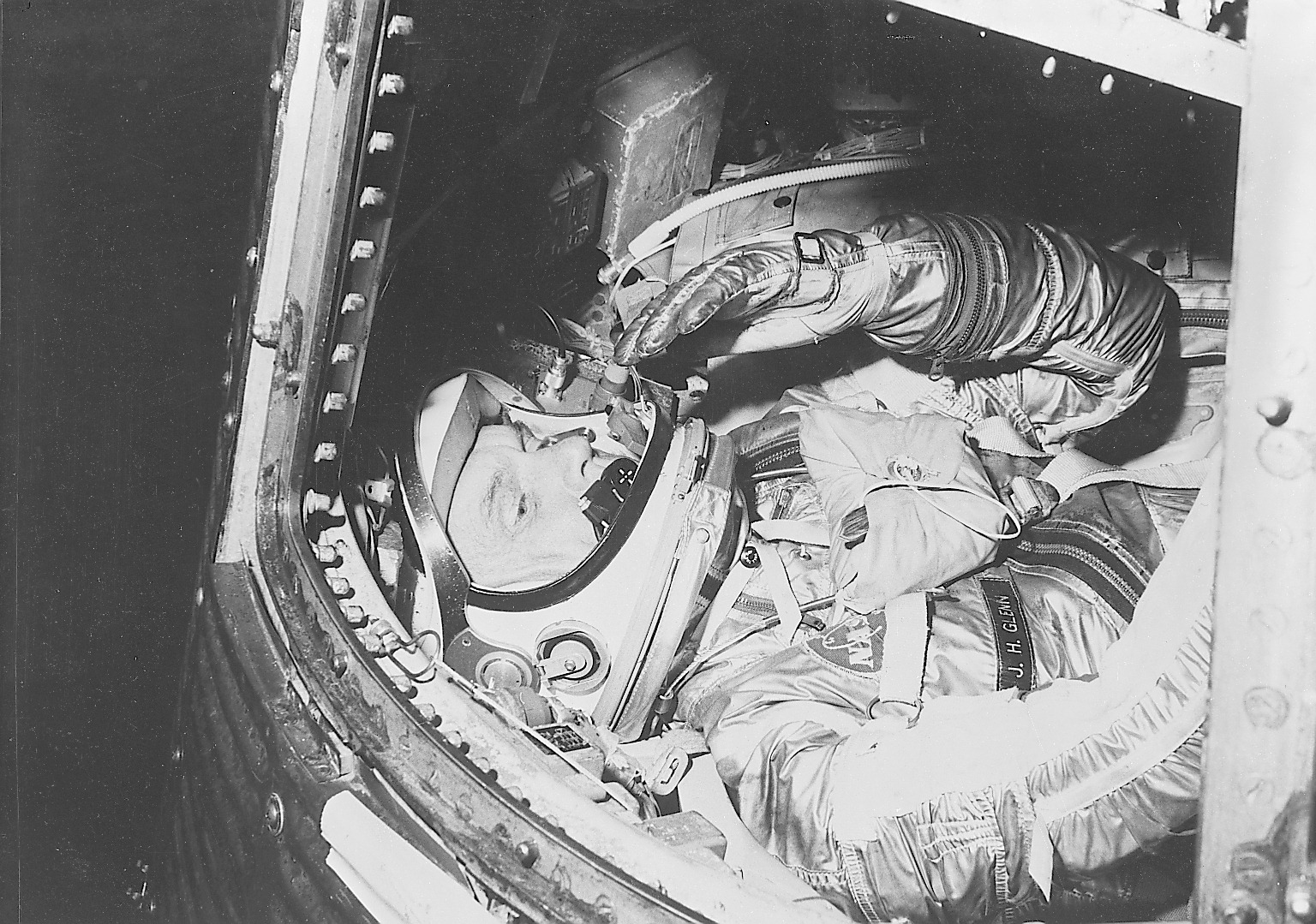 Rehearsing for his historic flight on February 20, 1962, Mercury program astronaut John H. Glenn, Jr. works in a cramped training capsule preparing for a few hours' voyage through space.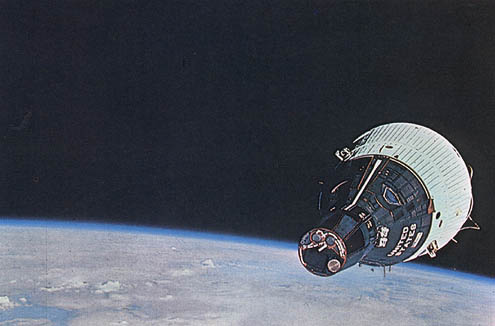 In December 1965, two Gemini spacecraft flew above the Earth at the same time. Gemini VI carried Walter M. Schirra, Jr. and Thomas P. Stafford, while Gemini Vll contained Frank Borman and James A. Lovell, Jr. This photo of Gemini VII was taken from Gemini VI by Stafford.

Cosmonaut Alexei Leonov stepped out of the Soviet Voskhod II spacecraft to make the first walk in space on March 18, 1965.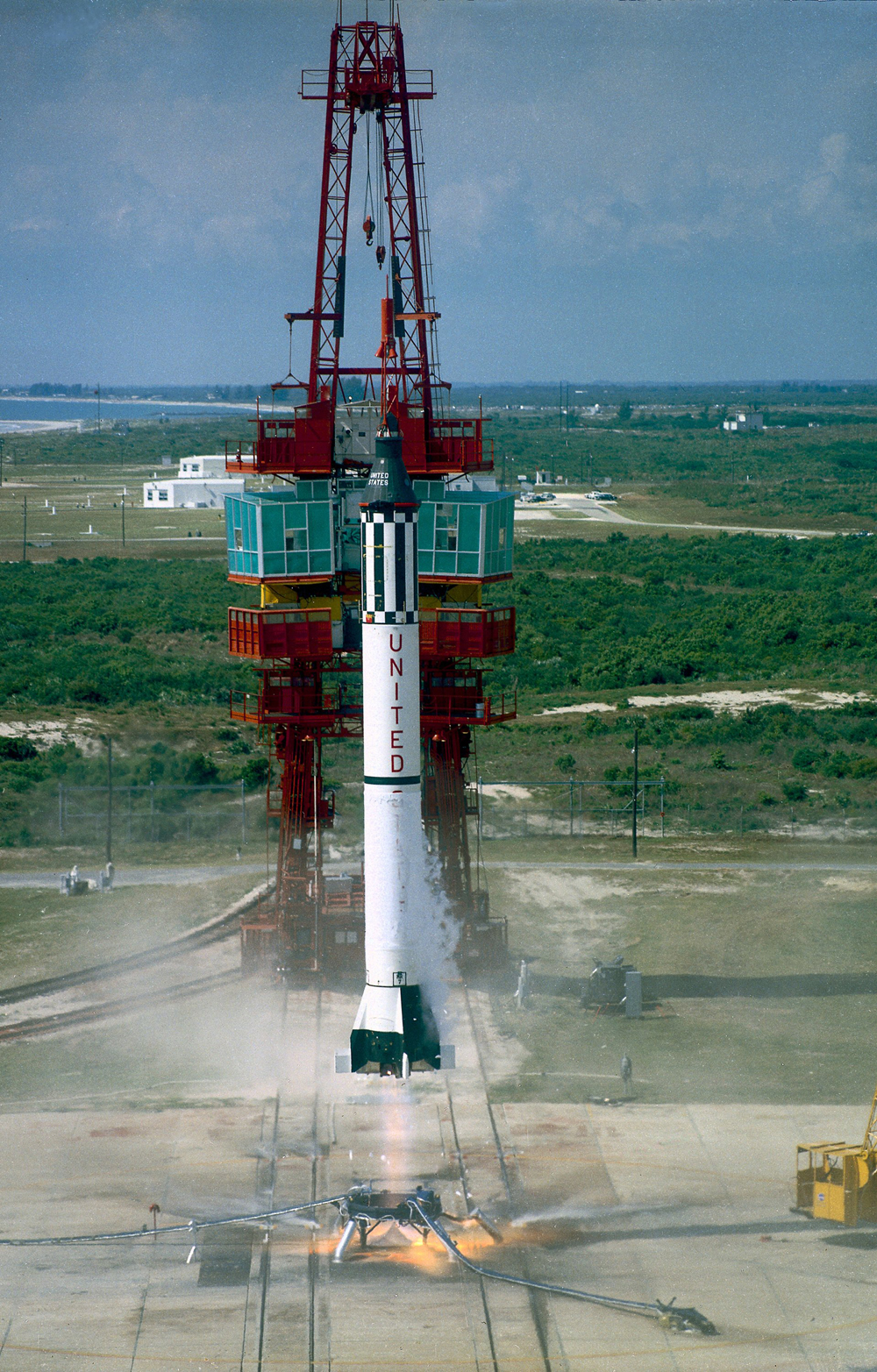 This Mercury-Redstone rocket placed the first American astronaut, Alan Shepard, in suborbit on May 5, 1961.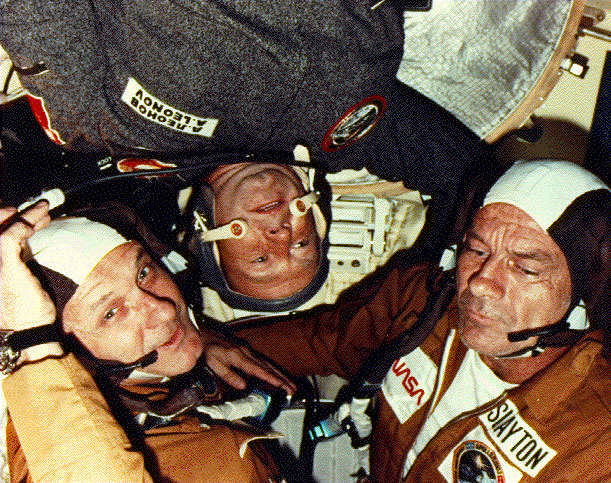 American and Russian spaceflyers, pictured here, came together in the historic Apollo-Soyuz Test Project of July, 1975. The Americans flew on the final Saturn rocket to launch, the final Apollo spaceflight.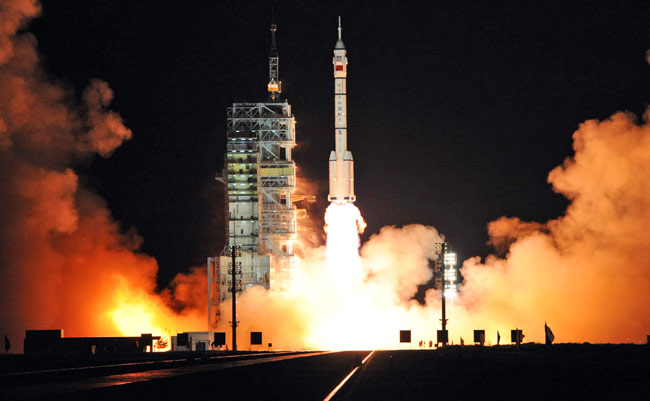 The Shenzhou 7 manned spacecraft launches from the Jiuquan Satellite Launch Center in northwest China's Gansu province on Thursday Sept. 25, 2008, in this photo distributed by the official Chinese news agency, Xinhua.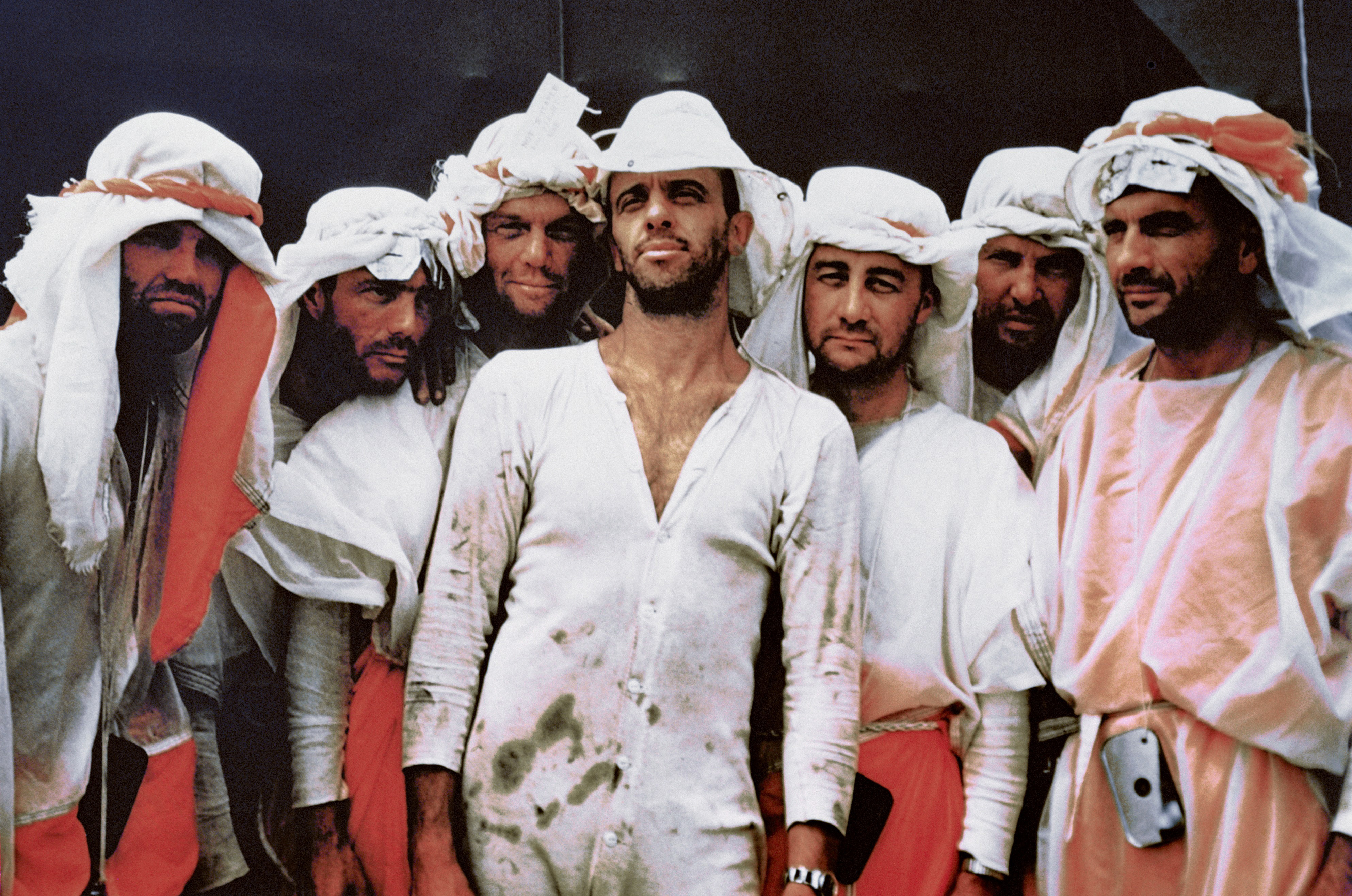 Bearded, with makeshift clothing, the seven original Mercury astronauts participated in U.S. Air Force survival training at Stead Air Force Base in Nevada. Pictured in this 1960 photograph are (l to r): L. Gordon Cooper, M. Scott Carpenter, John Glenn, Alan Shepard, Virgil I. Grissom, Walter Schirra and Donald K. Slayton.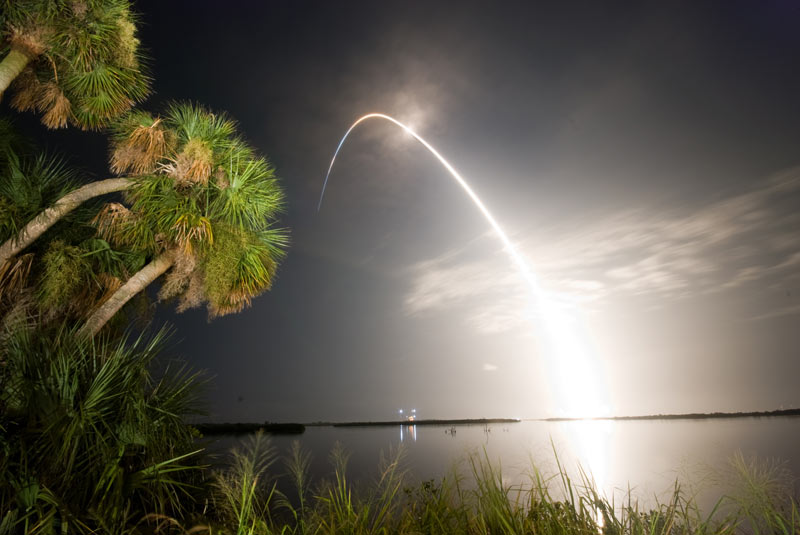 Viewed from the Banana River Viewing Site at NASA's Kennedy Space Center in Florida, space shuttle Discovery arcs through a cloud-brushed sky, lighted by the trail of fire after launch on the STS-128 mission. Liftoff from Launch Pad 39A was on time at 11:59 p.m. EDT on Aug. 28, 2009.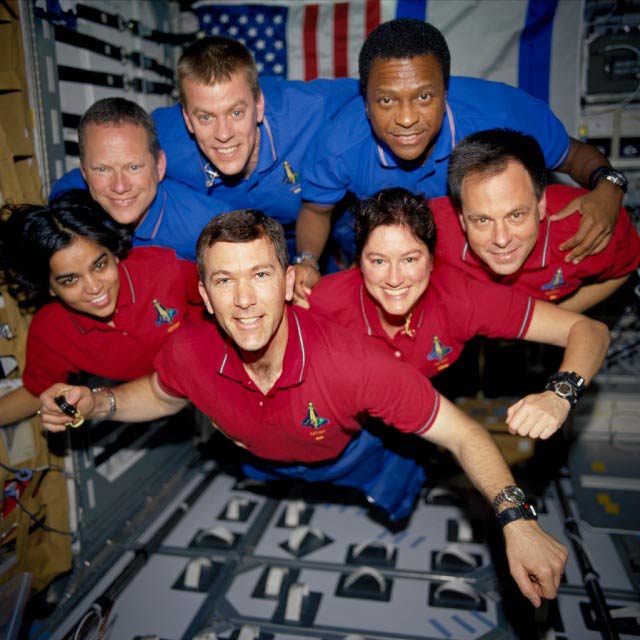 This image of the STS-107 shuttle Columbia crew in orbit was recovered from wreckage inside an undeveloped film canister. The shirt colors indicate their mission shifts. From left (bottom row): Kalpana Chawla, mission specialist; Rick Husband, commander; Laurel Clark, mission specialist; and Ilan Ramon, payload specialist. From left (top row) are astronauts David Brown, mission specialist; William McCool, pilot; and Michael Anderson, payload commander. Ramon represents the Israeli Space Agency.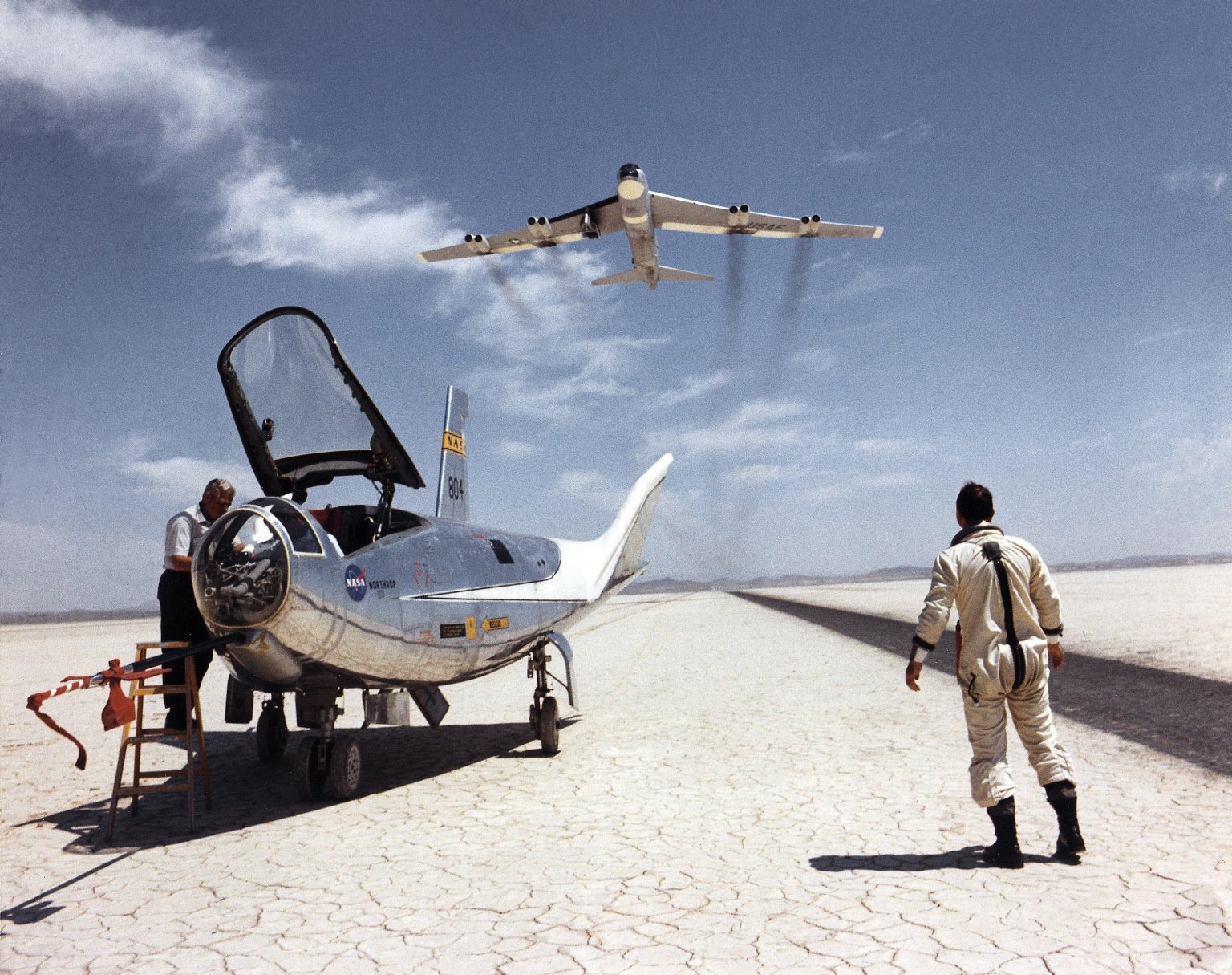 NASA research pilot Bill Dana watches NASA's NB-52B overhead after a flight in the HL-10 lifting body. The HL-10 was one of five lifting body designs flown at NASA's Dryden Flight Research Center in California, from 1966-1975 to study maneuvering and landing a low lift-over-drag vehicle designed for reentry from space.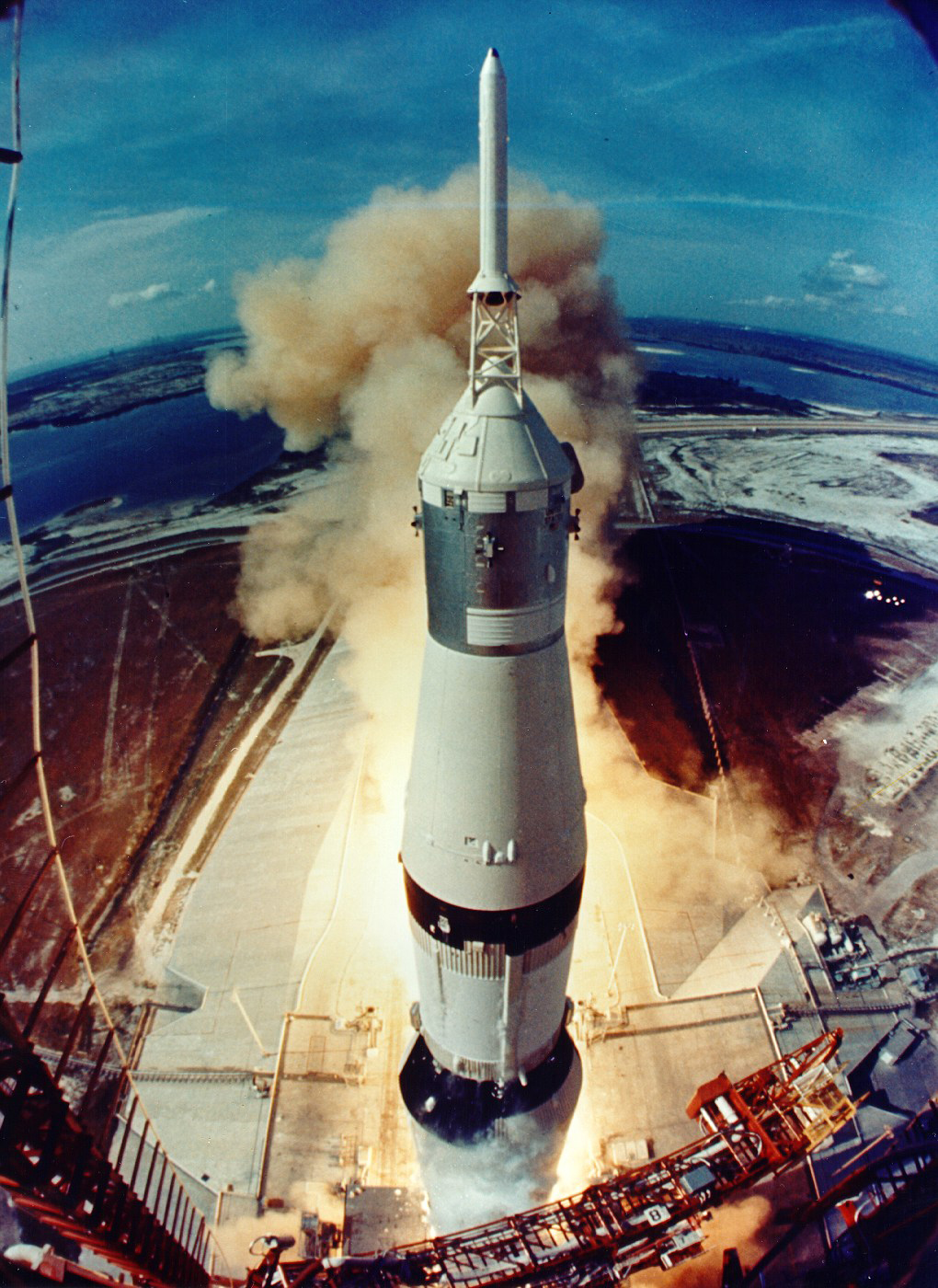 The Apollo 11 mission launched from the Kennedy Space Center, Florida on July 16, 1969, bearing the first humans to walk on the moon.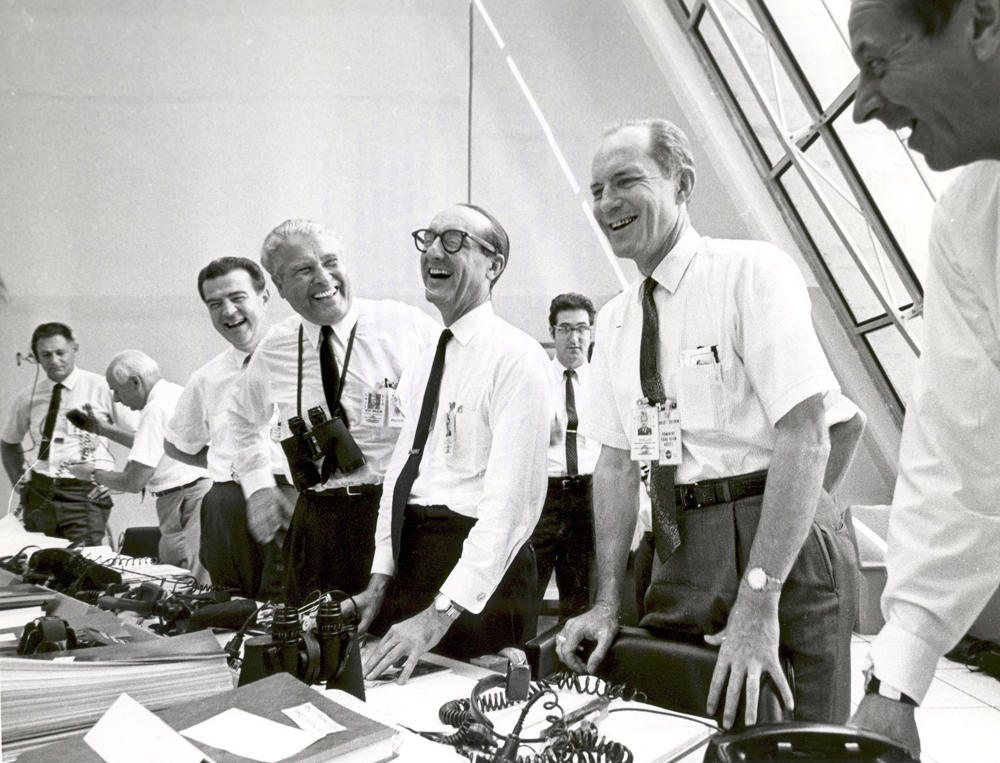 Apollo 11 mission officials relax in the Launch Control Center following the successful Apollo 11 liftoff on July 16, 1969. Second from left (with binoculars) stands Dr. Wernher von Braun, Director of the Marshall Space Flight Center.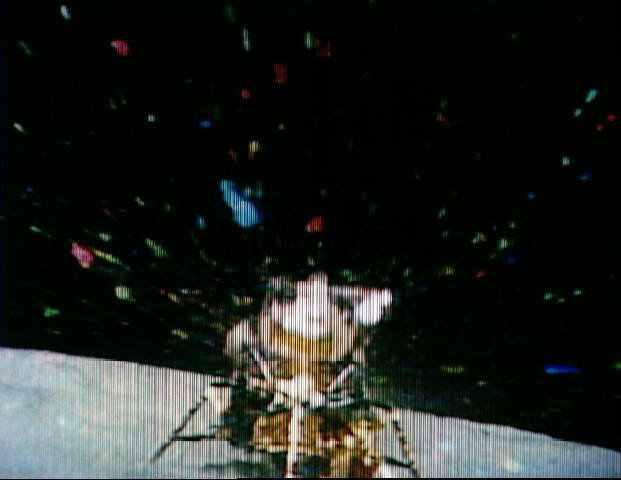 The flame from the Apollo 16 Lunar Module Orion ascent stage engine creates a kaleidoscopic effect during lunar liftoff, as seen in this color television transmission on April 23, 1972.
The first space shuttle mission, STS-1, launched on April 12, 1981, with astronauts John Young and Robert Crippen onboard space shuttle Columbia.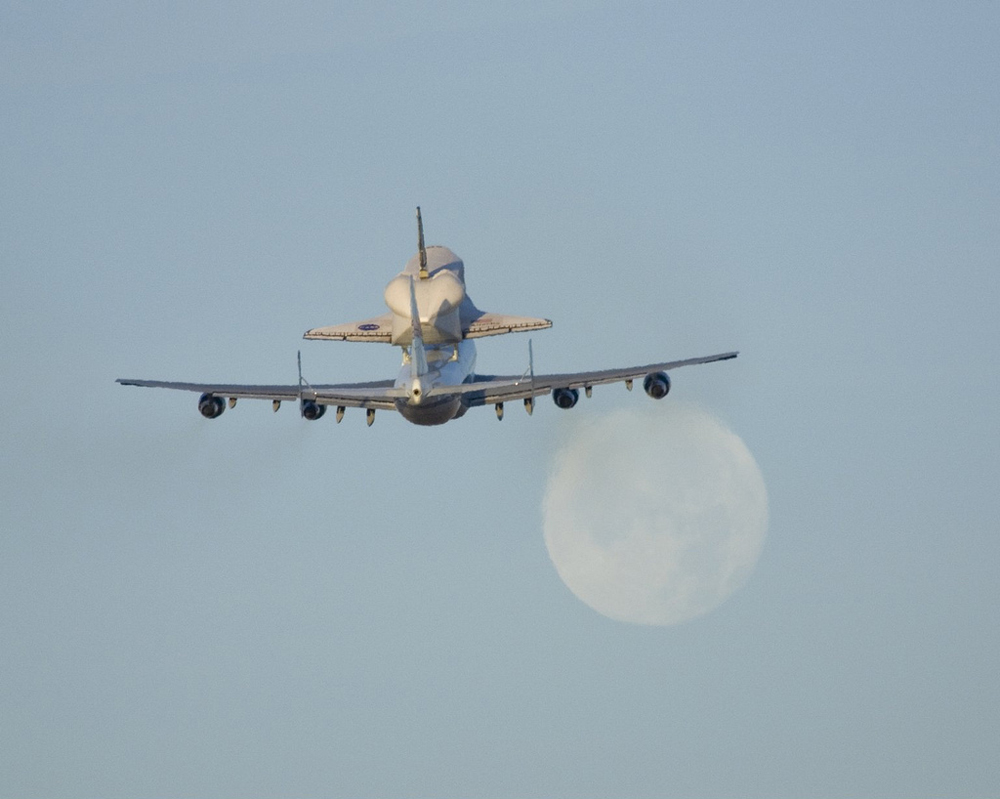 NASA's modified Boeing 747 Shuttle Carrier Aircraft with the Space Shuttle Atlantis attached lifts off from Edwards Air Force Base in California, returning to Kennedy Space Center in Florida on July 1, 2007.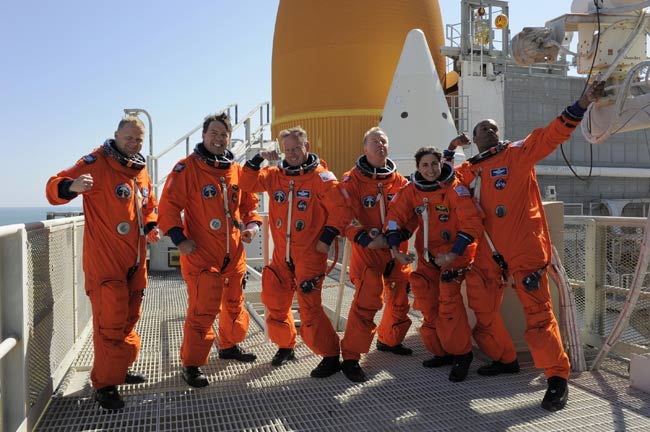 STS-133 astronauts take a break from a simulated liftoff countdown next to the space shuttle Discovery. From left: Eric Boe, Michael Barratt, Steve Lindsey, Tim Kopra, Nicole Stott, and Alvin Drew.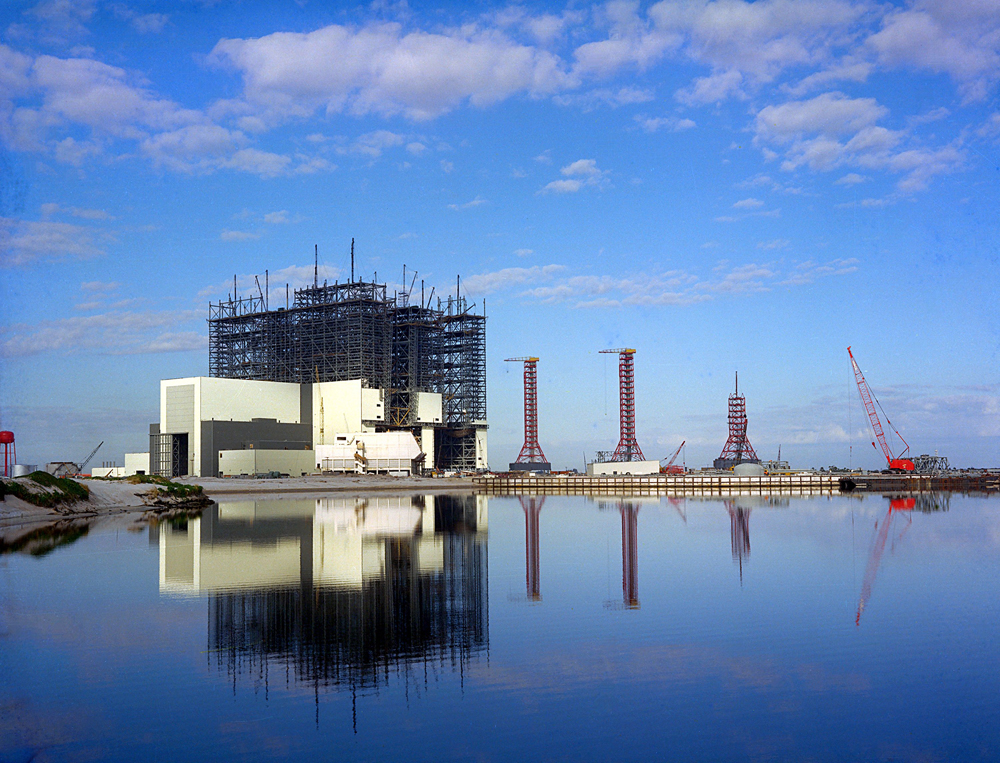 The Vehicle Assembly Building (VAB) undergoes construction in early 1965 at Kennedy Space Center, with the Launch Control Center (LCC) and Service Towers viewed from across the Turning Basin. The largest one-story building in the world, it housed Saturn V rocket assembly activities, later converted to space shuttle procedures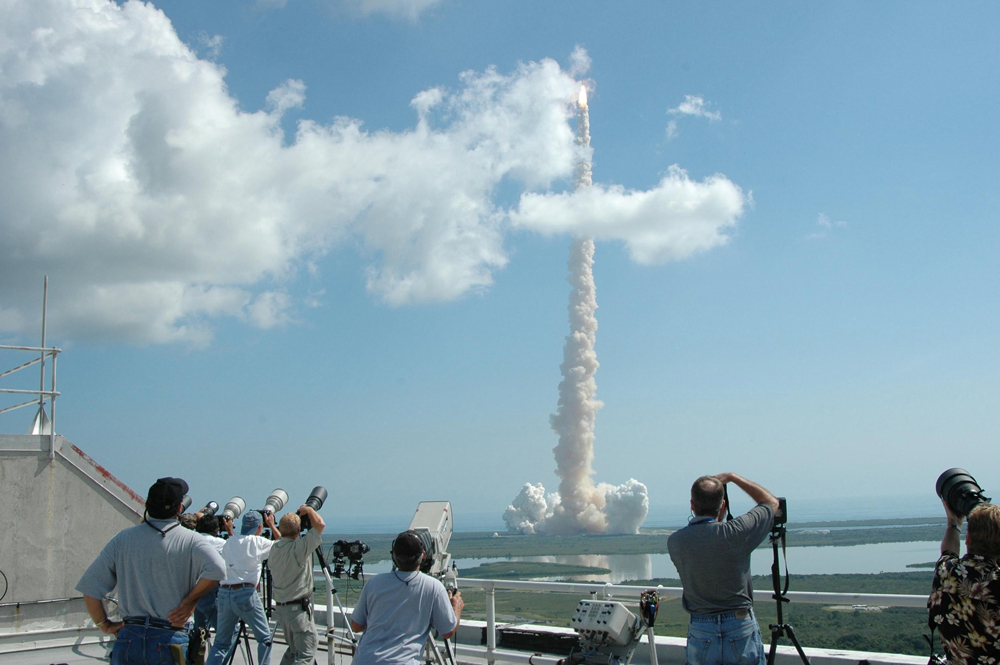 Space Shuttle Discovery launches on July 26. 2005 from NASA Kennedy Space Center on the historic Return to Flight mission STS-114, the first mission following the Columbia disaster.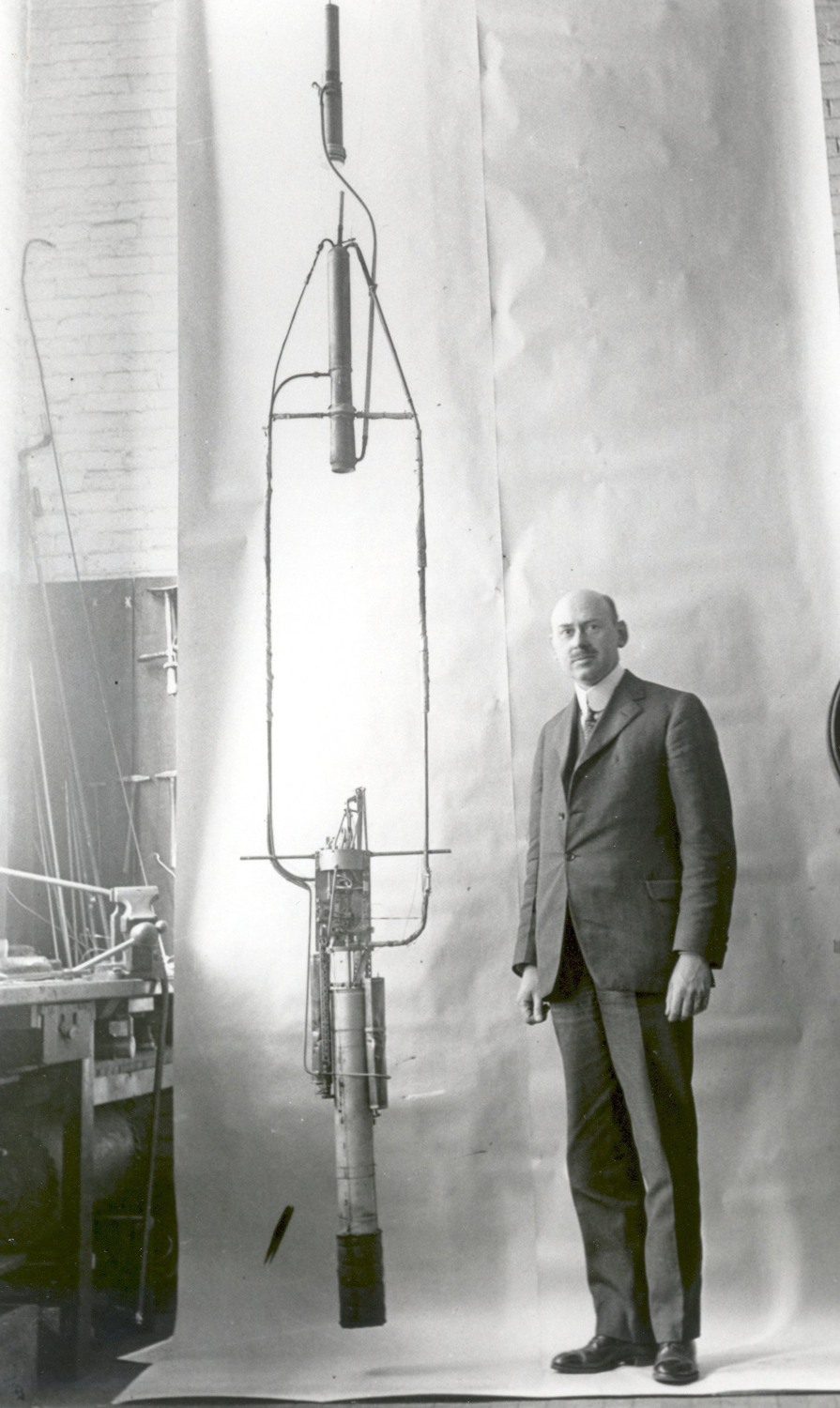 Space pioneer Dr. Robert H. Goddard stands with his rocket with the double-acting engine in November 1925, following more than two years of pump development based on the idea of a separate pump for each propellant, a significant advance.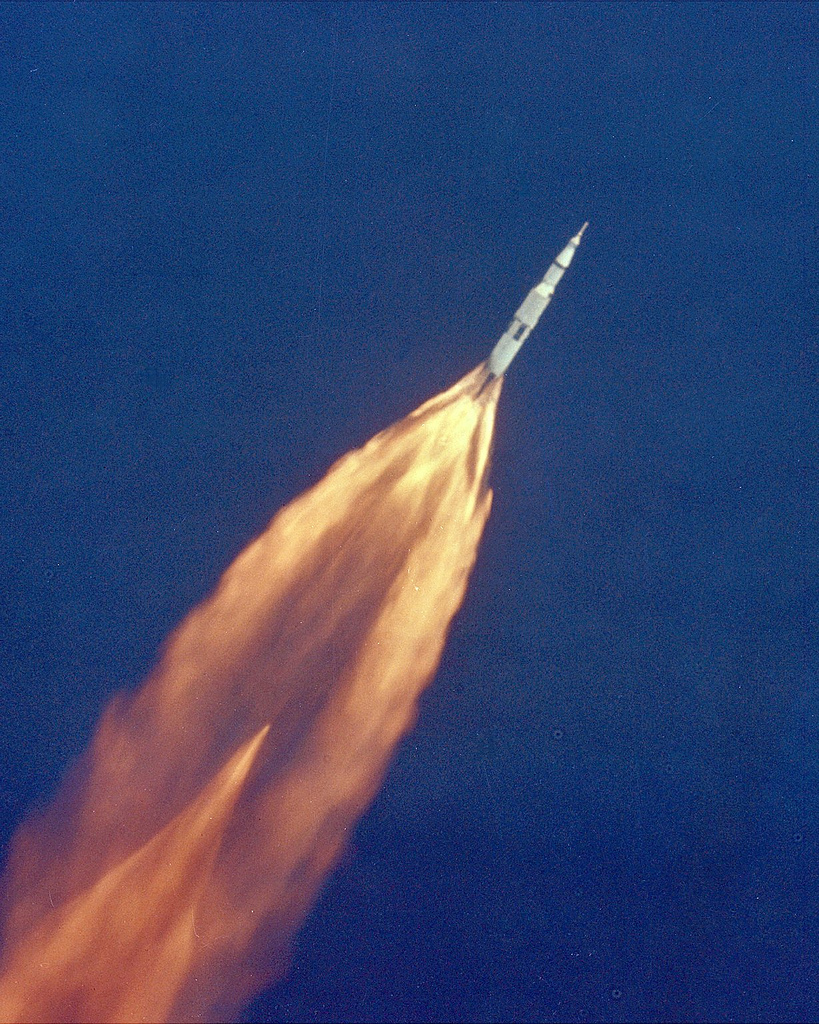 The Apollo 11 Saturn V space vehicle climbs toward orbit on July 16, 1969, bearing astronauts Neil A. Armstrong, Michael Collins and Edwin E. Aldrin, Jr. Armstrong and Aldrin would make history as the first men on the moon.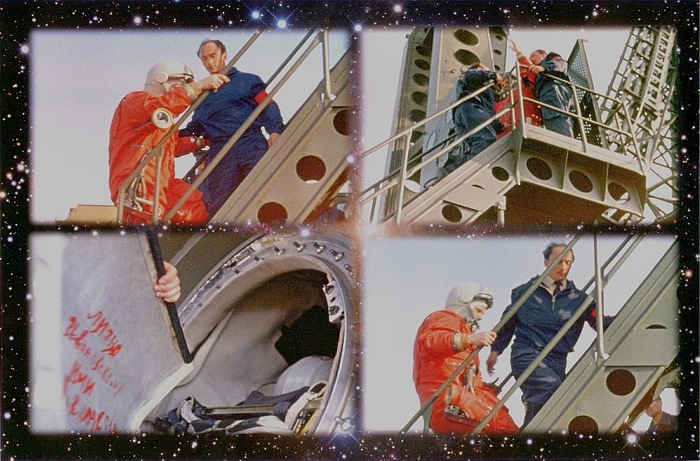 Rare images show Yuri Gagarin preparing to make his historic first manned spaceflight on April 16, 1961. This collage only surfaced in December 2009.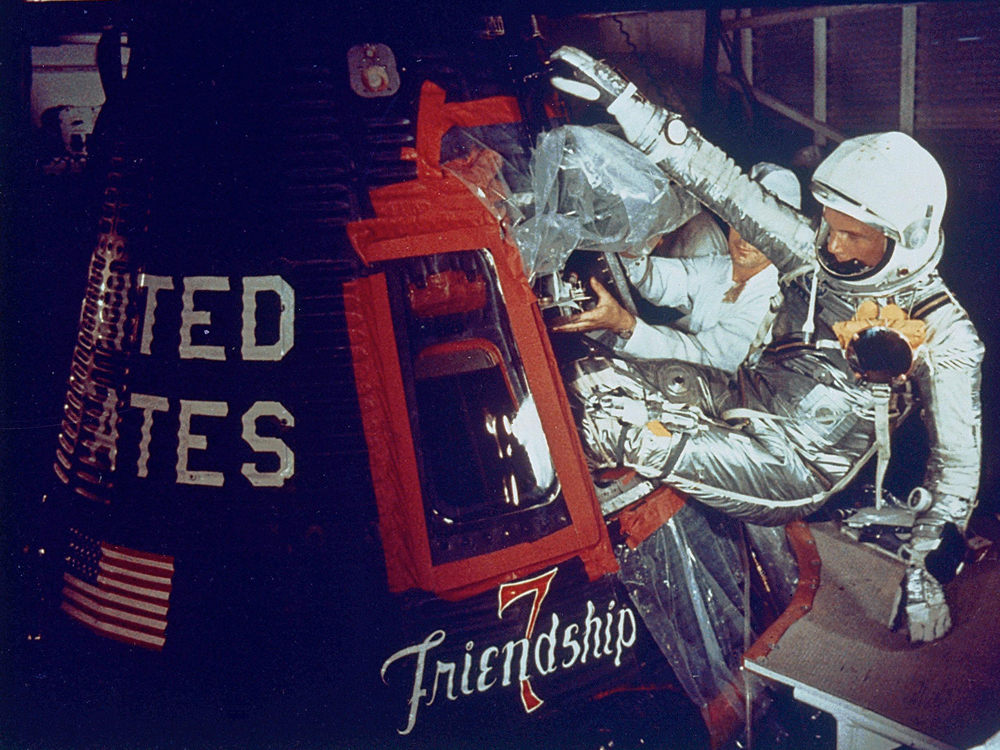 On Feb. 20, 1962, John Glenn rode the Friendship 7 capsule into space, the first time an American orbited the Earth. In this image, Glenn enters the capsule with assistance from technicians.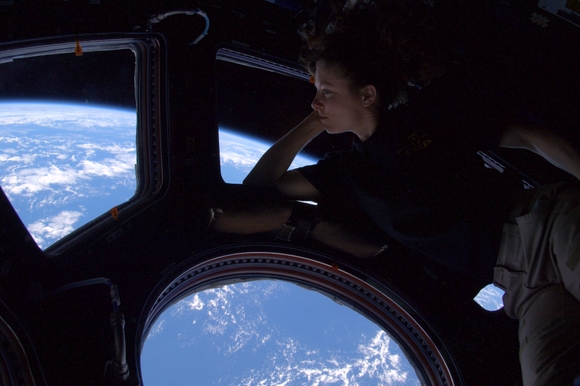 Douglas H. Wheelock, "Astro_Wheels" on Twitter, shared this picture of Astronaut Tracy Caldwell Dyson looking down on Earth from the cupola of the International Space Station.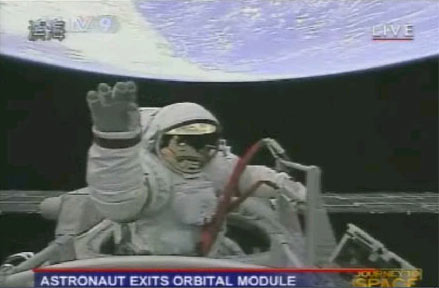 Chinese astronaut Zhai Zhigang waves from outside his Shenzhou 7 spacecraft September 27, 2008. He became his country's first spacewalker.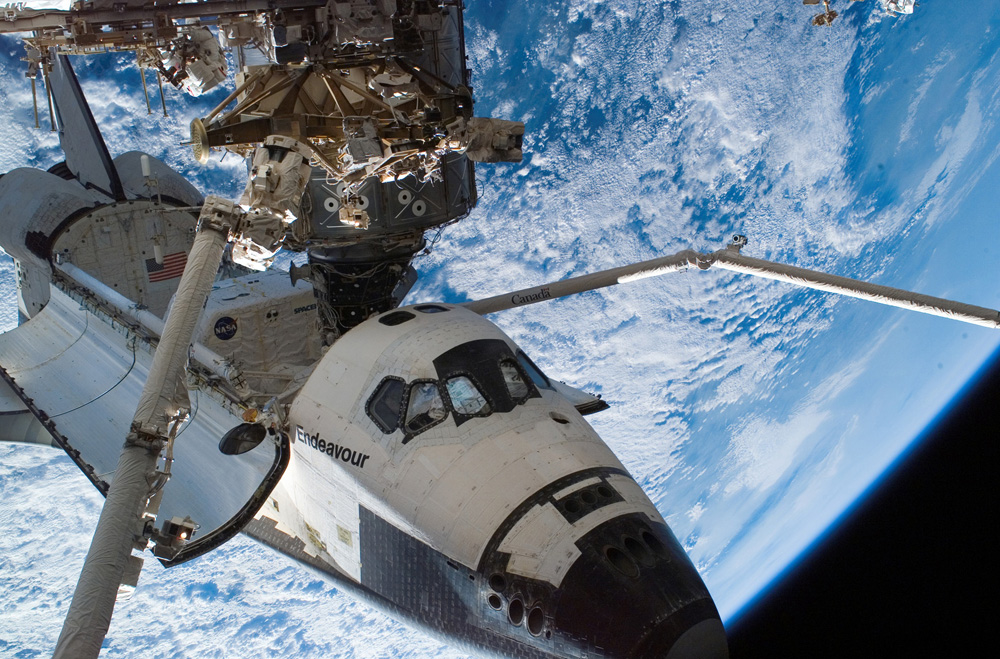 Space Shuttle Endeavour floats above the Earth while docked to the Destiny laboratory of the International Space Station, during the STS-118 mission in August 2007.
Apollo 17 mission commander Eugene A. Cernan makes a short checkout of the Lunar Roving Vehicle during the early part of the first Apollo 17 extravehicular activity at the Taurus-Littrow landing site in 1972.
Astronaut Clayton C. Anderson tweeted this picture from space, a view of Aorounga Impact Crater, southeast of of Emi Koussi volcano in Chad.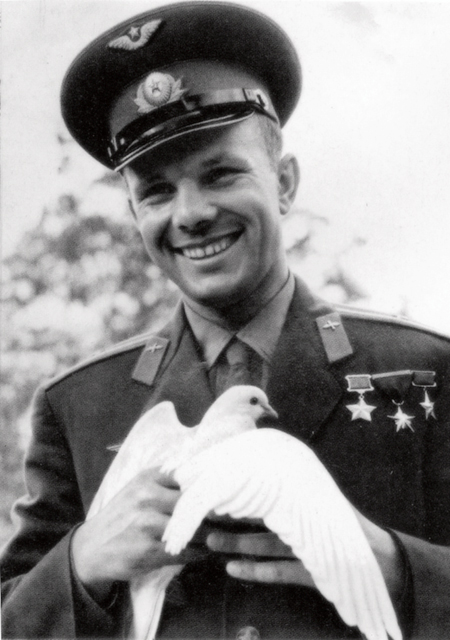 Yuri Gagarin was the first man in space during the April 12, 1961 flight of Vostok 1. Here, he holds a dove in an undated image released by Russia's Federal Space Agency.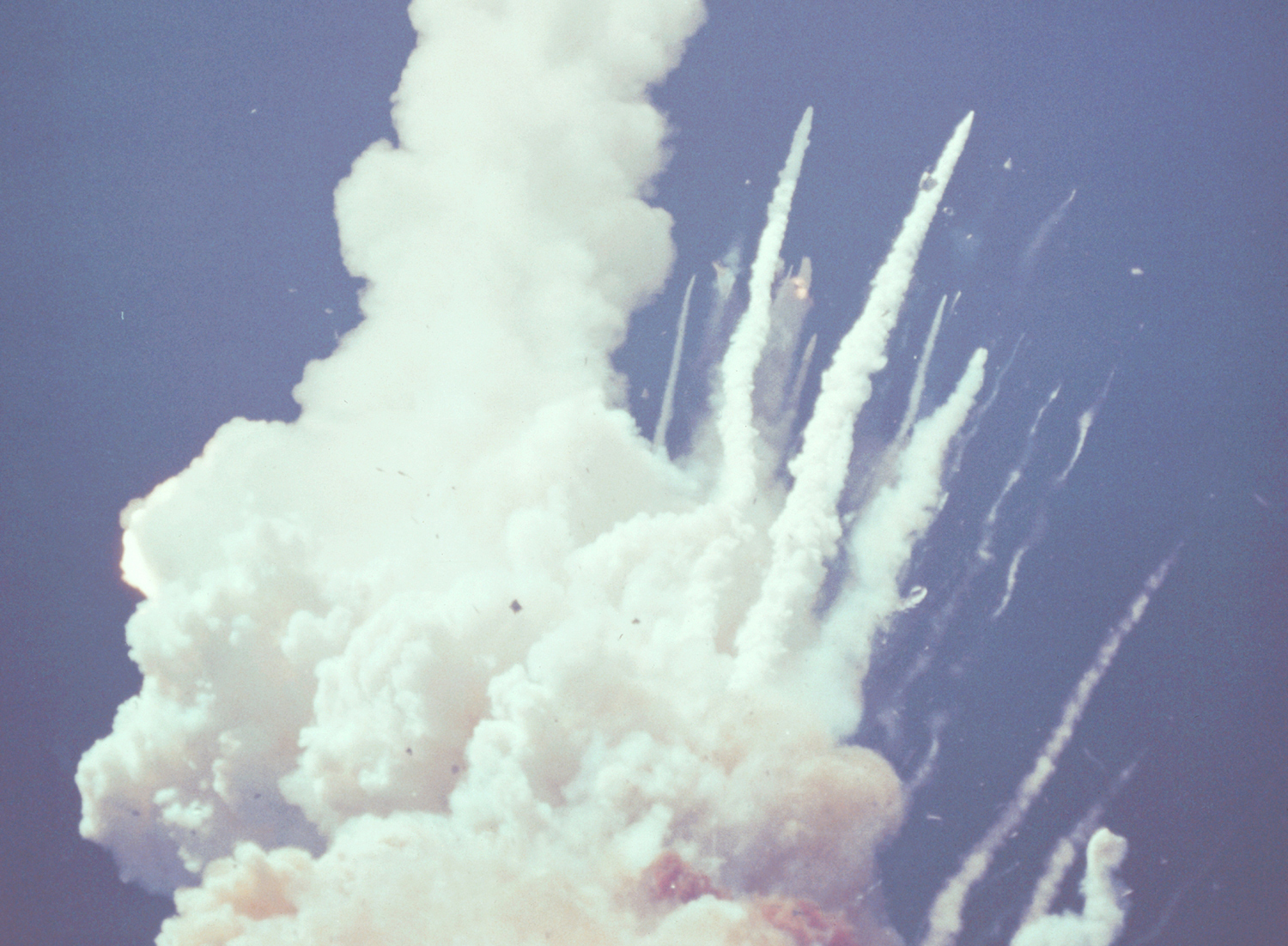 At 78 seconds after liftoff, this image shows Challenger's left wing, main engines (still burning residual propellant) and the forward fuselage (crew cabin).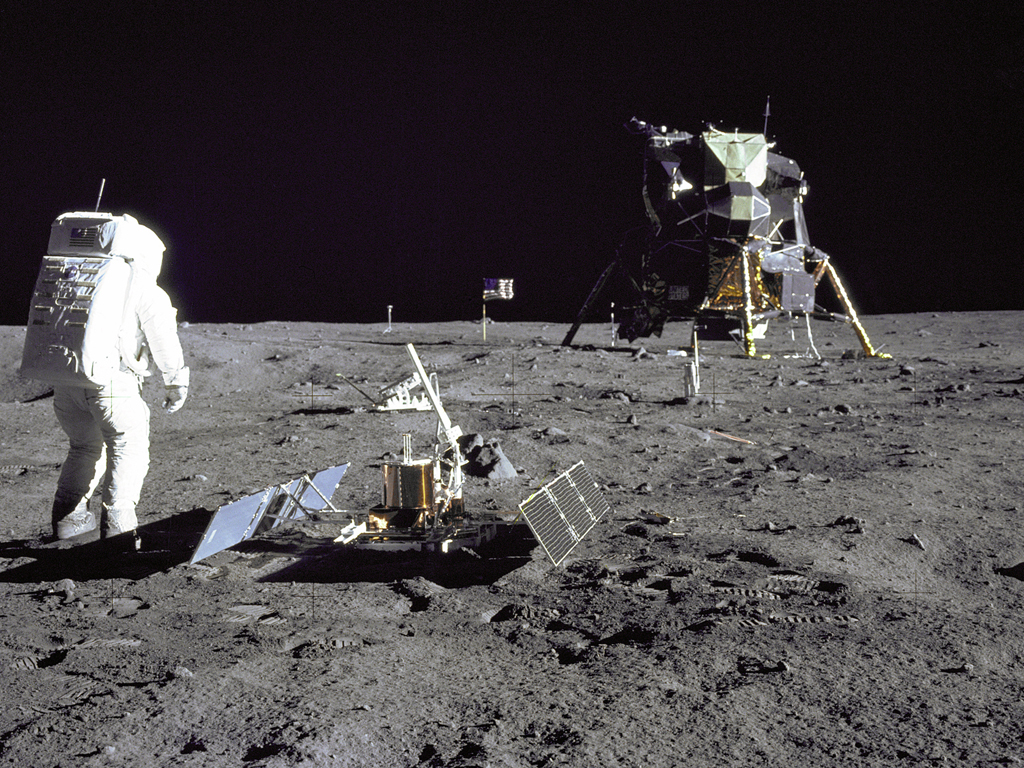 Astronaut and Lunar Module pilot Buzz Aldrin with the LR-3, the only Apollo experiment that is still returning data from the moon.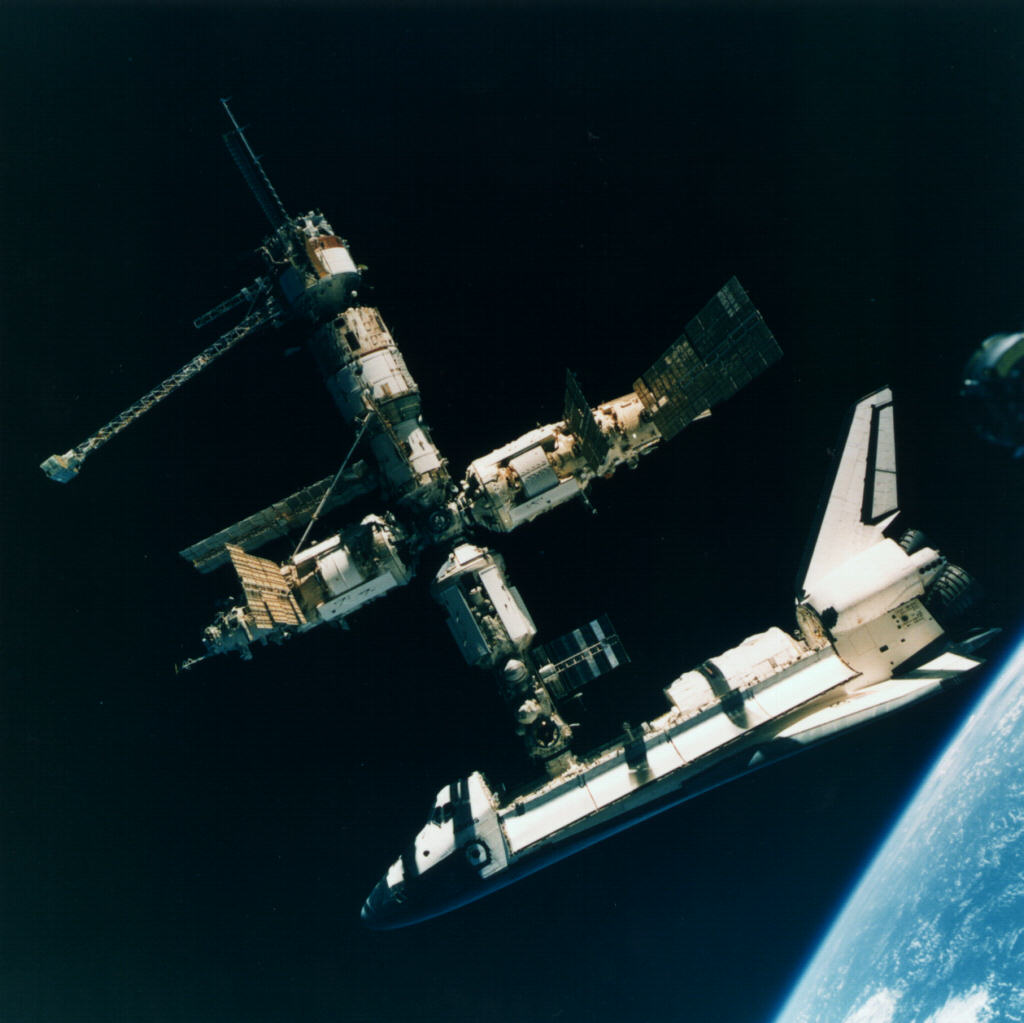 Cosmonauts Anatoliy Y. Solovyev and Nikolai M. Budarin, Mir-19 commander and flight engineer, respectively, temporarily unparked the Soyuz spacecraft from the cluster of Mir elements to perform a brief fly-around.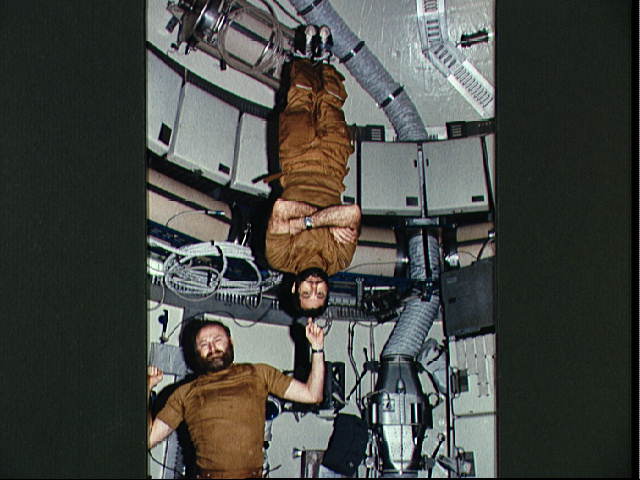 Astronaut Gerald P. Carr, commander of the Skylab 4 mission, balances Astronaut William R. Pogue, pilot, upside down on his finger.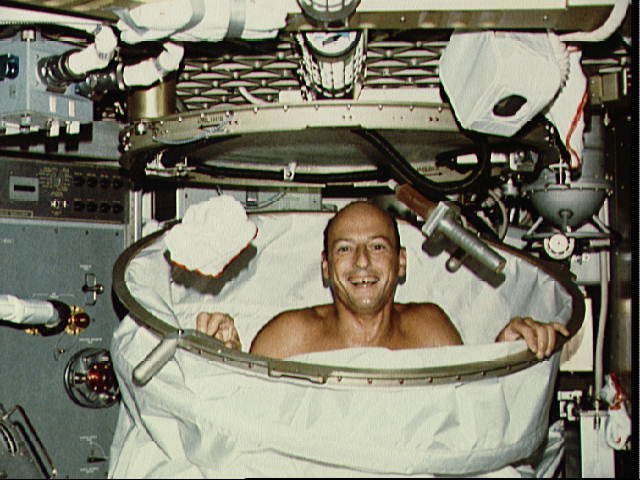 Astronaut Charles Conrad, Jr., Skylab 2 commander, enjoys a bath in the shower facility of the Orbital Workshop of Skylab 2 space station.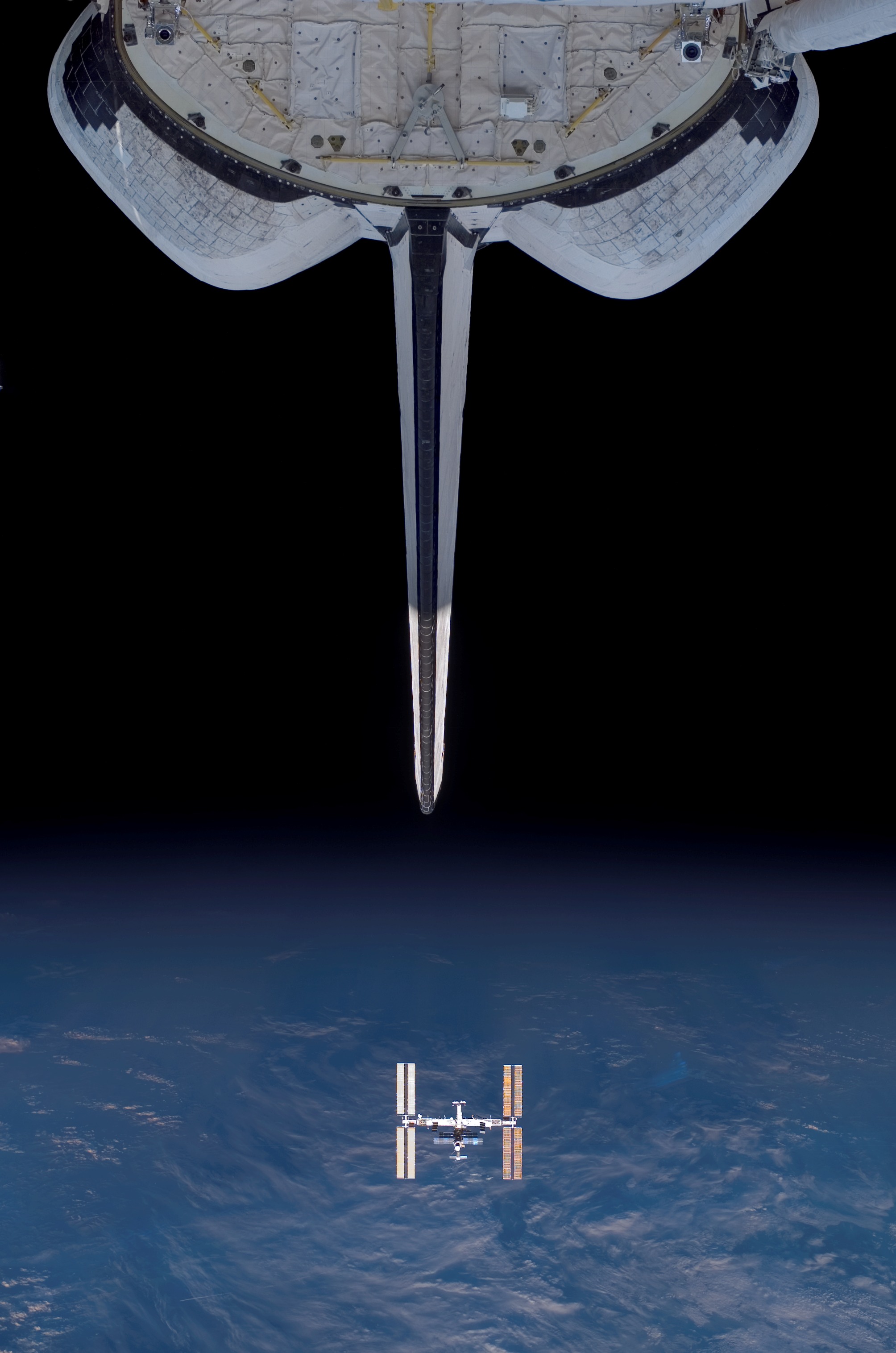 The International Space Station recedes in the distance as the Space Shuttle Endeavour departs from the station. Endeavour's vertical stabilizer and orbital maneuvering system pods are visible as the STS-118 mission winds down on Aug. 19, 2007.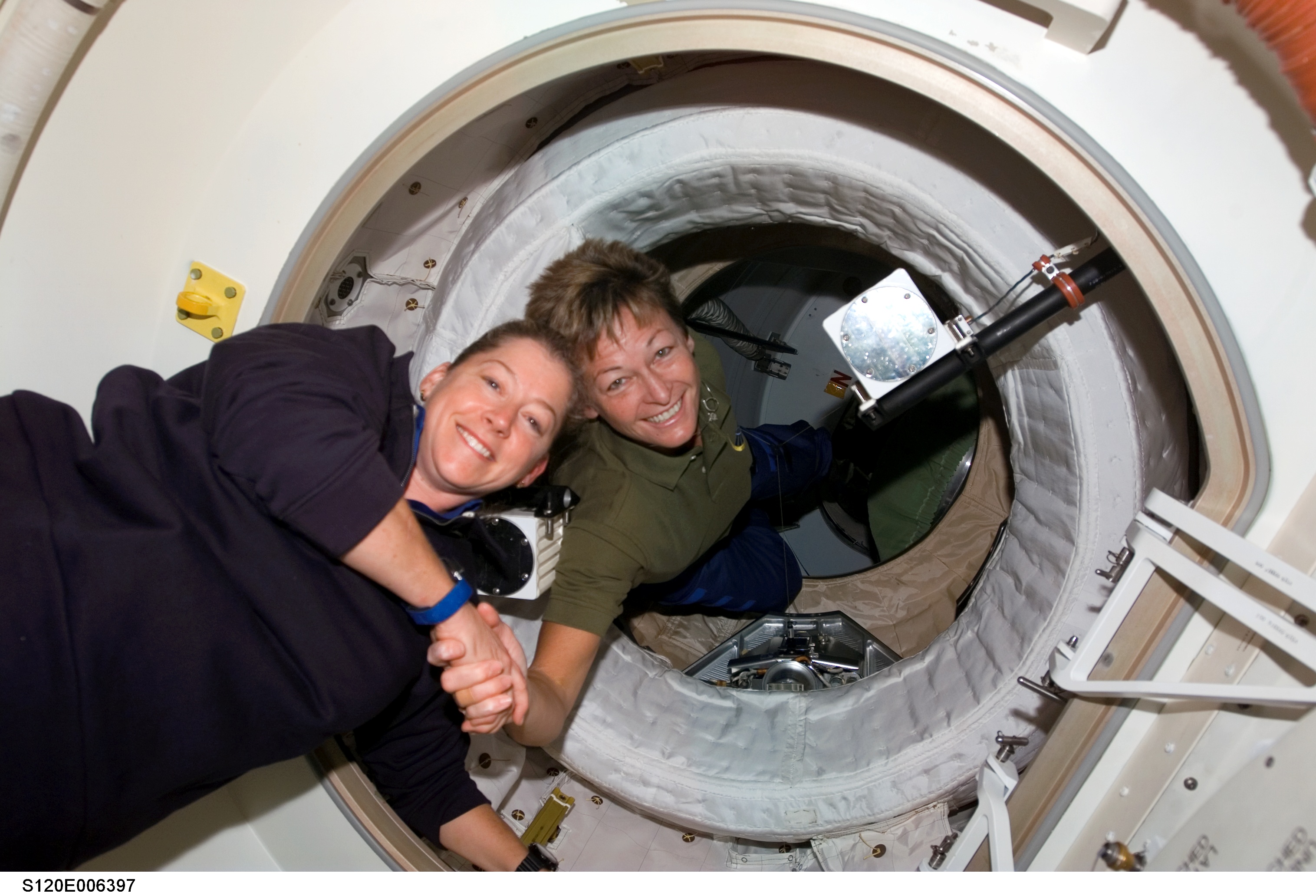 Astronaut Peggy Whitson (right), Expedition 16 commander, shakes hands with astronaut Pam Melroy, STS-120 commander, after Space Shuttle Discovery docked at the International Space Station on Oct. 25, 2007.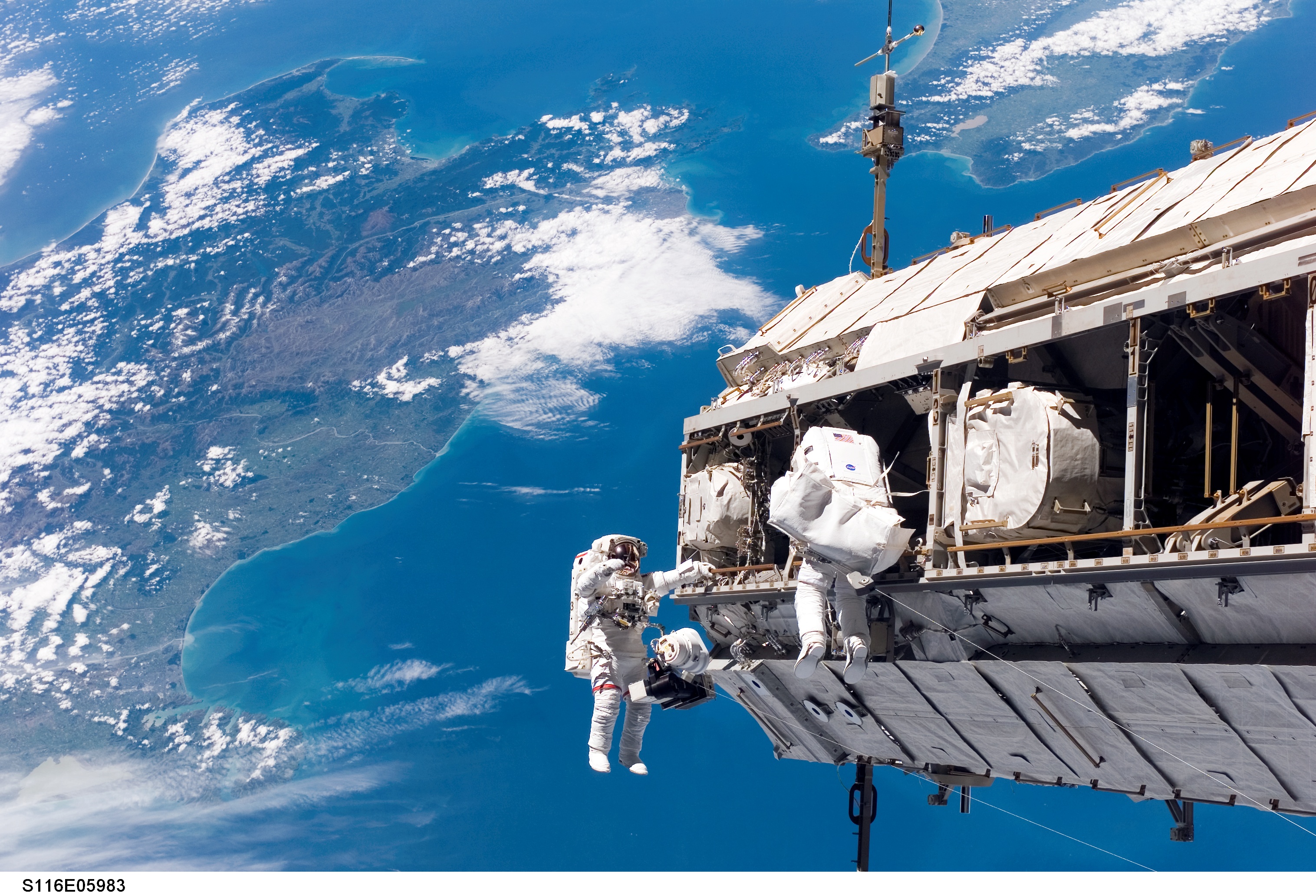 Astronaut Robert L. Curbeam Jr. (left) and European Space Agency (ESA) astronaut Christer Fuglesang, continue construction of the International Space Station during the STS-116 mission, Dec. 12, 2006. Below, New Zealand's North and South Islands sit in the Tasman Sea.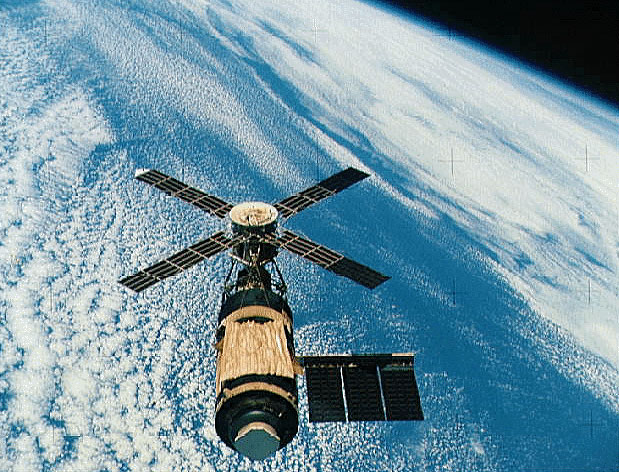 The U.S. space station Skylab in its prime during the mid-1970s.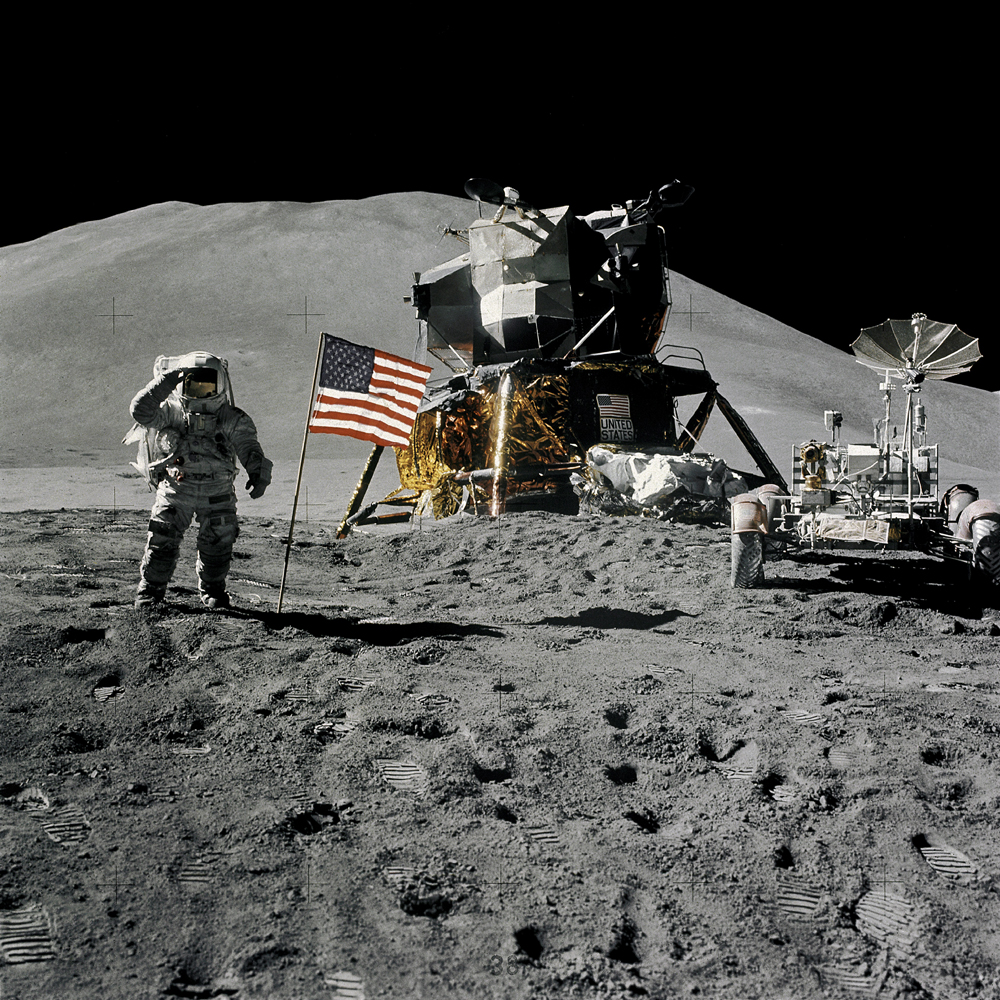 Astronaut James B. Irwin, lunar module pilot, during the Apollo 15 lunar surface extravehicular activity (EVA) on August 1, 1971, at the Hadley-Apennine landing site. The first Lunar Roving Vehicle (LRV) on the moon, stands to the right.