Possibly the smallest, most discrete star projector we've ever owned, and it's now just over $10 in this Prime Day deal. you'd be forgiven for thinking this was just a little flash drive. But this neat little gadget from BlissLights is actually a USB Laser Star Projector — you just plug it into a USB port and it fills the entire room with stars.
We reviewed the BlissLights Starport USB Star Projector and thought that although it's very simple and does what it says on the tin, it would make a great gift for any space enthusiast and would also be great for parties or as a night light.
Amazon is currently offering it for just $10.49 in the Prime Day deals which we think is a great price — especially given how simple it is, we'd be reluctant to spend any more than around $10 on it. We included it in our best star projectors guide for its convenience and novelty factor, although being somewhat limited in what it can do.
---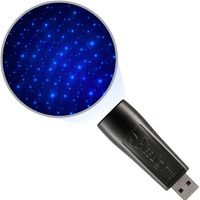 BlissLights Starport USB Laser Star Projector was $14.99 now $10.49 at Amazon.
Get the BlissLights Starport USB Star Projector for just over $10 in the Prime Day deals — it's so small you can fit it in your pocket and take it anywhere with you. Just plug it in and be instantly transported to the stars, we think this would make a great gift for any space lover.


---
There are three colors to choose from, and they're all included in the deal — choose from blue, green or red. It has a USB connector (type A) and will work from a laptop, phone charger, or any other USB port. In our review of the BlissLights Starport USB Star Projector, we were very impressed with just how substantial the projection is for such a small little thing — 30ft x 30ft (10m x 10m). It's even small enough to fit in your pocket so you can take it anywhere — it would be great to add atmosphere to parties or to use as a night light.
It's not scientifically accurate, but for the price, we're not expecting it to be. There's also no movement in the stars and limited customization (you can only adjust the brightness of the stars). It does come with an extender cable though so you can point the lasers wherever you'd like. It's quite literally; plug it in, look at some laser stars — job done.
Don't forget, if you want to make the most of Amazon Prime Day 2023, check out our Amazon Prime Day hub for a roundup of the best discounts and deals on telescopes, binoculars, cameras, star projectors, drones, lego and much more.
Key Specs: It connects via a USB A port on one end, and the laser is on the other end. It weighs 2.39oz (65g) and can fit in your pocket. Doesn't include any rotation, speaker or sleep timer.
Consensus: For $10, we'd recommend it as a cute little gadget to bring out at parties or date nights, but don't expect anything scientifically accurate.
Buy if: You want a cheap little device to add atmosphere to any room or venue and don't want something that takes up a lot of space. It would also make a great gift.
Don't buy if: You want something scientifically accurate or customizable, or you want to learn about space.
Alternative models: There aren't any other models that directly rival the convenience of this star projector, but if it's customization and more functionality you're looking for, try the Encalife Ambience Galaxy and Star Projector. It has a Bluetooth speaker and you can change the colors of the galaxy/nebula patterns. In our Encalife Ambience Galaxy & Star Projector review, we thought it was a great party light and enjoyed the customization.
If it's accuracy you want, check out the Sega Toys Homestar Flux. It's much pricier, but it's about as realistic as it gets and there are even 30+ star discs available to purchase. We gave it four and a half out of five stars in our review.