It's common knowledge that astro shooters prefer prime lenses due to their superior quality and wider apertures, but if you shoot other styles of photography as well, you may not want a dedicated prime lens. In that case, one of the best zoom lenses can be a great addition to your kit bag, and Amazon is currently offering the Sony FE 16-35mm f/2.8 GM lens for $200 off, but the deal ends at midnight so you'll need to be quick!
We think this is one of the best lenses for astrophotography because it marries the versatility of multiple focal lengths with a wide aperture and wide-angle focal length, meaning it can let a lot of light in, which is crucial in astrophotography. Good lenses aren't cheap, and great lenses cost even more, so when a deal like this comes up it's really worth looking into. This lens would also make up one-third of the 'holy trinity' lens lineup (usually a 16-35mm, 24-70mm and a 70-200mm to cover all bases), so we think this would absolutely be a worthwhile investment to add to your equipment bag.
We've not reviewed this lens in particular, but having reviewed multiple Sony lenses over time, we are continually impressed with their image quality, build and general performance, and we think this lens would be no exception.
---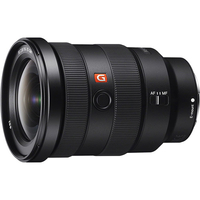 Sony FE 16-35mm f/2.8 GM lens: was $2198 now $1998 at Amazon.
Save $200 on this fantastic wide-angle zoom G Master lens from Sony. The wide 16mm end would be great for shooting astro, and there's enough versatility to shoot landscapes, street photography and other styles without having to limit yourself.
---
While prime lenses are usually the preferred weapon of choice for dedicated astrophotographers, we love the versatility of zoom lenses as they can cover so many different photographic styles — and we think this lens, in particular, would be great for landscapes as well as astro.
Plus, great prime lenses like the Sony FE 14mm f/1.8 GM are incredibly expensive, and the only shooters that are likely to purchase a lens like that would be dedicated astro shooters. It doesn't have any OSS (image stabilization), but Sony full-frame cameras have in-body stabilization, so it shouldn't cause too much of an issue. Besides, you won't be needing it if you're going to be putting it on a tripod to do astro anyway.
Don't forget, if you want to make the most of Amazon Prime Day 2023, check out our Amazon Prime Day hub for a roundup of the best discounts and deals on telescopes, binoculars, cameras, star projectors, drones, lego and much more.
Key Specs: The constant f/2.8 aperture means lots of light at any focal length, and the 15-35mm covers a nice amount of distance making it great for astro or landscape shooters. It weighs 24 oz (680g) so it's incredibly lightweight and compact, making it easy to keep in your kit bag.
Consensus: A fantastic lightweight zoom lens capable of capturing stunning astro shots without prime lens prices. If there's a gap in your kit bag, this could well be the one you're looking for.
Buy if: You shoot astro and landscapes and don't want to shell out for an expensive prime lens.
Don't buy if: You're on a budget or shoot wildlife, as you'll need a much longer lens for that.
Alternative models: If this made you realize you actually do want a prime lens but don't have the biggest budget, the Sony FE 20mm f/1.8 is an incredibly popular lens, and is also $100 off in the Prime Day sales. If you like the sound of this lens but you're already invested in a different brand, you could try the Canon 15-35mm f/2.8L USM lens, which is currently $200 off at Adorama.