If you're looking for the perfect gift for a young budding skywatcher, the Celestron 70mm Travel Scope DX bundle has everything they will need to get up, running and learning. With 48% off, now is the time to buy.
The Amazon Prime Day price of just $62 gets you a generous amount of good quality gear. You'll get a 70mm portable refractor telescope, a full-height tripod, a smartphone adapter and Bluetooth remote shutter, two good-quality eyepieces and more. All of this packs neatly into a supplied Celestron branded backpack, with a total kit weight of 3.3 lbs (1.5 kg). As kids, we'd have loved to receive this bundle! It hasn't been this cheap since the Black Friday sales in 2021 and at this price, it's almost worth getting it now and storing it away to give as a holiday gift.
Celestron is one of the world's premier telescope brands, and we'll level with you — this scope isn't going to win any astronomy awards, but it is designed to welcome people into the world of stargazing and inspire the next generation of astronomers. It's suitable for backyard stargazing — perhaps you have your own scope and want to share the skywatching experience with your child without worrying about your expensive kit — this would be ideal. Not only can you use it at night time, but the supplied erect image diagonal means it can also be used for terrestrial viewing such as wildlife spotting or getting closer to the action at sporting events.
---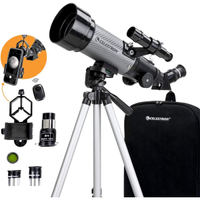 Celestron 70mm Travel Scope DX: was $119.95 now $62.88 on Amazon.
Save 48% on this bundle from Celestron and give a budding astronomer everything they need to get up and running. A good quality instrument and useful accessories will make skywatching fun for anyone new to the hobby.
---
Surprisingly for a scope at this price point, the 70mm aperture refractor boasts fully coated glass optics to maximize light transmission. It comes with good quality eyepieces (10mm and 20mm to give 20x and 40x magnification respectively) and a 2x Barlow lens. It also comes with a finder scope and a smartphone adapter for basic smartphone astrophotography.
The tripod, with a manual alt-azimuth mount with a pan handle is easy for newcomers to use (as opposed to an equatorial mount). The tripod is 'fine' for still weather but would benefit from being weighted down to prevent wobble. Once you've finished skywatching, everything quickly and neatly packs away into the supplied bag for safe transport and storage.
For additional home learning, Celestron's Starry Night Educational Software is included with the bundle, as well as access to Celestron's SkyPortal Planetarium App which lets you locate thousands of objects overhead in real-time.

Don't forget, if you want to make the most of Amazon Prime Day 2023, check out our Amazon Prime Day hub for a roundup of the best discounts and deals on telescopes, binoculars, cameras, star projectors, drones, lego and much more.
Key Specs: This scope has a 70mm aperture, a 400mm focal length giving a focal ratio of f/5.7. The highest useful magnification is 168x and the lowest 10x. The total kit weight is just 3.3 lbs (1.5kg).
Consensus: This is a superb price for this scope and accessories. It has everything newcomers need to get started and further their understanding and enjoyment of astronomy.
Buy if: You are, or know, a budding astronomer who wants to 'give it a go' before investing in a more expensive telescope. It's good quality and has all the basic gear you need to start sky-watching or even to revive your own interest in astronomy.
Don't buy if: You're buying for anyone other than a newcomer to astronomy, the views aren't as spectacular as you'd get on a top-quality (more expensive) instrument and you may find the experience a little lackluster if you're expecting greater things.
Alternative models: We have compiled a list of the best telescopes for kids, and the best beginner telescopes which are the best places to look for our recommendations. None of the models are as cheap as this bundle, but we can happily recommend the Celestron FirstScope 76 which we reviewed last year. The clue is in the title, it's designed with newcomers in mind but the difference here is that it is a tabletop scope (so no need for a tripod).
The Celestron AstroMaster 70AZ is also a comparable model which comes with similar accessories — it's long length helps remove unwanted chromatic aberration which gives it a slight edge over some beginner models in terms of quality views.