Mysterious Sonic Boom Reported Over New Jersey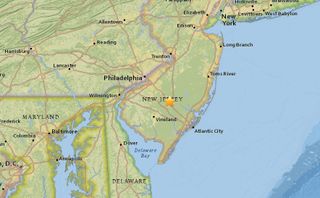 (Image credit: USGS)
At least 10 sonic booms have been reported this afternoon (Jan. 28) from southern New Jersey along the East Coast to Long Island, New York, say scientists with the U.S. Geological Survey (USGS).
The first sonic boom was recorded at 1:24 p.m. EST (18:24:05 UTC), about 2 miles (3 kilometers) north-northeast of Hammonton, New Jersey, and 37 miles (60 km) south of Trenton, New Jersey. In the following hour and a half, seismometers picked up at least nine other sonic booms along the Eastern Seaboard all the way to Long Island, according to the USGS.
A spokesperson for the USGS said agency scientists there have no other information except that these were sonic booms and not earthquakes that were detected today.
A sonic boom occurs when an object (or an explosion) travels faster than the speed of sound (761.2 mph, or 1,225 km/h, at sea-level), sending out a shockwave that also travels faster than sound, according to John Bellini, a geophysicist with the USGS National Earthquake Information Center in Golden, Colorado. [Photos: See Aircraft Breaking the Sound Barrier]
The cause of today's sonic booms remains mysterious. Bellini noted, however, that if an explosion had caused these booms, someone likely would have seen it.
Officials have also ruled out NASA's Wallops Flight Facility on Wallops Island in Virginia, which routinely launches small rockets and jet test flights from its Eastern Shore site. But today, no rocket launches or jet flights occurred at the NASA center, spokesman Keith Kohler said in an email.
Scientists knew these were seismic waves from sonic booms and not earthquakes because of their speed. "An earthquake moves through the ground and it moves 10,000 feet per second [3,048 meters per second]," Bellini told Live Science. In today's instance, the waves were moving away from the seismometers in New Jersey at speeds that would suggest they were moving faster than sound in the air. A seismometer that tracks waves moving through the ground can pick up a sonic boom, whose waves move through the air, Bellini said. But the seismometers usually have to be pretty close to where the boom occurs, because sound doesn't transfer well into the ground.
ABC News reported that the U.S. Federal Aviation Administration and the North American Aerospace Defense Command had both confirmed they didn't have any planes operating nearby that could have generated the sonic booms.
No aircraft capable of sonic booms were operating at nearby naval air bases either, according to officials.
"We have reports of ground shaking in S. Jersey — currently our training ranges are clear and no MDL aircraft are capable of sonic booms," officials at Joint Base McGuire-Dix-Lakehurst in Trenton, New Jersey, wrote on Twitter. "We're working with local authorities to determine the cause and will have an update ASAP."
Follow us @livescience, Facebook & Google+. Original article on Live Science.
Get the Space.com Newsletter
Breaking space news, the latest updates on rocket launches, skywatching events and more!
Jeanna is the managing editor for LiveScience, a sister site to SPACE.com. Before becoming managing editor, Jeanna served as a reporter for LiveScience and SPACE.com for about three years. Previously she was an assistant editor at Science World magazine. Jeanna has an English degree from Salisbury University, a Master's degree in biogeochemistry and environmental sciences from the University of Maryland, and a science journalism degree from New York University. To find out what her latest project is, you can follow Jeanna on Google+.