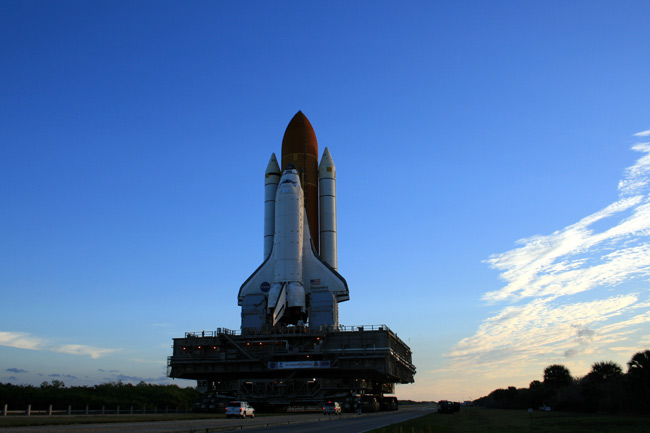 The space shuttle Discovery rolled out to its Florida launch pad Wednesday, where engineers will prime the spacecraft for NASA?s first manned spaceflight of the year.
Riding atop NASA?s Apollo-era carrier vehicle, Discovery completed the slow, seven-hour trek to its seaside launch pad 39A at 12:16 p.m. EST (1716 GMT), bringing it one step closer to a planned Feb. 12 blast off from the Kennedy Space Center in Cape Canaveral, Fla.
?We had no issues once we started rolling,? NASA spokesperson Allard Beutel told SPACE.com from the spaceport. ?It was a beautiful rollout.?
Discovery will carry a crew of seven astronauts and the last pair of U.S. solar arrays for the International Space Station when it launches next month. The two expansive solar wings are the fourth and final set to support the space station?s power grid. They are attached to a girder-like Starboard 6 (S6) segment, the last piece of the 356-foot (109-meter) main truss that serves as the orbiting laboratory?s backbone.
?The S6 truss is the last major piece of U.S.-built hardware to go to the space station,? Beutel said.
Commanded by veteran spaceflyer Lee Archambault, Discovery?s STS-119 mission is scheduled to launch at 7:32 a.m. EST (1232 GMT) on Feb. 12 and land about two weeks later. Four spacewalks are planned to install the space station?s new solar arrays and perform other maintenance work.
Discovery will also ferry Japanese astronaut Koichi Wakata to the International Space Station, where he?ll replace NASA astronaut Sandra Magnus as a member of the outpost?s Expedition 18 crew.
Wakata is the first long-duration spaceflyer for the Japan Aerospace Exploration Agency and will oversee the station?s Japanese Kibo laboratory among his other flight engineer duties. Magnus will return to Earth aboard Discovery after spending more than three months aboard the space station.
Space shuttle engineers will install Discovery?s 32,000-pound (14,514-kg) solar array truss segment inside the orbiter?s payload bay on Saturday. Archambault and his crew, meanwhile, are due to arrive at the Kennedy Space Center next week for a launch dress rehearsal, Beutel said.
Discovery?s February launch is the first of five NASA shuttle missions planned for 2009. One flight will carry astronauts to pay a final service call on the Hubble Space Telescope, with the other four to bring the decade-old International Space Station closer to completion.
?Every time we get to the launch pad, it gets us one step closer to flying the shuttle,? Beutel said. ?This is the beginning of our final push to complete the International Space Station.?
Video - Space Shuttle Bloopers!

Images - Stunning Night Launch for Shuttle Endeavour

Video - Drinking Water From Space Urine