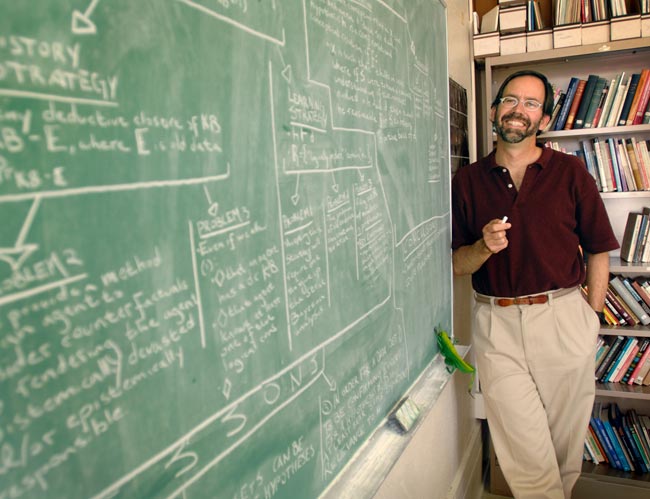 Walking past the open door of a writer's workshop that was held this spring at the University of Wyoming in Laramie, much of the conversation was of the sort you might expect from any other group of students honing their craft as creative writers. They pondered which aspects of the human condition are most important to convey through their art. They examined their motivations for writing. And continually, they struggled to make themselves understood by readers who may be very different from themselves. But there is a critical difference from other creative writing classes. The intended audience for this class — if it exists at all — lives on a planet circling a distant star.
Each Wednesday at 2:10 p.m., at the west edge of campus in a spacious, modern, and nondescript room on the first floor of the aptly-named Classroom Building, these young writers began a three-hour session pondering their craft in a course the registrar's office listed as "English 5560. Writing for an Extraterrestrial Audience." From the first day of class, students were asked to contemplate what they would say as part of a team responsible for sending a message to intelligent life on other worlds. As if that's not hard enough, "each piece should 'stand alone' for reading and appreciation by a terrestrial audience," said Jeffrey Lockwood, the instructor of the class.
In late September 2008, Lockwood will join leading scientists in the search for extraterrestrial intelligence (SETI) for the "Searching for Life Signatures" conference, to be held at UNESCO Headquarters in Paris. In his paper scheduled for the session "Historical, Philosophical and Sociological Aspects of SETI," Lockwood will suggest that SETI scientists can learn some serious lessons in interstellar message composition by examining the work of his students.
Letters to ET
For their first in-class assignment, each student wrote a brief "letter to ET." Some messages were similar in spirit to the pictures of a man and woman engraved into the metal plaques borne by two Pioneer spacecraft that now drift aimlessly through interstellar space. Christine Ingoglia, a graduate student who entered the university's Master of Fine Arts (MFA) program in creative writing in the Fall of 2007, started with a basic description of our appearance: "We look like — two arms, two legs, head, torso, symmetrical." Similarly, fellow MFA student Meagan Ciesla's summary — "We need food, air, water, and think we're the most intelligent" — was reminiscent of a message transmitted from the Arecibo radio telescope in 1974, which described the chemical basis of life on Earth, and showed a picture of only one terrestrial species: Homo sapiens.
Other messages penned that first day of class in Laramie were more philosophical. "We are an adolescent species searching for our identity," wrote Ann Stebner, a senior English major completing a minor in Environmental Values. "We know our species' origins," wrote senior psychology major Dana Rinne, "but we fear individual deaths." Rinne, who plans to do graduate work in social psychology or cognitive psychology, described the course as an opportunity to contemplate the intersection of philosophy, science, and mind.
Grasshopper Dreaming
As Jeffrey Lockwood was completing his Ph.D. in entomology at Louisiana State University in 1985, there was little to predict he would today be trying to express the human condition to aliens. After completing a dissertation on the behavioral ecology of Nezara viridula, more commonly known as the southern green stink bug, he joined the University of Wyoming's Department of Renewable Resources as an entomologist. Two decades later, Lockwood is Professor of Natural Sciences and Humanities, and he teaches in both the Department of Philosophy and the MFA Program in Creative Writing.
Many of Lockwood's writings betray his background as an entomologist even by their titles, such as his recent book Locust: The Devastating Rise and Mysterious Disappearance of the Insect That Shaped the American Frontier. Other works, such as his book Grasshopper Dreaming: Reflections on Killing and Loving, suggest his scholarly concerns are broader than those of many scientists. And so, on the days this past spring when he was not encouraging students to ponder celestial audiences, he could be found teaching a philosophy course in ecofeminism, looking for new approaches to environmental ethics.
Where the Buffalo Roam
One is reminded constantly that this campus in a town with a population of 27,000 — about half of them students — is in a large state with a sparse population. One native Wyoming student in this writer's workshop, for example, attended high school in a one-room schoolhouse located a hundred miles from the nearest town. There were only two other students in that rural schoolhouse: her siblings.
Another member of the class, running a few minutes behind schedule on the day of my visit, explained that the battery on her tractor was dead that morning. She apologized, saying it took her longer than usual that day to feed her buffalo before coming to campus.
It seems only fitting, then, that this university with the motto "New Thinking," located a two-hour drive from the nearest large city, provided the weekly gathering place for a dozen inquisitive students and one innovative instructor to ponder whether the vast expanses of space beyond Earth could also provide a home for creative writers, and if so, what we should tell them in our first messages.
Video Player: Listening for Life

SPACE.com TV: Reflections on Fermi's Paradox

Scenes from SETI@Arecibo