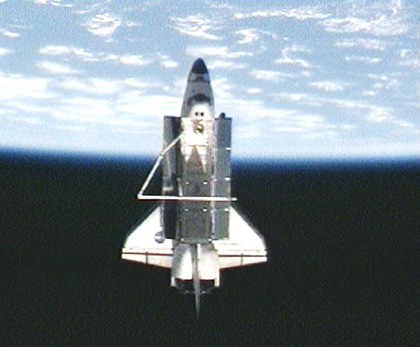 CAPE CANAVERAL, Fla. - NASA?s shuttle Discovery is on track for a planned weekend landing, though the space agency is weighing options for the best way to fix launch pad damage from orbiter?s May 31 blastoff.
LeRoy Cain, NASA?s deputy shuttle program manager, said Discovery is in good shape to land here at the Kennedy Space Center (KSC) on Saturday at 11:15 a.m. EDT (1515 GMT) after its crew?s successful mission to add a new Japanese lab to the International Space Station (ISS). But the shuttle?s seaside Pad 39A launch site has seen better days.
?We have a plan to fix Pad A and we have a high degree of confidence in our ability to do that,? Cain said in a briefing here at KSC.
When Discovery lifted off, the shuttle?s engine plume blasted some 5,300 heat-resistant bricks lining Pad 39A?s flame trench away from the launch site and ripped a 75- by 20-foot (23- by- 6 meter) section away from its concrete foundation. While extensive, the damage is not expected to delay plans to roll the shuttle Atlantis out to Pad 39A in late August for a planned Oct. 8 launch to pay a final service call on the Hubble Space Telescope (HST), Cain said.
?We don?t have any issues relative to being able to do this work and be ready to launch the HST mission on Oct. 8,? he added.
Launch Pad 39A was built between 1963 and 1965 by the U.S. Army Corps of Engineers to serve as the launch site for NASA?s Apollo missions atop massive Saturn V rockets. Both are built with brick-lined flame trenches to deflect rocket plumes and exhaust away from a launching booster.
NASA is currently using Pad 39A for ongoing shuttle missions to visit Hubble and complete space station construction by 2010, but reserved Pad 39B for modifications related to its shuttle successor - the Ares I rocket and its Orion crew capsule. The agency does, however, need both pads in working order for the October Hubble mission, since a second shuttle must be ready to fly a rescue mission in an emergency.
Unlike shuttle flights to the space station, where astronauts can return to the ISS if their orbiter is critically damaged, the Hubble servicing crew cannot because the observatory is in a different orbit.
Cain said mission managers are confident they will be able to fix Pad 39A in time Atlantis? rollout. While the flame trench bricks are no longer made today, a heat-resistant spray material - either coating the damaged site or replacing it entirely - is among the repair options under scrutiny.
Analysis has also shown no risk of flame trench debris damaging a launching shuttle or its Mobile Launch Platform, Cain added.
NASA engineers are also revisiting the construction records for Pad 39A to determine if an epoxy adhesive designed to secure the bricks to their concrete moorings was meticulously used in the launch site?s initial construction. An initial look, indicates it wasn?t always, Cain said.
Shuttle officials plan to meet late this month to determine a more refined repair plan for Pad 39A. Meanwhile, engineers on Earth are completing tapping tests to look for voids between the brick and concrete at both 39A and 39B launch sites, Cain said.
Shuttle astronauts set to land
Up in space, NASA?s shuttle Discovery appears to be in good health for its planned Saturday landing. The seven astronauts aboard the shuttle took some time off Thursday to catch their breath from their busy orbital construction work while NASA engineers reviewed images and data from the crew?s heat shield inspection a day earlier.
?It looks like you have a clean orbiter,? NASA?s shuttle Mission Control radioed to Discovery?s crew from the Johnson Space Center in Houston late Thursday.
Commanded by veteran shuttle flyer Mark Kelly, Discovery?s six-man, one-woman crew launched May 31 and spent nine days docked at the station deliver Japan?s $1 billion Kibo laboratory, attach its attic-like storage module and perform three spacewalks to outfit the new module. They also delivered spare parts for a broken Russian toilet, tested cleaning methods for the station?s balky solar array joint and swapped out one member of the station?s three-man crew.
Returning to Earth with Kelly are shuttle pilot Ken Ham, mission specialists Karen Nyberg, Ronald Garan, Michael Fossum, Japanese astronaut Akihiko Hoshide of Japan and former station crewmember Garrett Reisman. The astronauts cast off from the space station early Wednesday to begin their trip back to Earth.
Reisman, a NASA astronaut, is returning to Earth after three months aboard the space station. He was relieved by fellow U.S. spaceflyer Gregory Chamitoff, who is slated to spend six months aboard the station.
Discovery launched without the now-standard inspection pole tipped with lasers and cameras that astronauts use to inspect a shuttle?s heat shield while in space. NASA has launched the 50-foot (15-meter) inspection boom, which doubles the reach of a shuttle?s robotic arm, on every shuttle since heat shield damage led to the loss of the shuttle Columbia and its crew in 2003.
But Japan?s Kibo laboratory, a 37-foot (11-meter) cylinder the size of a large tour bus, was too big to fit it and the boom inside Discovery?s cargo bay. Instead, the shuttle astronauts performed a limited scan of Discovery?s heat shield with the orbiter?s robotic arm camera, then retrieved an inspection boom left outside the station during a previous NASA mission. They used the boom after undocking Wednesday to hunt for any dings along Discovery?s vital wing edges and nose cap.
?Preliminarily they don?t see any issues or any area of concerns,? Cain said.
Discovery?s STS-124 mission is NASA?s third shuttle flight of the year to deliver a new orbital room to the space station. The installation of Japan?s Kibo lab leaves the station about 71 percent complete, with 10 more shuttle flights planned to finish station construction and overhaul the Hubble Space Telescope before NASA retires its three-orbiter fleet in 2010.
NASA is broadcasting the Discovery's STS-124 mission live on NASA TV. Click here for SPACE.com's shuttle mission updates and NASA TV feed.