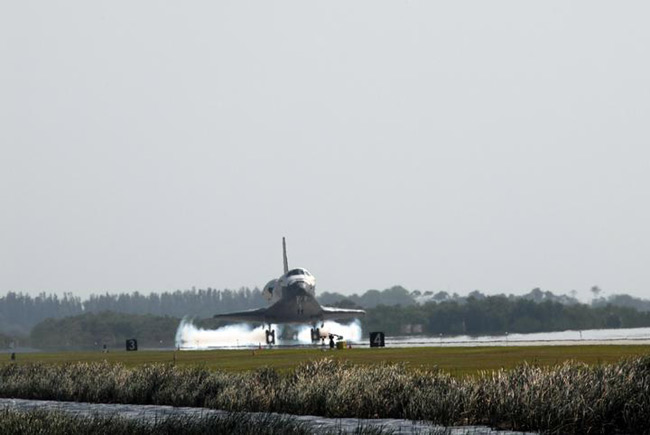 This story was updated at 1:36 p.m. ET
CAPE CANAVERAL, Fla. - Space shuttle Discovery and its seven-astronaut crew returned safely to Earth today, sailing over the heartland of America after a busy construction flight to the International Space Station (ISS).
The 100-ton spaceship touched down on the tarmac at 1:01 p.m. EST (1801 GMT) here at the Kennedy Space Center's Shuttle Landing Facility, shortly after unleashing two chest-thumping sonic booms.
"Well hello there! It's nice to be back in Florida," shuttle commander Pamela Melroy said as she piloted Discovery to a safe landing. The Rochester, N.Y.-native made history during her mission as one of two female commanders in space at the same time, sharing the limelight with ISS Expedition 16 commander Peggy Whitson.
Melroy and her STS-120 mission crew hauled a bus-sized room to the space station, relocated one of its 17.5-ton solar power plants, repaired a torn solar blanket and replaced flight engineer Clay Anderson with mission specialist Dan Tani.
Anderson spent about five months aboard the ISS, and said that his homecoming is going to be a bittersweet affair.
"They say all great things have to come to an end, and I'm really sorry I have to agree with that for now," Anderson told mission controllers yesterday. "But I had an awesome ride with several awesome crews and I'm very excited to come on home."
Discovery racked up 6.2 million miles (10 million kilometers) during its 16-day journey that began on Oct. 23. The spaceship orbited the Earth 238 times, most of which while docked at the ISS for about 11 days.
Returning to Earth with Melroy and Anderson were shuttle pilot George Zamka and mission specialists Scott Parazynski, Stephanie Wilson, Doug Wheelock and Italian astronaut Paolo Nespoli of the European Space Agency.
Mission accomplished
NASA officials lauded the mission's success before Discovery landed, largely attributing it to Saturday's emergency spacewalk.
"What we demonstrated this flight, I think, is the real value of having humans in space," said Wayne Hale, NASA's space shuttle program manager. Hale went so far as to call the effort "one of most complex EVA repairs in the history of the agency."
The unprecedented repair job sent Parazynski, a veteran spacewalker, to a far end of the space station, dangling on the end of a shaky robotic arm. While Wheelock looked on, Parazynski stitched up tears in the component with "cuff links" made by astronauts on board the ISS.
Melroy said she was more than a little concerned about Parazynski's close approach to the electrified blanket.
"You may have heard me … kind of squeak out 'be careful!' as I saw the solar array coming towards him," Melroy said. As Parazynski went to work, however, the commander explained she became comfortable with the risky operation.
Yet before Discovery's crew mended the damaged solar wing, they attached the Italian-made Harmony module to the space station. The nearly 16-ton room added more than 2,500 cubic feet (71 cubic meters) of space to the orbital laboratory and will serve as a vital hub for future expansion.
Astronauts also relocated a 35,000-pound (15,875-kilogram) component known as the Port 6 (P6) truss from atop the space station to a permanent home on the end of the ISS.
Yet even as NASA celebrates the Discovery and its crew's success, a busy month awaits the three-person Expedition 16 crew still in space.
Crunch time
Space shuttle Atlantis is set to ferry another massive room called Columbus to the station next month, but spaceflyers Whitson, Tani and cosmonaut Yuri Malenchenko will need to relocate and outfit Harmony before the arrival of the European laboratory.
Two other immense payloads are also set to arrive at the space station by May 2008. Further adding to mission managers' concerns is a grit-covered gear that rotates the station's starboard solar wings to help maximize power output. Without enough power, the space station may not be able to support future laboratory modules.
Pete Hasbrook, increment manager for Expedition 16, said fixing the solar-array-orienting device is quickly becoming a major priority for the agency, as it has international partners to appease. Any repair efforts would likely occur after the December shuttle flight, he added.
"We still … don't know the source of this debris, the grit," said Hasbrook. "There's a lot of discussion about what's our best bang for the buck," he said of several cleanup ideas in the works.
Until the device is restored, space station program manager Mike Suffredini said the device will only be moved occasionally, cutting into the orbital laboratory's overall power output. But the exact impact of the device to ISS power management is still being reviewed, he added.
Today's successful landing ended Discovery's 34th spaceflight, which is the 23rd shuttle mission to the space station and the 120th orbiter flight in NASA history. It also marked NASA's third of four shuttle flights planned for this year.
If the space agency can squeeze in the launch of Atlantis in December, followed closely by STS-123 in February 2008, Discovery will return to the launch pad again in late April 2008.
But as for her crew's eventful mission, Melroy said before her flight that she considers it every astronaut's dream.
"It has been a dream, it really [has]," she told SPACE.com from Discovery's flight deck yesterday. "But it always is when you go to space."
NASA plans to launch at least 10 more shuttle flights to the ISS - with the possibility of two more - to complete construction of the orbital laboratory by September 2010, when the agency is set to retire its three-orbiter fleet. A non-space-station construction flight to upgrade the Hubble Space Telescope is slated to fly next year.
NASA is broadcasting Discovery's STS-120 mission live on NASA TV. Click here for mission updates and NASA TV from SPACE.com.
Staff writer Tariq Malik contributed to this report from New York City.
VIDEO: Discovery's STS-120 Astronaut Crew Speak Out

NEW IMAGES: Launch Day for Shuttle Discovery

SPACE.com VIDEO Interplayer: STS-120 Mission Brings 'Harmony' to ISS