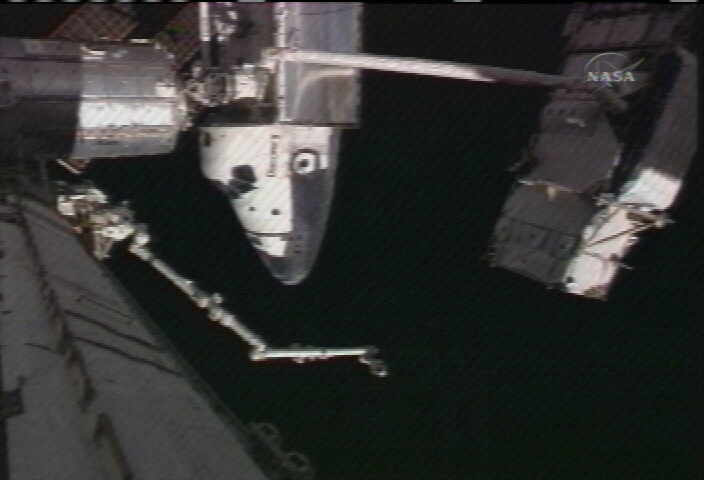 Updated at 3:58 p.m. ET
HOUSTON - NASA added a day to space shuttle Discovery's STS-120 construction flight, mission managers said today. The decision was made to better scope out a grit-filled joint on the International Space Station's (ISS) backbone-like truss, but the extension could delay an upcoming shuttle launch in early December.
The changes were speculative earlier today, but STS-120 capsule communicator Tony Antonelli told the crew before they went to bed that mission planners had officially approved them. Mike Suffredini, NASA's ISS program manager, said that the launch of shuttle Atlantis could shift from Dec. 6 to Dec. 7 because of the changes.
"We are absolutely booked," Suffredini said of the schedule leading up to Atlantis' launch. "But if all goes well, we'll get that day back."
The upcoming STS-122 mission set to launch with Atlantis will ferry the European Space Agency's Columbus laboratory module into orbit and attach it to the new Harmony module.
Particular problem
NASA made the move almost two days after spacewalker Dan Tani discovered metallic shavings in a starboard rotating joint, which orients the space station's solar arrays toward the Sun. Early Sunday morning, Tani pried off a thermal covers on the solar alpha rotary joint, or SARJ, and took a peek inside.
"I've never seen (a SARJ) in a pristine state, but it was obvious that there was significant debris, sort of a dust in there," Tani said during a conference with the STS-120 and space station crews as they floated in zero-gravity. Tani sampled the grit with a piece of tape that engineers will examine when Discovery returns to Earth in early November.
"It's not aluminized Mylar and it's not from the covers," Suffredini said of the shavings, which space station commander Peggy Whitson found to be iron-containing earlier today. "So that would tell you that, perhaps, it's some of the steel from the bearings or the race (wheel) or some other area."
If such components are creating the metallic grime, mission managers think the 10-foot (3-meter) diameter rotating joint might be damaged. Until they know for certain, ground controllers have halted the still fully operational starboard device.
The disabled component now limits the space station's power-gathering abilities, but Suffredini said there should be no issues in having enough power to attach the Columbus module in December.
Extended EVA
The fourth EVA, or extravehicular activity, that was slated for Nov. 1 had spacewalkers testing a "goo-gun" repair method for the space shuttle's thermally shielded belly?NASA, however, scrapped the short spacewalk and replaced it with 6-plus-hour venture to better inspect the rotating joint.
"It's a bit of exploratory surgery," Suffredini said of 22 thermal blankets that spacewalkers will need to remove from worrisome starboard joint.
Mission managers said that spacewalking astronauts need the extra day to rest between the fourth and fifth exhausting EVAs of the space shuttle mission. As for the thermal repair experiments, ISS flight director Rick LaBrode said equipment would be left on board the space station for the STS-122 to test.
"The priority is still the lowest on our mission," LaBrode said of the new repair test, called the tile repair ablator dispenser (T-RAD).
Busy spacewalk ahead
While mission managers debated whether or not to change the fourth spacewalk and tack on an extra day, spacewalkers Scott Parazynski and Doug Wheelock began preparing for the third EVA of the mission, which begins at 5:28 a.m. EDT (0928 GMT) on Tuesday.
Earlier today, ground controllers and astronauts on board the space station transferred the 35,000-pound (15,875-kilogram) Port 6 (P6) truss segment from space shuttle Discovery's robotic arm to the ISS robotic arm, setting the stage for the spacewalk. With help from crew inside of the space station, Parazynski and Wheelock will latch on the massive Port 6 (P6) solar array truss to its permanent home on the Port 5 (P5) truss.
Parazynski, however, will spend about 40 minutes after its reattachment to scope out the supposedly pristine rotary joint on the Port 1 (P1) truss.
"Whatever we see on P1 should be considered normal, whatever normal means," Suffredini. "We're trying to find out what a normal joint should look like. This joint has worked fine."
Pamela Melroy, the STS-120 commander affectionately known as "Pambo" by her crew, said the extra day in space is not a surprise and welcomes the change.
"Fortunately, we've already talked about this possibility before we flew," Melroy said, noting the complexity of the mission at hand. "It's another day in space docked to the space station, and that's great."
NASA is broadcasting Discovery's STS-120 mission operations live on NASA TV. Click here for mission updates and NASA TV from SPACE.com.
SPACE.com Video Interplayer: Delivering 'Harmony' with NASA's STS-120 Mission

Complete Space Shuttle Mission Coverage