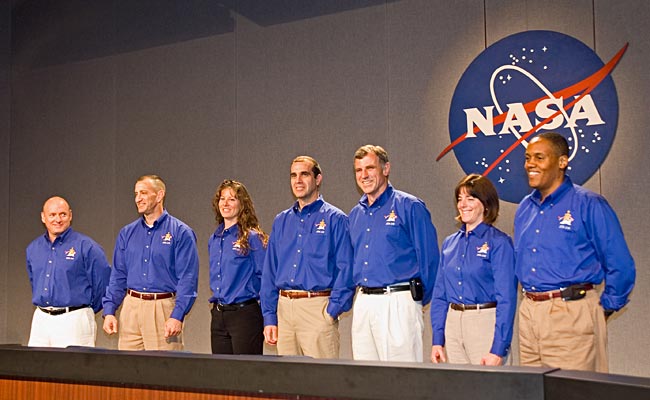 HOUSTON -- With less than a month remaining before their planned launch into orbit, seven astronauts?including teacher-turned spaceflyer Barbara Morgan?are eager to reach space aboard NASA?s shuttle Endeavour.
The shuttle?s STS-118 astronaut crew, commanded by veteran spaceflyer Scott Kelly, is due to rocket towards the International Space Station (ISS) on Aug. 7 to continue construction of the half-finished orbital laboratory.
?It?s a really great day for us to be a little less than a month from flight,? Kelly said during a Wednesday briefing here at NASA?s Johnson Space Center. ?All of us have been working a very long time to get to this point, some of us longer than others.?
Morgan, in fact, has been working for 22 years to reach space after NASA first selected her to serve as backup to Teacher in Space Christa McAuliffe. McAuliffe and six astronauts died during the 1986 Challenger accident, after which Morgan eventually returned to teaching elementary school in McCall, Idaho before returning to NASA in 1998 as the first educator astronaut.
?That?s what defines teachers is perseverance and patience, and so I?m just doing the job of a teacher,? Morgan told reporters Wednesday. ?I believe in my heart that space exploration is key for all of us, especially for our young people to keep their futures open-ended.?
Joining Kelly and Morgan aboard Endeavour during their potentially 14-day mission will be shuttle pilot Charles Hobaugh and mission specialists Rick Mastracchio, Tracy Caldwell, Alvin Drew and David Williams, who represents the Canadian Space Agency.
The astronauts are set to launch aboard a refitted Endeavour, which NASA last flew in 2002 before pulling the orbiter aside for a scheduled overhaul. The 100-ton orbiter and its external fuel tank and rocket boosters reached the launch pad earlier today.
?Endeavour is far and away probably more prepared that any shuttle that I?ve seen in my years of being at NASA,? said Hobaugh, a veteran shuttle flyer who first joined the U.S. astronaut corps in 1996.
Drew, a first-time flyer, joined Endeavour?s STS-118 crew in April to replace Clayton Anderson after the latter astronaut launched on a NASA?s June shuttle mission to join the station?s Expedition 15 crew as a flight engineer.
?My initial reaction was just plain shock. I?d never heard of anybody being selected for a mission about three and a half months out prior to launch,? said Drew, who was training to be a spacecraft communicator before his reassignment. ?After that, it was just time to get busy, and there?s a lot to do.?
Endeavour?s five-man, two-woman astronaut crew will install the $11 million Starboard 5 (S5) spacer truss to the starboard edge of the ISS. The spaceflyers are also slated to deliver about 5,000 pounds (2,267 kilograms) of cargo, replace a faulty ISS gyroscope, stage up to four spacewalks and perform several activities to bolster space education.
The success of a new system designed to allow Endeavour to conserve its own power stores by siphoning supplies from the ISS will determine whether the shuttle mission is extended three days longer than its 11-day baseline, NASA has said.
Endeavour?s August STS-118 flight will mark the second of up to four NASA shuttle missions planned for this year. It comes on the heels of last month?s STS-117 mission to the station and will carry the second round of shuttle astronaut visitors to the orbital laboratory?s Expedition 15 crew.
?We?re looking forward to you guys being in our home,? Anderson told shuttle astronauts from orbit earlier Wednesday during a video broadcast.
NASA?s STS-118: Teaching the Future Through ISS Assembly

SPACE.com Video Interplayer: Space Station Power Up with NASA's STS-117

Complete Shuttle Mission Coverage