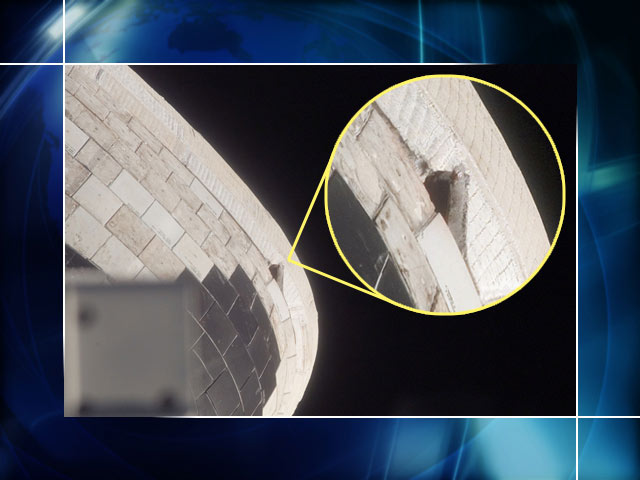 HOUSTON - Astronauts might have to squeeze in a repair operation during this week?s spacewalks to mend a torn insulation blanket on the rear section of the space shuttle Atlantis, mission managers said Sunday.
The 4-inch by 6-inch (10-centimeter by 15-centimeter) triangular flap of heat-resistant fabric is located on the left Orbital Maneuvering System (OMS) pod of the shuttle. It was spotted by Atlantis? astronaut crew shortly after they reached orbit Friday evening.
Images showing a closer look at the damage, taken today by STS-117 mission specialist Danny Olivas, suggest the blanket was uplifted by air rushing past the rear section of the shuttle during its ascent into orbit.
?It looks like?and the experts were completely unanimous?that this was not impact damage that caused this blanket to raise up. It was [aerodynamic] loads,? said John Shannon, chairman of NASA?s STS-117 Mission Management Team (MMT).
?During launch, that area sees a pretty significant airflow,? Shannon added. ?It looks like there might have been a gap between two [nearby thermal insulation] tiles that allowed some air to impinge directly on the blanket.?
Engineers are concerned the torn section of blanket, which is currently folded back on itself, could heat up during reentry and damage the internal graphite-epoxy honeycomb structure of the OMS pod underneath.
While that is not likely threaten the integrity of Atlantis during reentry, it ?would mean some refurbishment on the ground that we don?t really want to do,? Shannon said.
The good news is that, because the torn section of blanket did not wrench away completely, repairing it will be a relatively simple matter of flattening it back down and securing it using pins or some other method, Shannon said.
That repair, if it is required, will likely take place during one of the latter spacewalks planned for the mission, Shannon said.
The STS-117 crew is scheduled to perform three, and possibly four, spacewalks over the next several days to install new truss segments and solar arrays onto the ISS that were delivered by Atlantis.
The MMT expects to make a final decision on whether to repair the blanket on Monday, Shannon said.
NASA is broadcasting the space shuttle Atlantis' STS-117 mission live on NASA TV. Click here for mission updates and SPACE.com's video feed.
SPACE.com Video

Interplayer

: Space Station Power Up with STS-117

STS-117 Power Play: Atlantis Shuttle Crew to Deliver ISS Solar Wings

The Great Space Quiz: Space Shuttle Countdown

Complete Shuttle Mission Coverage