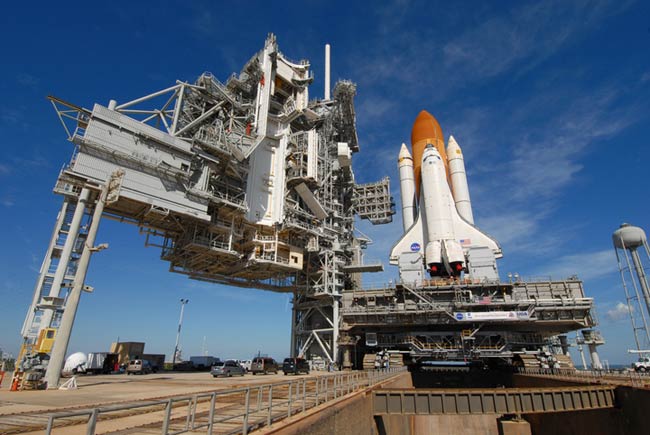 This story was updated at 1:04 a.m. EST.
NASA delayed the planned February launch of the shuttle Discovery for the fourth time late Friday, leaving the space station-bound construction flight in limbo as debate continues over whether the spacecraft can fly with potentially faulty fuel valves.
The announcement came after a day-long meeting of senior NASA managers to discuss whether the space shuttle was ready for a planned Feb. 27 launch toward the International Space Station.
?We were really, really close to having the entire team at a point to where we could accept to go fly,? said space shuttle program manager John Shannon after the 13-hour meeting at NASA?s Kennedy Space Center in Cape Canaveral, Fla. ?There was just a sense of unease that we did not quite have the rigor that we typically expect from a question like this.?
Discovery?s mission has already been delayed several times so shuttle engineers could run a series of tests on the fuel control valve concerns. The shuttle was slated to launch on Feb. 12, with subsequent delays pushing it back three more times to give engineers more time to complete valve tests. On Friday, shuttle managers were unable to settle on an acceptable rationale to fly the mission until a more complete analysis on the valves is available.
?When we go fly, we want everybody on the team to be right behind us and ready to go,? Shannon said, adding that some valve test data came late in the week, and others contained errors. ?We probably could have gotten there tonight, but we would have left some unease in some people?s minds.?
More analysis needed
Shannon said mission managers hope to reconvene by next Wednesday to take stock of new progress on the fuel valve assessment and again discuss potential launch dates for Discovery and its STS-119 crew.
NASA space shuttles each have three fuel control valves, one for each main engine. The valves function much like pop-up lawn sprinklers to route gaseous hydrogen through a set of plumbing lines that feed into the liquid hydrogen reservoir of a shuttle?s attached external tank and maintain the proper pressure during flight.
During NASA?s most recent shuttle launch last November, one of the Endeavour orbiter?s fuel control valves developed a crack, with a small chip breaking off. While Endeavour successfully reached orbit without incident, mission managers want to be sure a similar event during Discovery?s launch would not puncture the shuttle's vital plumbing lines and cause catastrophic damage.
Shuttle engineers later found that stresses and high-cycle fatigue from harmonic oscillations can lead to tiny cracks in the valves, allowing bits to break off during flight. After the November shuttle launch, NASA replaced the fuel valves aboard Discovery with ones known to be in good shape.
Shannon said shuttle engineers are tackling the issue on two fronts. They are working to decide if the valves currently aboard Discovery can fly as they are, as well as studying the potential consequences should the valves break during flight.
NASA is also studying whether the valves will have to be redesigned in the near-future before the agency retires its three-shuttle fleet in 2010. NASA is planning to fly nine more shuttle missions to complete space station construction and overhaul the Hubble Space Telescope.
?It is the program?s ultimate goal to redesign that valve so we can put that problem behind us,? Shannon said.
Launch date limbo
NASA has until about March 12 to launch Discovery toward the space station and complete its 14-day mission before the arrival of a Russian Soyuz spacecraft ferrying a new crew to the orbiting laboratory. If the shuttle doesn?t lift off by then, NASA would stand down until after the space station crew change, with the next launch opportunity arising around April 7, mission managers said.
Commanded by veteran spaceflyer Lee Archambault, Discovery?s seven-astronaut crew will deliver the last section of the space station?s backbone-like main truss and the final set of U.S.-built solar arrays. Four spacewalks are planned for the mission, which also includes a one-astronaut swap for the space station?s Expedition 18 crew.
Japanese astronaut Koichi Wakata of the Japan Aerospace Exploration Agency will launch to the space station aboard the Discovery to replace NASA astronaut Sandra Magnus as an Expedition 18 flight engineer. Wakata, a veteran spaceflyer, is Japan?s first long-duration astronaut.
Magnus has lived aboard the space station since last November and will return to Earth aboard Discovery after months of living and working in orbit. Wakata is due to return home aboard another NASA shuttle later this year.
If Discovery launches by March 12, its delays should not have substantial repercussions for the up to five other shuttle flights NASA has on its 2009 schedule. Launching in April, however, would likely cause a ripple of delays for subsequent flights, mission managers said.
?The rest of the manifest kind of slips consecutively as that happens,? said Bill Gerstenmaier, NASA?s space operations chief.
Debris risk assessed
Shuttle officials also said Friday that the unexpected collision between U.S. and Russian communication satellites last week has not hindered plans to launch Discovery, despite causing two large clouds of shrapnel that are now circling the Earth, mission managers said.
The Feb. 10 collision occurred over Siberia when a U.S. Iridium communications satellite and a defunct Russian military satellite crashed into each other 490 miles (790 km) above Earth.
The U.S. Defense Department?s Space Surveillance Network and NASA have been tracking the resulting debris, but have said it poses a relatively small increase in risk to both the space shuttle and the International Space Station, which is currently home to two American astronauts and a Russian cosmonaut. The space station orbits Earth at an altitude of about 220 miles (354 km).
Gerstenmaier said Friday that the new debris increased the risk to the space station and visiting space shuttles by about 6 percent.
NASA debris experts are studying the shrapnel clouds to determine what risk they may pose to shuttle astronauts bound for the Hubble Space Telescope later this year. That spaceflight is currently slated to launch in late May to pay the last service call on the iconic space telescope, which orbits the Earth at some 372 miles (600 km).
?That didn?t look so good, when they looked at that,? Gerstenmaier said.
But the final risk assessment will likely take a few more weeks as scientists get more information on the extent of debris within the two shrapnel clouds, Gerstenmaier said. The satellite collision?s impact on NASA?s plans for the Hubble shuttle flight should be clearer by mid-March, he added.
New Video - Fragmentation: The Expanding Danger of Space Debris

Video - Space Shuttle Bloopers

Video Switching the Sun: How to Convert Solar Energy