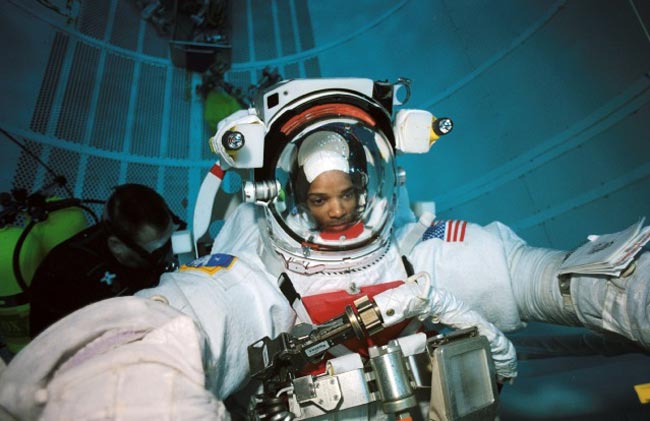 Poised to launch towards the International Space Station (ISS) this week are three Discovery shuttle astronauts trained in the art of orbital construction.
But STS-116 spacewalkers Robert Curbeam, Christer Fuglesang and Sunita Williams are more than mere orbital electricians set to rewire the ISS power grid. They plan to perform three extravehicular activities (EVAs) during the mission to deliver a new piece of the ISS and plug the station into its primary electrical and thermal control systems.
"I have complete confidence of everybody on the team," said Curbeam, who is leading all three STS-116 spacewalks, during an interview. "I think we've all trained enough together."
Curbeam, Williams and Fuglesang--a European Space Agency astronaut--are slated to launch spaceward with their STS-116 crewmates on Dec. 7 at 9:35:47 p.m. EST (0235:47 Dec. 8 GMT) to kick off their 12-day mission.
Spacewalking pro
Of all the STS-116 spacewalkers, it is Curbeam alone who brings actual spaceflight experience to the table.
The Baltimore native--known to his crewmates as "Beamer"--flew alongside STS-116 commander MarkPolansky during NASA's STS-98 mission to deliver the U.S. Destiny laboratory to the ISS in 2001. He also flew aboard NASA's STS-85 mission in 1997 and has logged more than 24 days in space, and 19 hours working outside a spacecraft during three spacewalks.
"I think the biggest impression that I left with from that flight, although we did a lot of work in the sciences, was just the view," Curbeam, 44, said in a NASA interview. "It was absolutely incredible!"
A captain in the U.S. Navy and father of two children, Curbeam was selected to join NASA's astronaut corps in 1994 after 10 years as a naval aviator. He originally studied to build spacecraft, and holds several degrees in aerospace, aeronautical and astronautical engineering.
"I was always interested in spacecraft and aircraft. I thought I'd be a spacecraft designer," he said. "But I never really thought I'd be an operator."
Curbeam serves as the STS-116 crew's Mission Specialist-1 and its chief spacewalker, and is intimately acquainted with the risks of EVAs and spaceflight. He encountered an ammonia leak while wrangling ISS cooling lines during the Destiny lab's installation, prompting decontamination procedures and angst he's not eager to repeat.
"Probably the biggest thing people have to remember, especially coming out of a naval tradition, is that people are always looking out for my safety," Curbeam told reporters. "We are trying to make sure that we have the best vehicle, best spacesuit, the best equipment to do our job with. Our part of the bargain is that we're going to go out there and we're going to do it right."
Curbeam said that he always wishes to share his spaceflight experience with others, adding that the experience offers a unique perspective.
"I always tell my friends, 'If you leave this world not a conservationist, you'll come back as one,'" he said, adding that the beauty and limited resources of Earth are striking from space. "I welcome the day when more people get to experience some of the things that I've experienced--I just think they'll get along a lot better."
Sweden's first spaceflyer
Joining Curbeam on the first two STS-116 spacewalks is Fuglesang, as Mission Specialist-3, who is poised to make history as the first Swede to reach space. The upcoming mission also marks his spaceflight debut 14 1⁄2 years after becoming an ESA astronaut.
"It's exciting to be flying in space for the first time," said Fuglesang, 49, in an interview. "It's great that Europe can have astronauts participating in the build-up of the space station."
A Stockholm native and particle physicist by training, Fuglesang joined ESA's astronaut ranks in 1992 and served as a backup for fellow European Thomas Reiter--currently servingas anExpedition 14flight engineer aboard the ISS--during the Euromir 95 mission to Russia's Mir Space Station in 1995. The two astronauts are friends, and both among the few non-Russians certified to fly Soyuz spacecraft.
"We never thought that we ever would fly in space together," Fuglesang said in a NASA interview, adding that the presence of two Europeans aboard the ISS has drawn extra interest to the STS-116 mission in Europe. "I guess it will be like suddenly meeting an old friend on some foreign island somewhere--I'm looking forward to that very much."
Fuglesang, who is raising three children with his wife Elisabeth, admits some frustration from his long wait to his first spaceflight, but added that other ESA astronauts have been waiting longer than he, and that patience is part of the job.
"You have to be prepared to be patient," he said. "I've been very lucky."
Staying up there
Rounding out Discovery's STS-116 crew is Williams, who has no intention of returning home with her shuttle crewmates this month.
That's because the 41-year-old Needham, Mass. native will relieve Reiter as an Expedition 14 flight engineer, and then stay on to join the Expedition 15 crew next year. Reiter will take Williams' place aboard Discovery on its return to Earth. Like Fuglesang and many of her STS-116 crewmates, Williams is making her first spaceflight. But she expects to spend more than six months in Earth orbit.
"I can't imagine not loving it," Williams said in an interview, adding that she'll make her spacewalk debut during the third STS-116 EVA. "I'm really looking forward to STS-116. It's going to really break me in to learn how to work in space."
Williams joined the U.S. Navy--where she holds the rank of commander--in 1987, and took flight as a helicopter pilot. She was deployed aboard the amphibious assault ship USS Saipan when she was selected for NASA's astronaut program in 1998.
Reaching the ISS has been a goal for Williams since her NASA arrival, and she supported the Expedition 1 mission in 2000 and 2001, and spent nine days underwater aboard the Aquarius Undersea Laboratory during NASA's NEEMO 2 mission. In addition to her role as an ISS flight engineer, Williams will also serve as NASA's ISS science officer for part of her mission--a responsibility she does not take lightly.
"We're up there, using the ISS to figure out how to go to other places in the universe," Williams said, adding that understanding planets like Mars is crucial to humanity's future on Earth and among the stars. "So, the space station is just a stepping stone to get us to understand space, how to live and work in space, and then potentially get back to the Moon."
While Williams and her husband Michael are acquainted to long periods apart--the result of her deployments to the Mediterranean, Red Sea and Persian Gulf--she does confess that she'll miss her "crazy" Jack Russell terrier Gorby. The pup will stay with Williams' mother during the upcoming spaceflight, though the astronaut longed to bring him along.
"I would love to," Williams said. "I'm going to miss the little booger."
Complete Space Shuttle Mission Coverage
Space Shuttle Launch Visible Across Eastern U.S. Thursday
Images: Ready to Fly: STS-116 Training
Images: Shuttle Discovery Poised for STS-116
STS-116 Video: Major Tasks
STS-116 Video: Power is Everything
STS-116 Video: Back in Business
STS-116 Video: Building Blocks
Mission Discovery: The ISS Rewiring Job of NASA's STS-116
The Great Space Quiz: Space Shuttle Countdown
All About the Space Shuttle