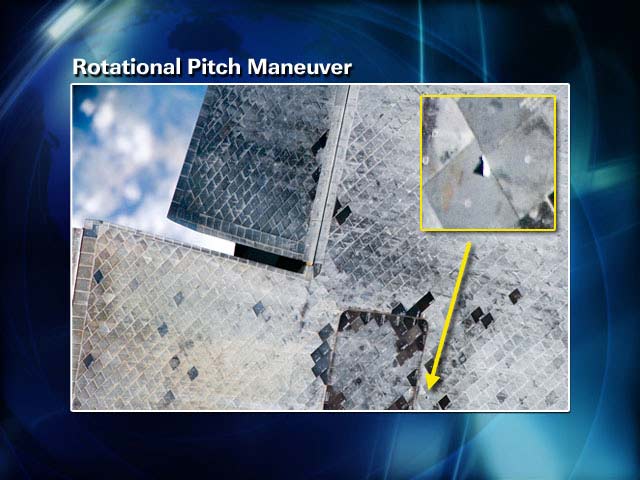 HOUSTON - The space shuttle Discovery's heat shield, so vital to returning its STS-121 astronaut crew home to Earth, appears to be in fine shape based on early image analysis, mission managers said Thursday.
"Overall, a really clean vehicle," said NASA's John Shannon, deputy shuttle program manager, of Discovery during a mission briefing here at Johnson Space Center (JSC). "We were looking for things to talk about at one point, it is so clean."
Discovery's heat shield could be given a clean bill of health by the end of the weekend, Shannon said.
Shannon's comments came after an initial analysis of some of the 352 high-resolution images of Discovery's heat shield taken earlier today by astronauts aboard the International Space Station (ISS) during the shuttle's morning docking. A further review is pending, but analysts have identified only a few targets for possible follow-up inspections on Friday by the STS-121 crew.
Among them are:
An area along Discovery's nose cap that appears to have been missed during an earlier laser instrument scan on Wednesday. Analysts are studying the high-fidelity images taken of the orbiter by Expedition 13 astronauts Pavel Vinogradov and Jeffrey Williams to determine whether they fill in the needed gaps.
A newly-found gap filler jutting from between two tiles well aft on Discovery's belly, just ahead of an umbilical door where a strut connected the orbiter to its external tank. "It's really cockeyed," Shannon said. "It almost came out, but not quite."
A piece of fabric-like material poking out just behind the shuttle's nose cap that does not appear to be a gap filler, but merits extra interest.
And the previously known gap filler discovered Wednesday by the STS-121 crew during orbital boom inspections of Discovery's port wing leading edge.
Heat shield imagery analysts were expected to convene at 7:00 p.m. EDT (2300 GMT) to decide exactly which items merit time during a four-hour block on Friday reserved for additional boom inspections by primary shuttle robotics operators Lisa Nowak and Stephanie Wilson.
"I would say we'd probably use all of that four hours," Shannon said of the follow-up inspections, adding that the estimate allows for the time needed to slowly move the orbital boom from Discovery's nose cap region to the aft gap fillers.
Shannon added that additional study has pinned down the area of the sheet of foam that peeled free in pieces from Discovery's fuel tank during launch. Early estimates set the area at about the size of an 8.5 by 11-inch (21 by 27-centimeter) sheet of paper, but the actual size was a bit larger at 12.3 inches by 14.2 inches (31 by 36 centimeters), with a thickness of up to one inch (2.5 centimeters), Shannon said.
"The initial report from the external tank project was that we did not violate any conditions that we set pre-flight," Shannon said.
The seven Discovery astronauts are NASA's second shuttle crew to fly to the ISS since the 2003 Columbia accident. They have ferried European Space Agency (ESA) astronaut Thomas Reiter to join the Expedition 13 crew, and will deliver some of their 3.6 tons of cargo to the station on Friday.
Inspection boom of the future
Shannon said discussions are underway on the future of Discovery's orbital inspection boom, which adds 50 feet (15 meters) to the shuttle's already 50-foot robotic arm. The boom carries sensitive visual and laser cameras, as well as a laser radar, to scan an orbiter's heat shield.
During NASA's STS-118 mission - currently slated to launch in mid-2007 - shuttle officials plan to launch a set of brackets for the ISS to accommodate the boom so a newer, smaller version could be developed.
"The thought is that we would like to have a smaller, better boom that's a little bit easier to use with better sensors to fly up on the space shuttle," Shannon said. "You want that nice long boom from a reach standpoint but from an inspection standpoint you'd like a little smaller boom."
The current boom gives access to much of an orbiter's surface, and will be tested for its potential as a work platform by STS-121 spacewalkers Piers Sellers and Michael Fossum on Saturday. But the boom does weigh about 800 pounds (362 kilograms), which takes a hefty bite out of a shuttle's cargo lift capability, NASA said.
"We'd like something a little less so we can carry up more cargo," Shannon said.
The current shuttle inspection boom could be installed at the ISS about five shuttle flights in the future, he added.
Gallery: Shuttle's First Flight
Gallery: Rare Space Shuttle Images
Shuttle Discovery: Complete Mission Coverage
Great Space Quizzes: Space Shuttle Countdown
Great Space Quizzes: The Space Shuttle
Great Space Quizzes: Life in Orbit