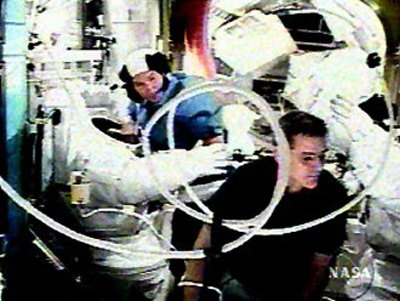 Two astronauts aboard the International Space Station (ISS) stepped into their U.S.-built spacesuits Thursday during a dress rehearsal for the first spacewalk of their six-month mission.
ISS Expedition 12 commander Bill McArthur and flight engineer Valery Tokarev donned their NASA spacesuits - called Extravehicular Mobility Units (EMUs) - during an exercise to prepare for a Nov. 7 spacewalk.
"[It was] exactly what we thought it would be like," McArthur said of the dress rehearsal.
The upcoming spacewalk will mark the third extravehicular activity (EVA) for McArthur and a first for Tokarev. It will also be the first time ISS astronauts have used U.S.-built spacesuits to venture outside their spacecraft since 2003 due to glitches - since solved - with the station's Quest airlock and EMUs. Space station crews relied solely on Russia's Orlan spacesuits until the space shuttle Discovery's STS-114 crew - which conducted three spacewalks using EMUs during their mission - delivered a fresh pair of U.S. spacesuits to the ISS in July.
The new U.S. spacesuits will allow McArthur and Tokarev - as well as future ISS spacewalkers - to depart the station at NASA's Quest airlock, which cannot currently be used with Orlan spacesuits, and cut down on travel time to workstations on the orbital platform's U.S. segment, said Dale Roberts, head of NASA's EVA increment group at Johnson Space Center (JSC), in a telephone interview.
"The Orlan, of course, is a good suit and a robust suit, but it is different from the EMU," Roberts said. "[Russia's] system was designed around the Russian segment of the space station."
Orlan spacesuits are filled to a higher pressure than EMUs - 5.8 psi as compared to 4.3 psi - which makes them a bit stiffer than U.S.-built suits and can lead to additional fatigue during long spacewalks, Roberts said. While Orlans are also designed specifically to maintain the station's Russian-built segments, where many maintenance procedures can be performed from inside the station, EMUs are preferred on the U.S. segment because their additional glove dexterity is valuable when handling the multitude of connections and batteries on the exterior, he added.
Still, necessity can be the mother of invention and, during 2004's Expedition 9 spaceflight, ISS commander Gennady Padalka and flight engineer Michael Fincke proved that Orlan spacesuits could be used for some maintenance on U.S.-built space station segments. They staged the EVA from the Russian-built Pirs docking compartment and traveled the furthest from their egress point than any other ISS crew at the time.
The Expedition 9 crew's task, Roberts added, was rather straightforward.
"It was about as simple and basic as you can get with a spacewalk," he said, adding that much effort was spent by EVA planners, astronauts and instructors to make it that way. "It was not at all indicative of assembly tasks."
Having the U.S. spacesuits aboard the ISS not only give astronauts an additional option for spacewalk apparel, it fulfills established ISS requirements that require Russian and NASA spacesuits be ready to perform two extra - or contingency - spacewalks on top of any planned EVAs if needed, Roberts said.
During their upcoming spacewalk, McArthur and Tokarev will attach Orlan spacesuit wrist mirrors to their EMU gloves in place of U.S.-built mirrors that were inadvertently shipped back to Earth aboard Discovery in August, NASA officials said, adding that replacements will be packed aboard a resupply ship set to launch toward the ISS in December.
It is not the first time that parts have been interchanged between Russian and U.S. suits.
Since Expedition 9's spacewalks - they completed four during their mission - ISS astronauts have preferred to mount EMU helmet lights to complement Orlan suit lighting during EVAs, Roberts said. Drink bags and other EVA tools can also be swapped, he added.
McArthur and Tokarev are set to step outside the ISS at about 9:30 a.m. EST (1430 GMT) on Nov. 7. At least one other spacewalk, this one in Orlan spacesuits, is scheduled for their mission. A third spacewalk in U.S. spacesuits could be added in February 2006 should the time be available, NASA officials have said.
Complete Coverage: ISS Expedition 12