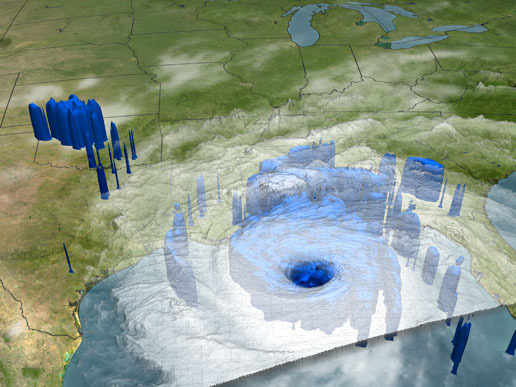 CAPE CANAVERAL - NASA started to take fully assembled shuttle Atlantis apart at Kennedy Space Center on Wednesday, while plans are on hold to send another external fuel tank back to its production plant in New Orleans.
Ripple effects from Hurricane Katrina raised serious doubts about the agency's ability to launch its next mission in March.
Up to 70 percent of the people who work at a shuttle external tank manufacturing plant in New Orleans had their homes damaged or destroyed when Katrina swept ashore this week, NASA officials said.
Its storm surge swamped the Michoud Assembly Facility with as much as 2 feet of water. Electrical power and communications were knocked out. Water service was interrupted.
The Lockheed Martin factory will remain closed until at least Tuesday, but it might take several weeks to restore power, communications and other utilities. It's also uncertain how soon workers will be able to return.
Plans to ship three tanks -- including the one for NASA's next mission -- back to Michoud for retrofitting are on indefinite hold.
The situation makes it increasingly unlikely that NASA will be able to launch its next mission as planned in March. The next window of opportunity doesn't open until May. But NASA officials say it's too early to tell whether storm damage will trigger further delay.
"They're looking at all sorts of possibilities, and it's much too early to determine how this is all going to fall out," KSC spokesman Bruce Buckingham said. "Our prime concern is the employees and their situation in the aftermath of the storm."
NASA's second post-Columbia test flight was pushed back to March from September to give engineers time to solve continuing problems with external tank foam insulation.
Future shuttle flights are on hold until NASA determines why a large piece of foam fell off Discovery's tank two minutes after a July 26 launch, barely missing the shuttle's right wing. A similar chunk of falling foam caused the February 2003 Columbia disaster.
A NASA investigation team had been staging its work from Michoud. Operations are now working out of the Marshall Space Flight Center in Huntsville, Ala.
The 15-story tank for NASA's next mission will be returned to the 52-story KSC Vehicle Assembly Building from Port Canaveral.
Loaded onto a covered barge, it began a trip back to Michoud last week but since has been sheltered at Port Canaveral to avoid the storm. Now, it's unclear when the tank will be shipped, Buckingham said.
Published under license from FLORIDA TODAY. Copyright ? 2005 FLORIDA TODAY. No portion of this material may be reproduced in any way without the written consent of FLORIDA TODAY.
STS-114: Return to Flight Special Report