Asteroids Visited by Spacecraft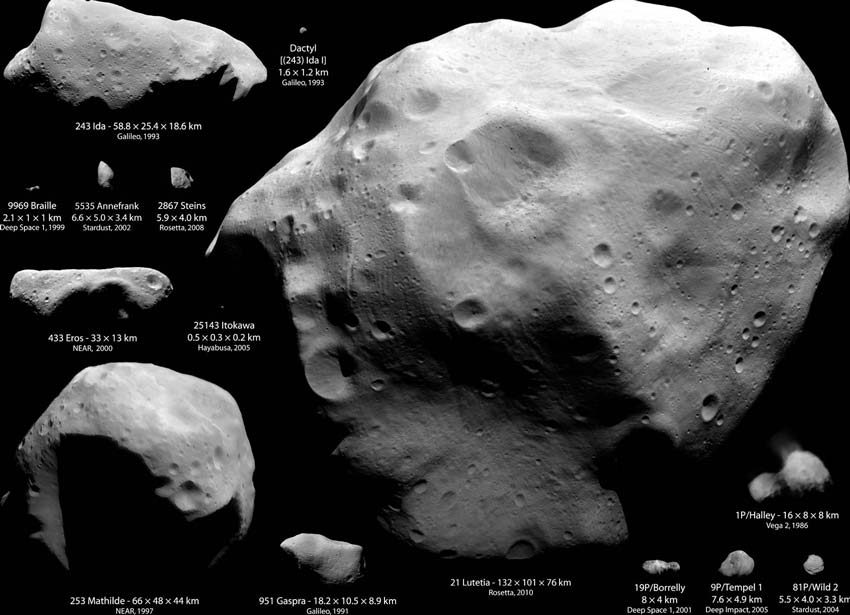 Only a few near-Earth objects would fit NASA's proposed guidelines for a manned mission to an asteroid.
New Image of Asteroid 2005 YU55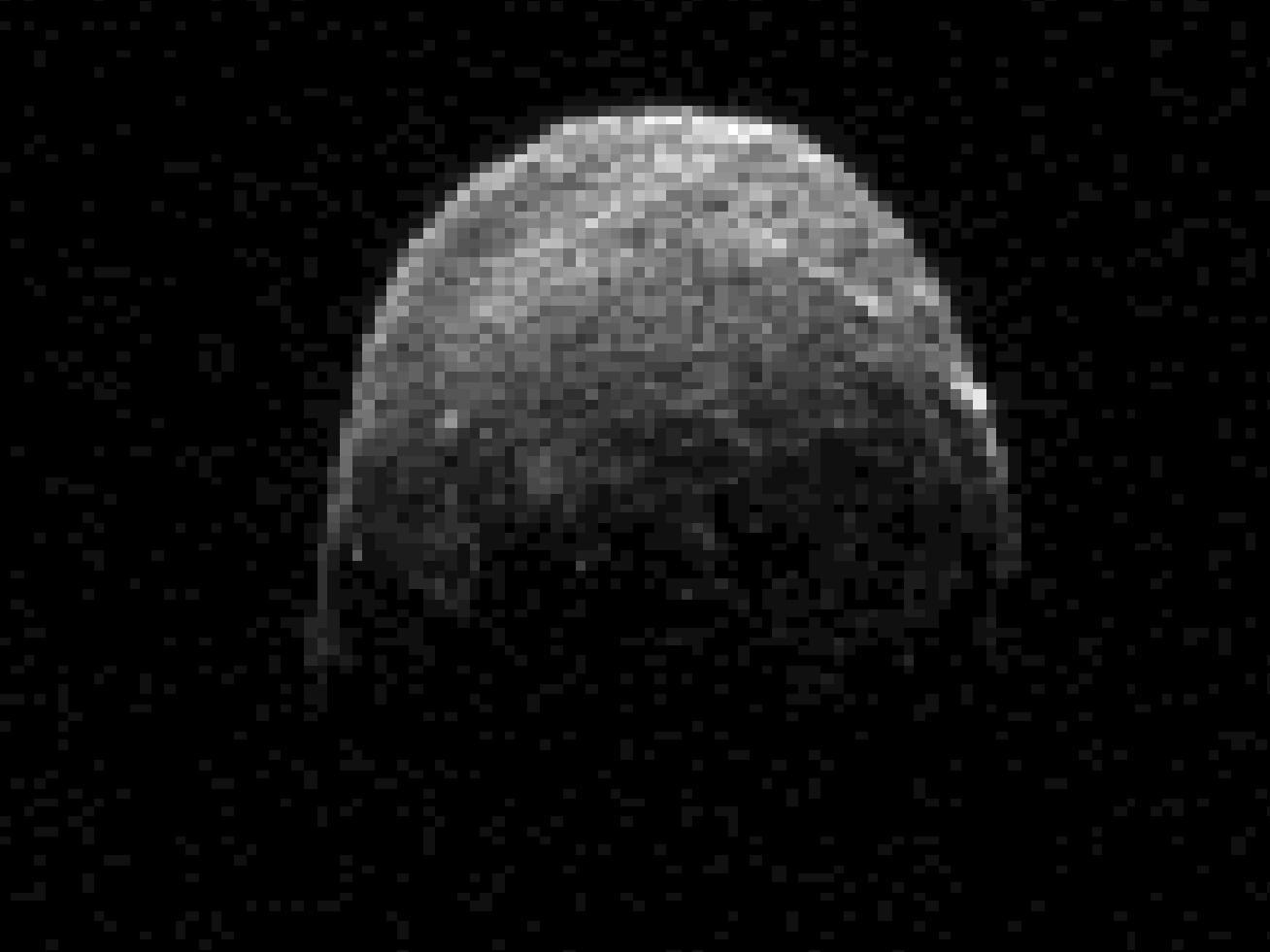 This radar image of asteroid 2005 YU55 was obtained on Nov. 7, 2011, at 11:45 a.m. PST (2:45 p.m. EST/1945 UTC), when the space rock was at 3.6 lunar distances, which is about 860,000 miles, or 1.38 million kilometers, from Earth.
Asteroid Jiggles Like a Jar of Mixed Nuts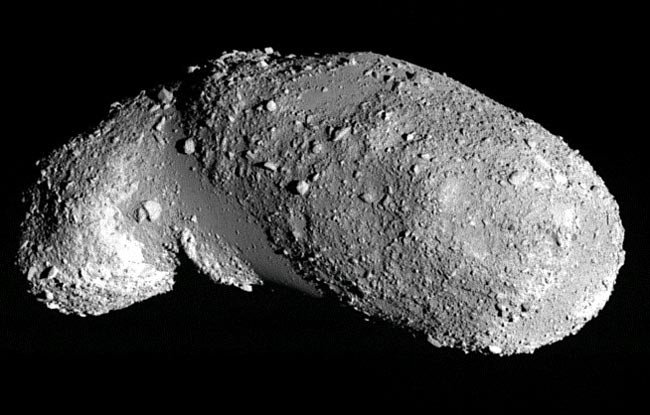 Image of the near-Earth asteroid Itokawa. The boulder-free areas appear relatively smooth and are filled with small, uniformly sized particles.
Peek at Huge Asteroid Provides More Questions Than Answers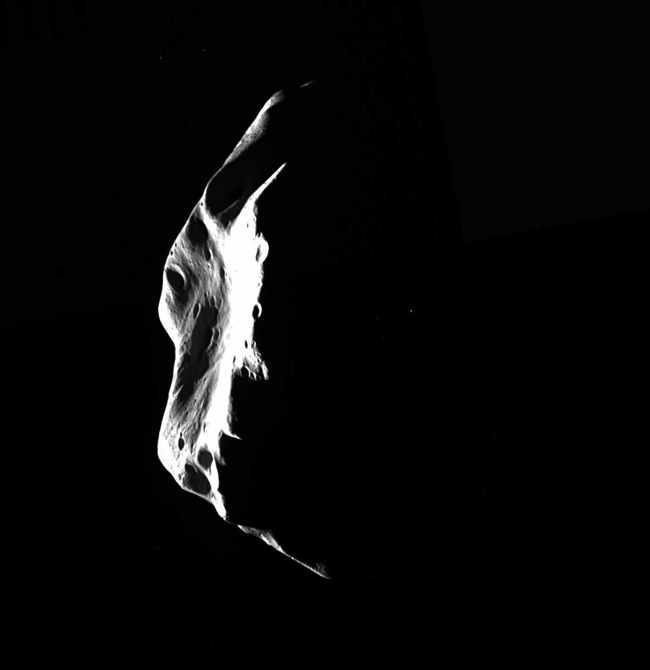 The European Space Agency's Rosetta spacecraft took this image of the asteroid Lutetia during a flyby on July 10, 2010.
See You Soon, Apophis Asteroid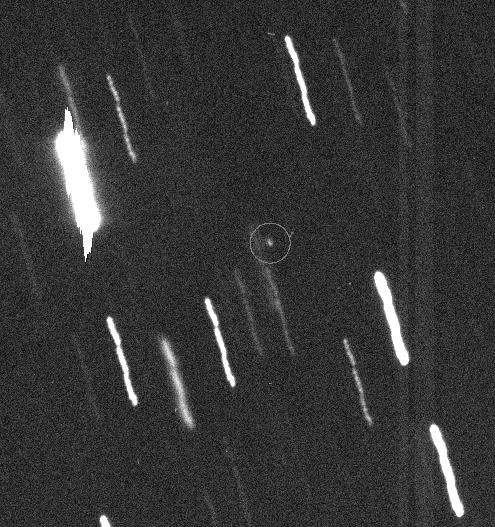 The asteroid Apophis was discovered on June 19, 2004. It will fly within 18,300 miles of Earth on April 13, 2029, but poses little risk of impact.
Possible Asteroid Particles Found in Returned Space Probe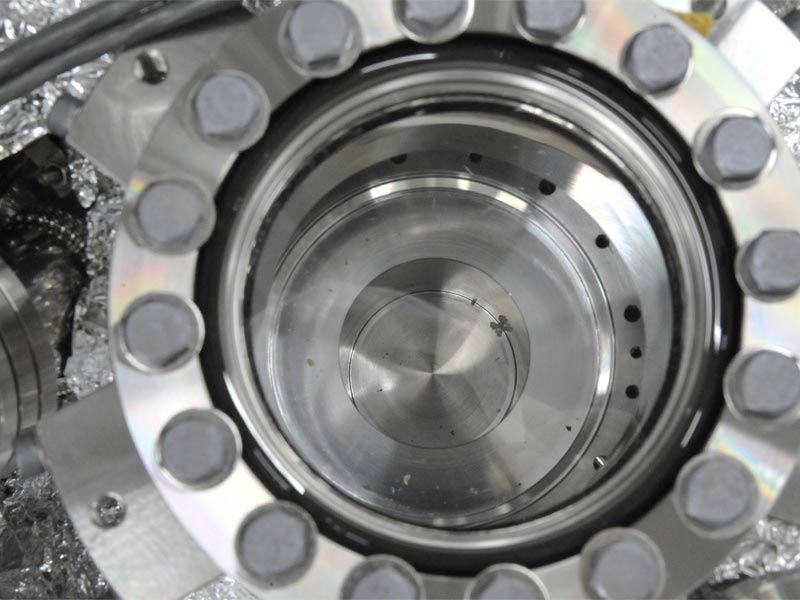 Scientists have found small particles inside the sample container of the Japanese asteroid probe Hayabusa, though it remains to be seen if they are asteroid bits or contamination from Earth. Here, particles are visible in re-entry capsule's sample container in a photo taken through the window of JAXA's sealed curation facility on June 28, 2010.
Full Story
.
Mysterious Asteroid Unmasked By Space Probe Flyby
This photo of the asteroid Lutetia is one of the closest views ever of the asteroid. It was taken from a distance of about 80,000 km during a July 10, 2010 flyby by Europe's comet probe Rosetta.
Full Story
.
Battered Asteroid a Survivor From Solar System's Birth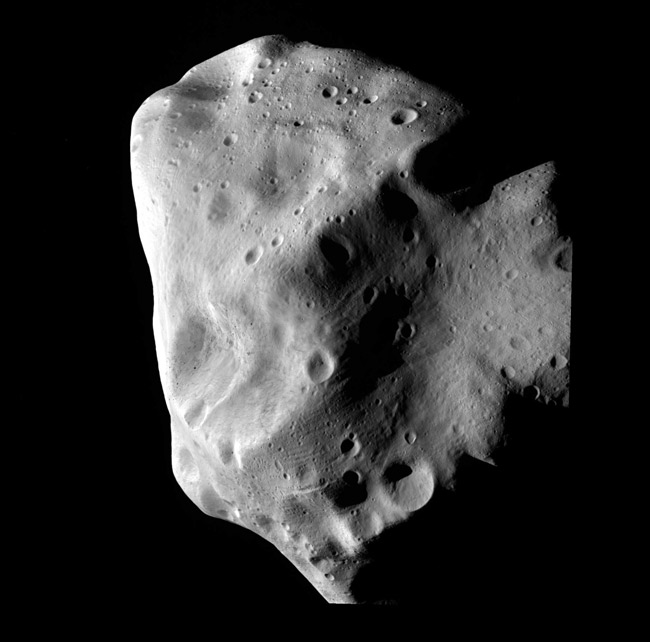 The asteroid Lutetia at closest approach as seen by Europe's Rosetta spacecraft in July 2010.
Asteroid Vesta as Seen by Hubble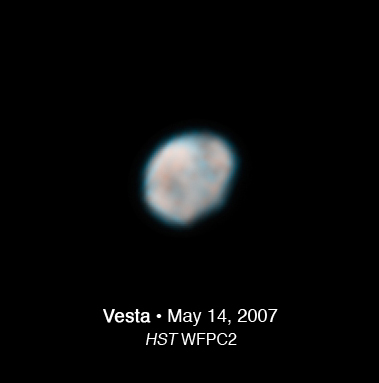 This Hubble Space Telescope image of Vesta shows another of the most massive asteroids in the asteroid belt, a region between Mars and Jupiter. The images are helping astronomers plan for the Dawn spacecraft's tour of these hefty asteroids.
Asteroid Eros, How I Do Love Thee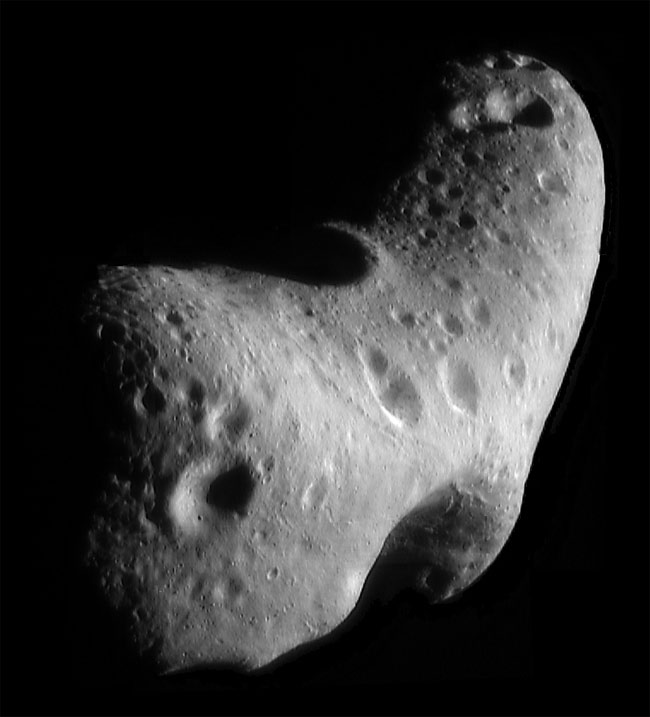 This image, taken by NASA's Near Earth Asteroid Rendezvous mission in 2000, shows a close-up view of Eros, an asteroid with an orbit that takes it somewhat close to Earth. NASA's Spitzer Space Telescope observed Eros and dozens of other near-Earth asteroids as part of an ongoing survey to study their sizes and compositions using infrared light.
14 Big Space Rocks Discovered Beyond Neptune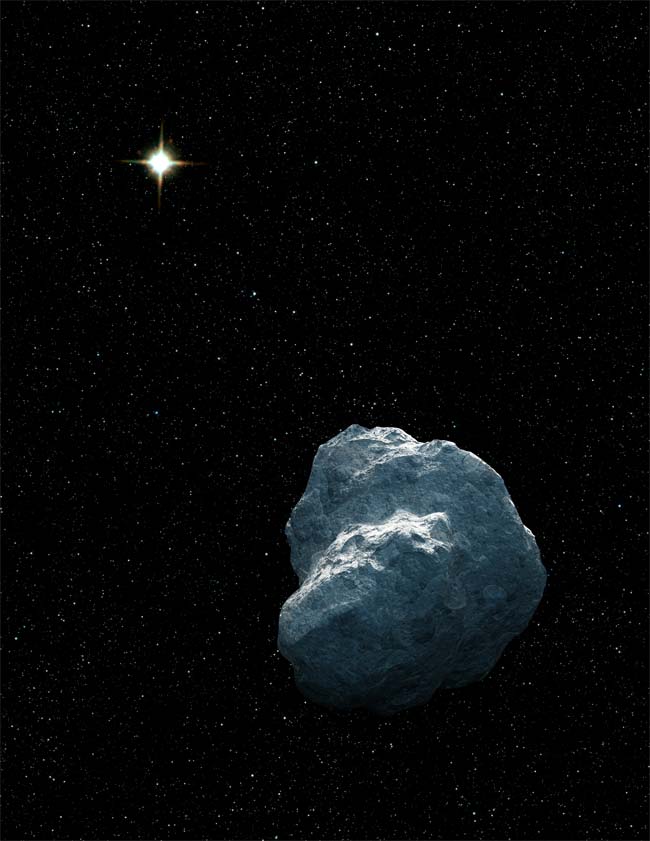 An artist's concept of a craggy piece of Solar System debris that belongs to a class of bodies called trans-Neptunian objects. Astronomers culling the data archives of NASA's Hubble Space Telescope have added 14 new TNOs to the catalog.
'Potentially Hazardous' Asteroid Will Miss Earth by 4 Million Miles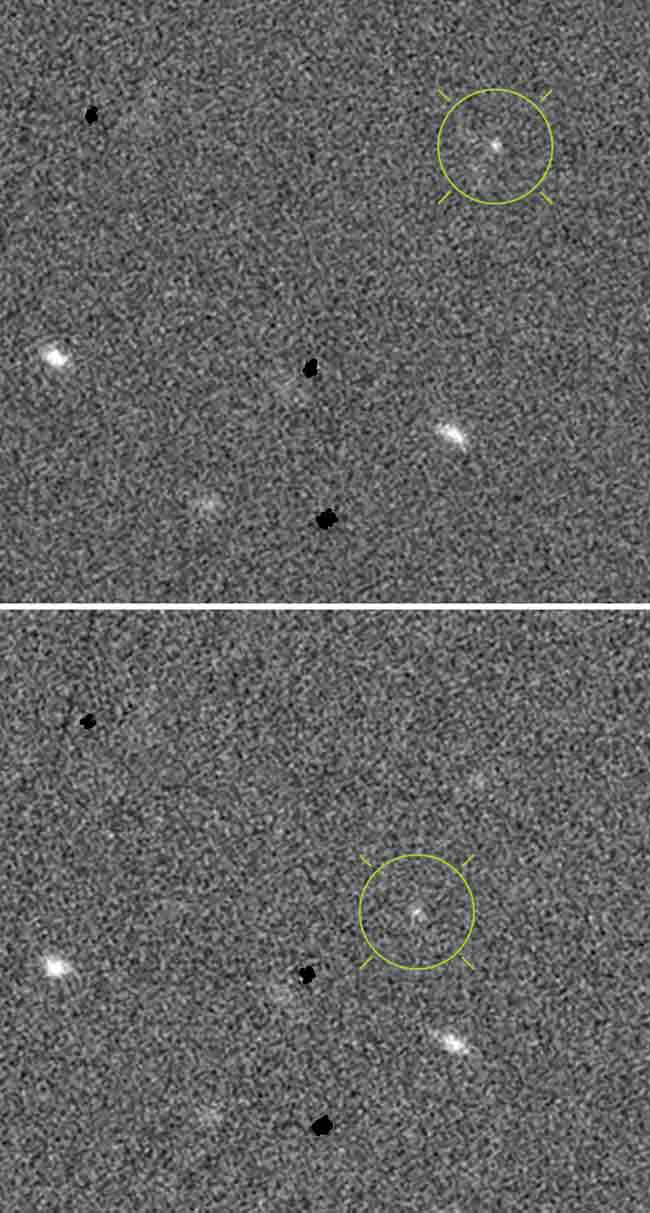 Two images of 2010 ST3 (circled in green) taken by PS1 on the night of Sept.16, 2010 show the 150-foot wide asteroid moving against the background field of stars and galaxies.
Water Ice Common on Asteroids, Discovery Suggests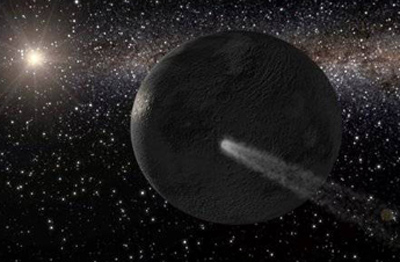 An artist's illustration of water ice on the asteroid 65 Cybele, which was announced Oct. 8, 2010, suggesting that water ice may be more common in our solar system than thought.
2011 CQ1 asteroid close earth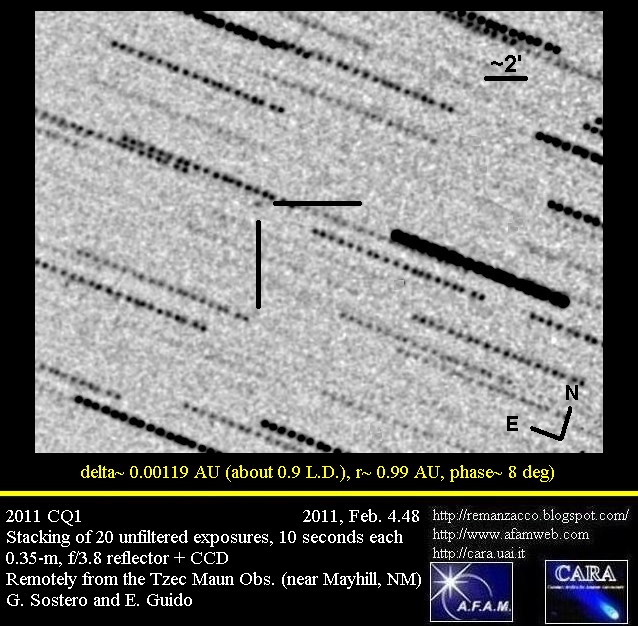 The newly discovered object, officially designated 2011 CQ1, is shown in this image from Tzec Maun Observatory in New Mexico.
WISE telescope asteroid census
This collage shows the 20 new comets discovered by NASA's NEOWISE mission, an extension of the WISE space telescope mission
Asteroid Vesta's Crater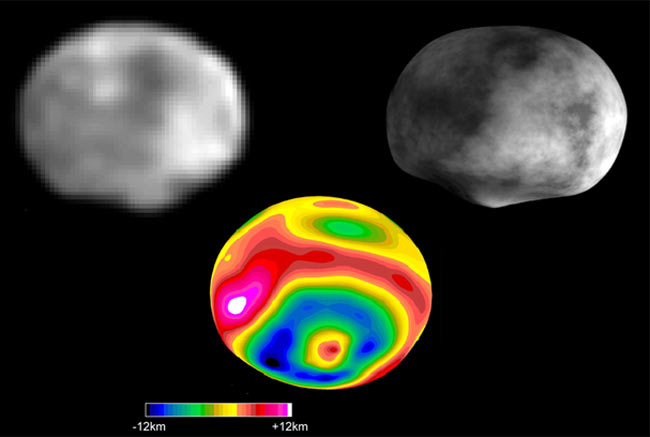 On its southern side the asteroid Vesta shows a huge crater. This picture shows the asteroid in an image taken by the Hubble Space Telescope (top, left), as a reconstruction based on theoretical calculations (top, right), and as a topological map (bottom).
Tiny Asteroid That Buzzed Earth Is a Fast-Spinning Rock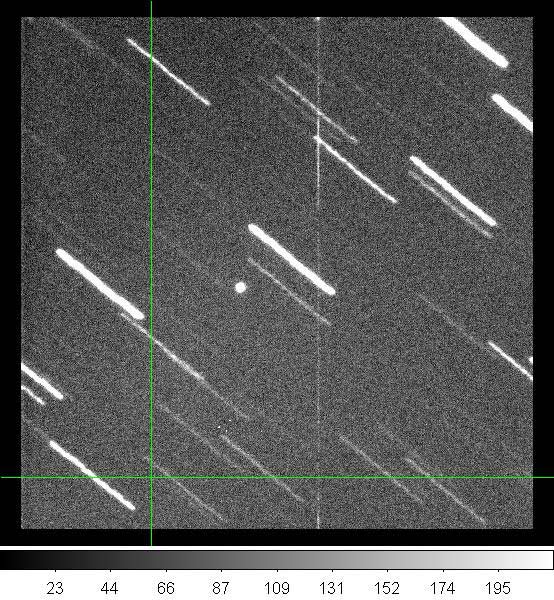 This photo taken on Nov. 16, 2010 shows the asteroid 2010 WA as it passes within 24,000 miles (38,000 kilometers) as seen by astronomers using a telescope at the Magdalena Ridge Observatory in New Mexico. It is about 10 feet (3 meters) wide.
As the Asteroid Turns: Hubble Records New Video of Asteroid Vesta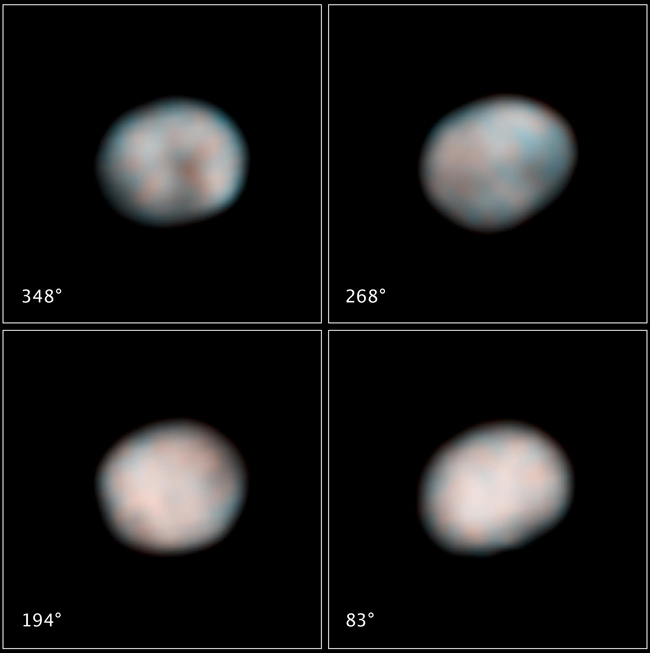 NASA's Hubble Space Telescope snapped these images of the asteroid Vesta in preparation for the Dawn spacecraft's visit in 2011. Each of the four Hubble images captures views of Vesta during its 5.34-hour rotation period.
Small Asteroid Zips Close By Earth as Astronomers Watch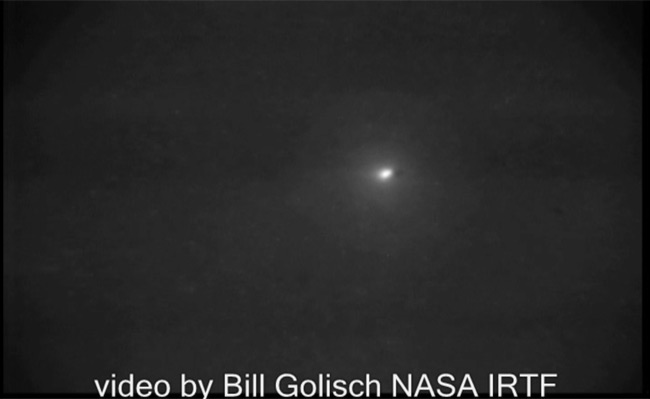 This photo, a still taken from a NASA telescope video, shows Asteroid 2010 TD54 as it passes Earth on Oct. 12, 2010. It made its closest approach to Earth at 6:51 a.m. EDT (3:51 a.m. PDT).
Full story
.
'X' Marks the Spot: Hubble Reveals Collision Between Asteroids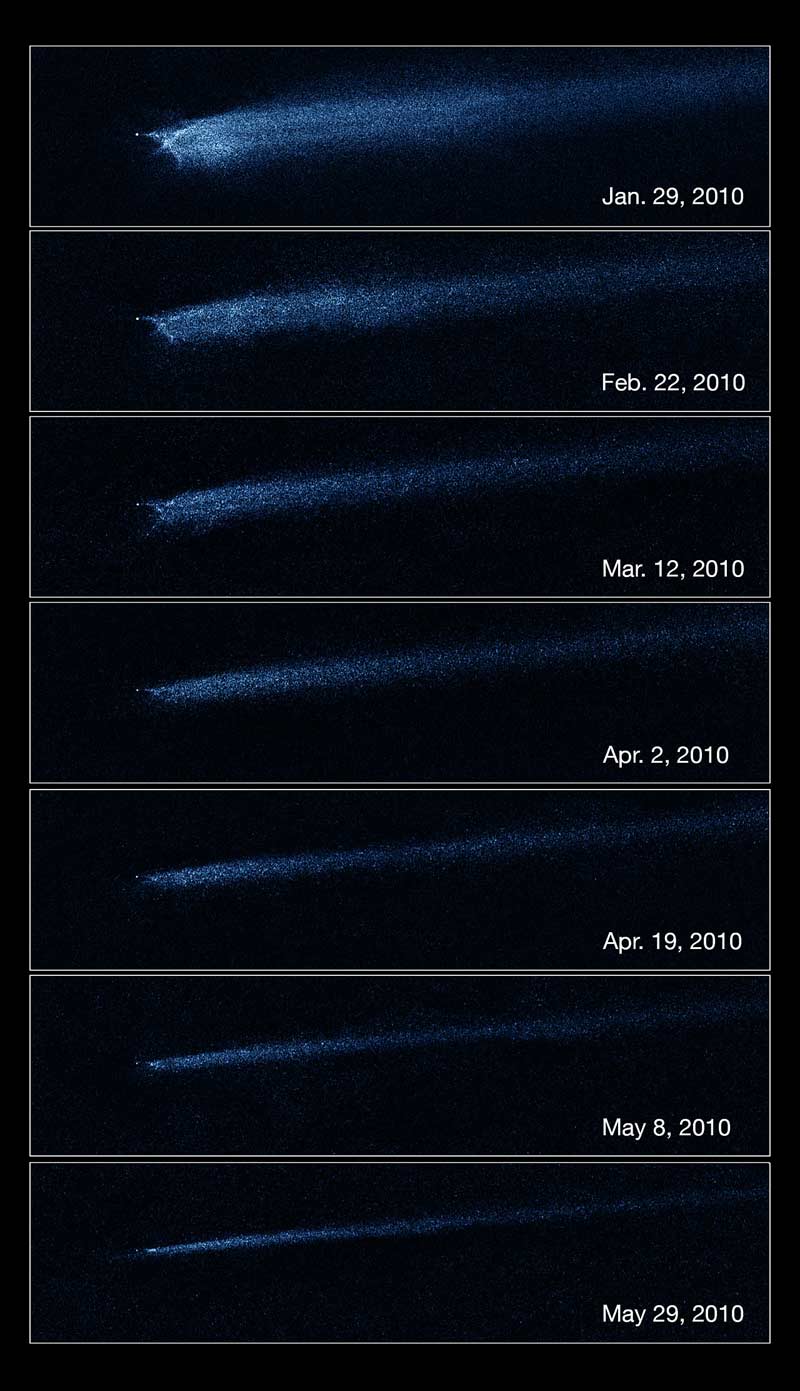 The Hubble Space Telscope captures aftermath of asteroid collision in this series of photos taken between January and May 2010. The images show the object P/2010 A2, an X-shaped objected created by two colliding asteroids.
Triple Asteroid Found Near Earth
A radar image of the triple asteroid system 2001 SN263.
First Images of Approaching Asteroid

These low-resolution radar images of asteroid 2007 TU24 were taken over a few hours by the Goldstone Solar System Radar Telescope in California's Mojave Desert. Image resolution is about 20-meters per pixel.
Potentially Dangerous Space Rock Lost, and Found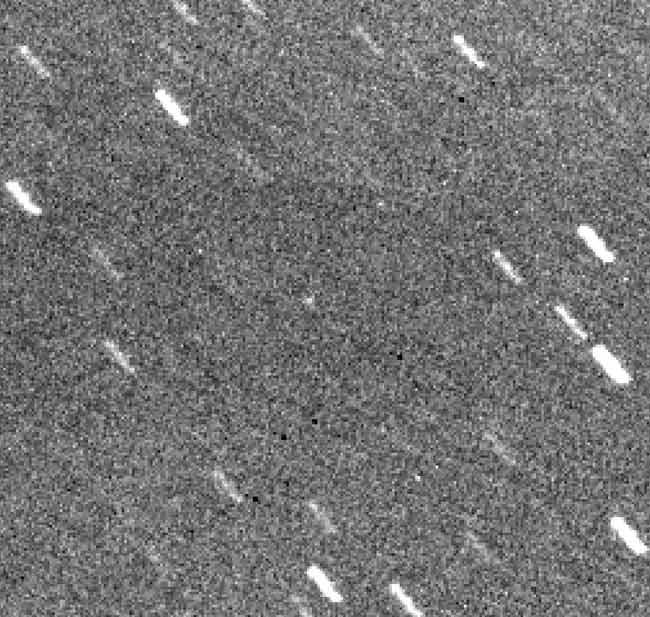 Minor planet 6344 P-L (=2007 RR9) among the stars on October 3, 2007. This is currently still a faint object, recorded in 3-minute exposures tracked on the target object by Paulo Holvorcem of Brazil, remotely using the 0.35-m telescope at Tenagra Observatory in Western Australia (at Shenton Park, near Perth) operated by Paul Luckas.
Japanese Craft Takes Close-up Photos of Asteroid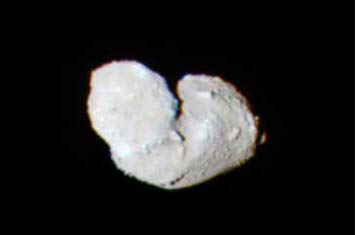 Scientists made this colorized image of the near-Earth asteroid Itokawa by combinging images taken in various wavelengths by Japan's Hayabusa spacecraft.
Japanese Space Probe Reaches Asteroid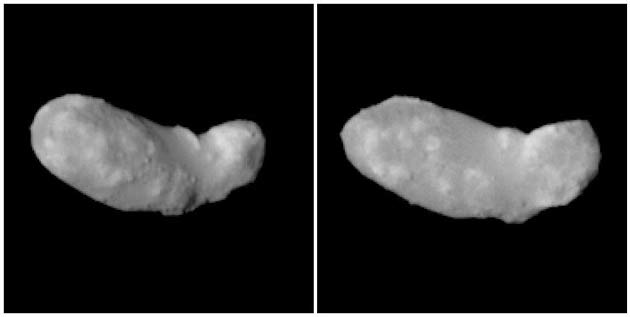 Hayabusa's view of asteroid Itokawa. The Japanese space probe has closed in on the object. Future objective of the spacecraft is to sample the asteroid and then return those specimens back to Earth.
Largest Asteroid Might Contain More Fresh Water than Earth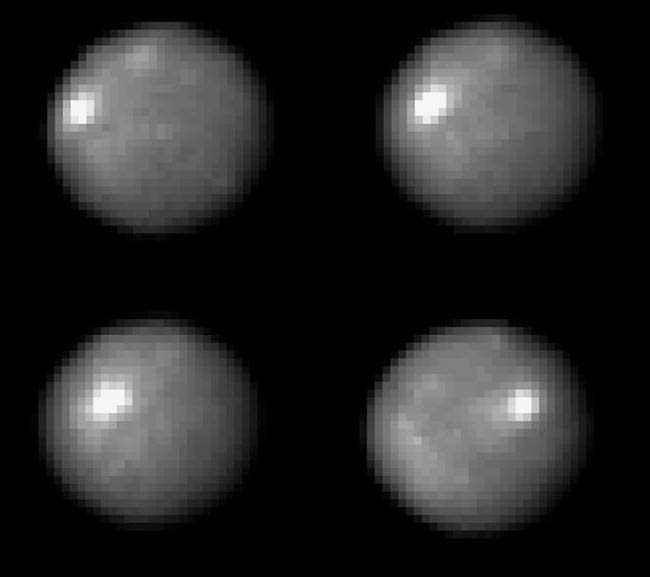 Snapshots of the asteroid 1 Ceres taken by the Hubble Space Telescope provide clues about the asteroid's interior make-up. The bright spot that appears in each image is a mystery.
Get Closer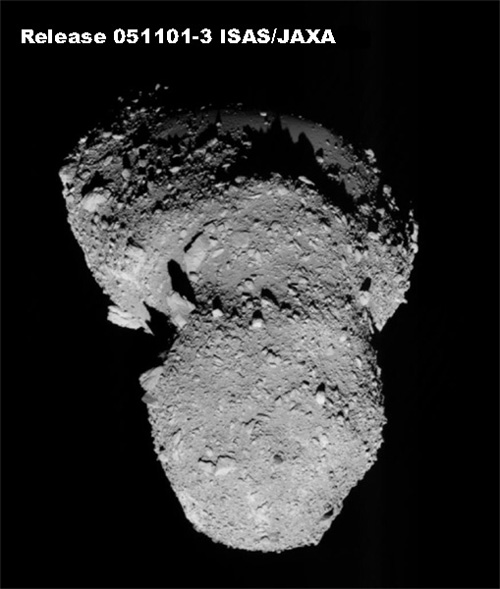 Japan's Hayabusa space probe has drawn closer to its celestial target: asteroid Itokawa. The spacecraft is being prepared for touchdown this month on the space rock, picking up specimens for return to Earth, and deploying a small lander that can hop from
Huge Tunguska Explosion, Still Mysterious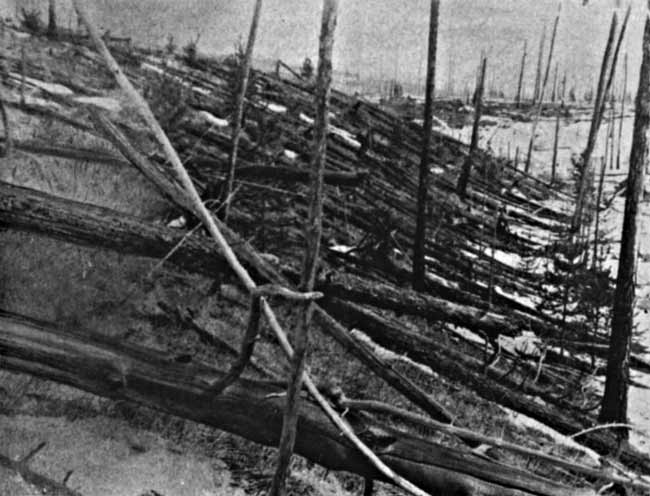 The Tunguska explosion flattened some 500,000 acres of Siberian forest on June 30, 1908. This image is from the Leonid Kulik expedition in 1927.
Asteroid Cruises Past Earth ... With a Partner!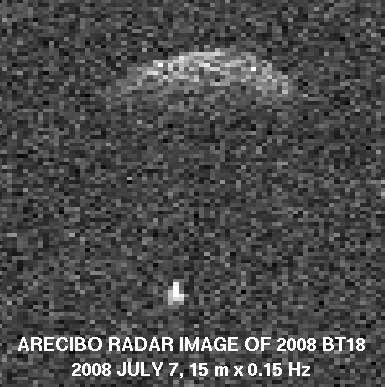 The asteroid 2008 BT18 is revealed to be a pair in this July 7 radar image. The larger object at top is thought to be spheroidal in shape. The shape of the smaller object (bright dot near bottom) is not known.
Potentially Dangerous Asteroid Spotted Passing Earth
The near-Earth asteroid 2005 YU55 — on the list of potentially dangerous asteroids — was observed with the Arecibo Telescope's planetary radar on April 19, 2010, when it was about 1.5 million miles from Earth.
Water Ice Discovered on Asteroid for First Time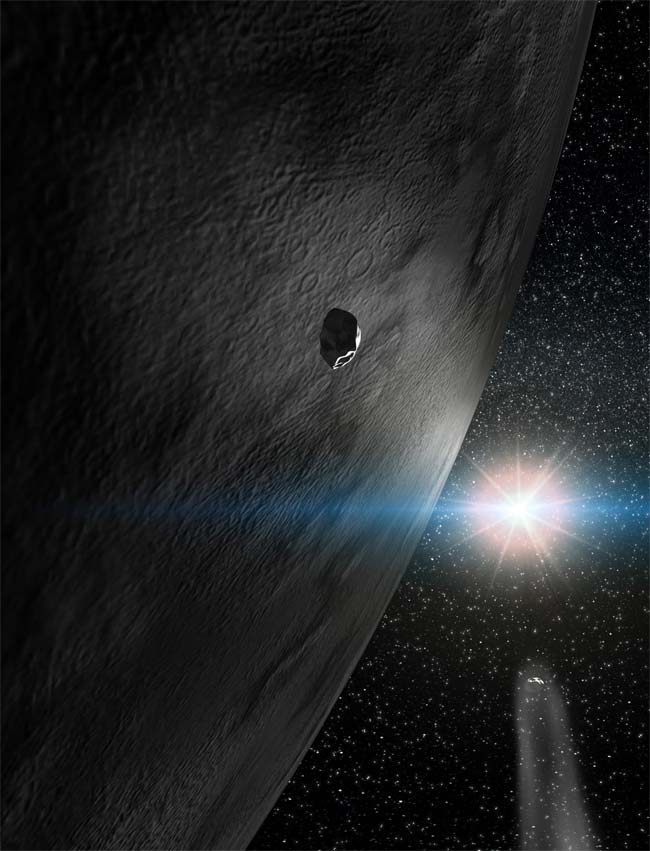 An illustration of the asteroid 24 Themis along with two small fragments that orbit with it. One of the small fragments is inert (as most asteroids are) and the other has a comet-like tail, produced by the sublimation of water ice from its surface. Scientists announced the first discovery of water ice on 24 Themis.
Full Story
.
NASA Sky-Mapping Spacecraft Spots First New Asteroid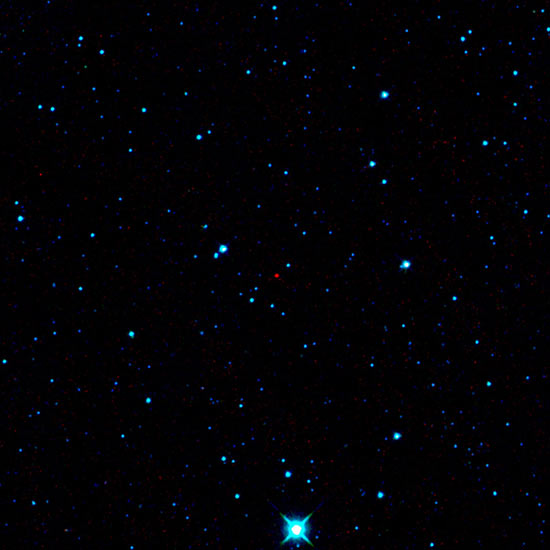 The red dot at the center of this image is the first near-Earth asteroid discovered by NASA's Wide-Field Infrared Survey Explorer, or WISE. The asteroid appears redder than the rest of the background stars because it is cooler and emits most of its light at longer infrared wavelengths. In visible light, this space rock is very faint and difficult to see.
Weird Object Zooming by Earth Wednesday is Likely an Asteroid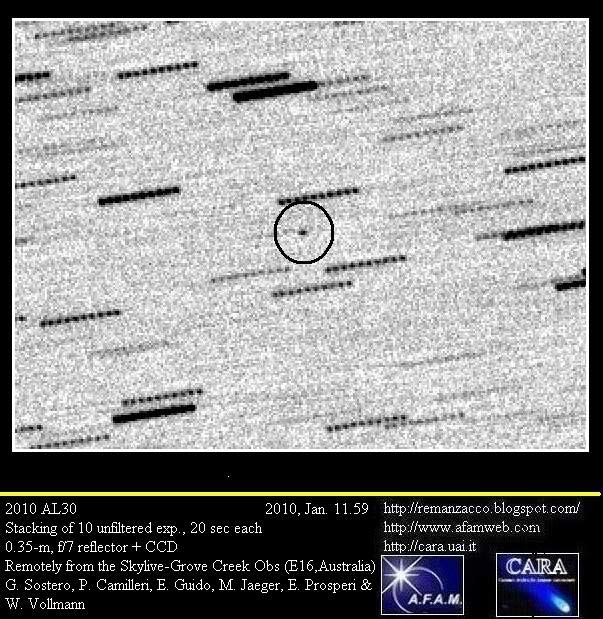 This image of the small asteroid 2010 AL30 was taken in Jan. 11, 2010, when the space rock was discovered, by astronomers at the Skylive-Grove Creek Observatory in Australia. It was released by the Remanzacco Observatory.
Rubbly Space Rocks? Asteroid Itokawa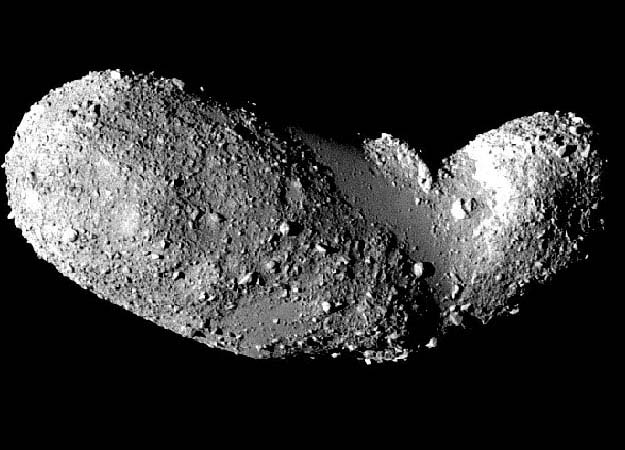 Asteroids, such as Itokawa, pictured here, are thought to be more like piles of rubble loosely clung together, than solid chunks of rock.
Near-Earth Asteroid Found to be Triplets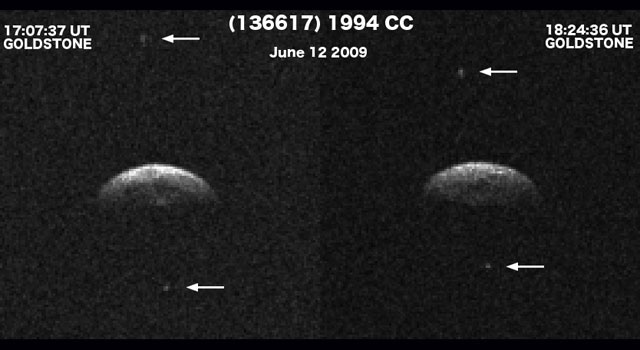 Radar imaging at NASA's Goldstone Solar System Radar on June 12 and 14, 2009, revealed that near-Earth asteroid 1994 CC is a triple system.
Despite Glitch, European Spacecraft's Asteroid Flyby a Success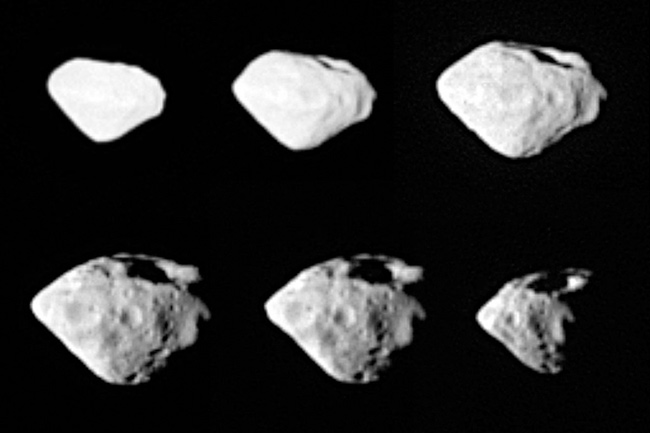 The 5-km wide Asteroid Steins seen from a distance of 800 km, taken from two different perspectives. At the top of the asteroid (as shown in this image), a large crater, approximately 1.5-km in size, can be seen. Scientists were amazed that the asteroid survived the impact that was responsible for the crater.
Eros: In Real and Imagined

A NASA image of asteroid Eros (left) and Robert Gaskell's shape model of the asteroid (right).