The world of drone photography and videography seems to be dominated by one or two brands in particular, but that doesn't mean that other manufacturers aren't worth considering, too.
Until Prime Day ends, Amazon is offering 20% off the Potensic ATOM SE drone, which we featured in our best beginner drones guide. It's one of the best affordable drones on the market, and with this $50 saving it can be yours for just $199.99, or if you opt for the Fly More Combo you can get it for $231.99.
It's definitely aimed at beginners who only want to snap casual photos and videos to share straight away, as the camera settings and features are where some design choices have been made to keep the cost down, but it's certainly more than suitable for anyone new to the hobby. There's no 3-axis mechanical gimbal, so the footage is FPV (first-person view) style, but that will only be visible when the drone is turned in flight or is trying to maintain its position in the wind, as we discussed in our Potensic ATOM SE review.
---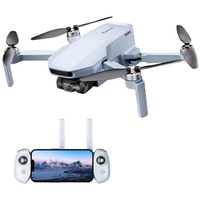 Potensic ATOM SE: was $249.99, now $199.99 at Amazon
Save $50 on this already very affordable drone from Potensic at Amazon, now down to just under $200. It has the capability to shoot photos and videos, and although the specs aren't as impressive as some of the more high-end drones, it's more than good enough for beginners.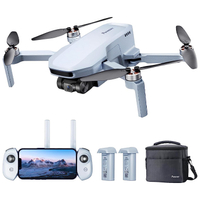 Potensic ATOM SE Fly More Combo: was $289.99, now $231.99 at Amazon
The Potensic ATOM SE Fly More Combo is also 20% off at Amazon, now down to $231.99 which will give you all the good stuff included with the regular deal, plus an extra battery and a carry case.
---
The Potensic ATOM SE is in the sub-250g weight category, meaning it won't need to be registered to fly (although do check your local drone regulations). The Chinese brand has definitely taken design cues from DJI, as the ATOM SE is very similar to the DJI Mini 2 in terms of looks.
There's no collision avoidance, which is to be expected in a drone of this price, and it only has basic camera controls. Most of the camera settings are automatic with the exception of exposure compensation, although it can shoot in both JPEG and RAW, and it can shoot video in 4K at 30 fps, 2.7K at 30 fps and 1080p at up to 60 fps. When we reviewed the Potensic ATOM SE, we were pleased with the image quality overall considering the price and what the drone has to offer.
In the regular $199.99 deal, you'll get the drone itself, the controller, one battery (31min flight time), all the cables, spare propellers and the screws & screwdriver for them. If, however, you spend the extra $32 and go for the Fly More Combo, along with all of that you'll also get another battery (giving an additional 31 minutes of flight time) and a carry bag.
Don't forget, if you want to make the most of Amazon Prime Day 2023, check out our Amazon Prime Day hub for a roundup of the best discounts and deals on telescopes, binoculars, cameras, star projectors, drones, lego and much more.
Key Specs: In terms of specs, it's not in the same league as DJI drones, but it's absolutely fine for beginners. It can shoot photos in both JPEG and RAW, though, which is rare for a drone of this price. It can also shoot video at 4K at 30 fps, 2.7K at 30 fps and 1080p at up to 60 fps.
Consensus: The Potensic Atom SE redefines what inexpensive beginner drone models are capable of alongside great build quality, but camera control is limited despite producing reasonably sharp images.
Buy if: You're a beginner looking for an affordable drone to take casual photos to share with friends and family.
Don't buy if: You're a photographer wanting to get high-quality images for your portfolio, as it's more of an FPV style so you're at risk of wonky horizons and you can only adjust exposure compensation. For photography, you'll want to check out our best camera drones guide.
Alternative models: If photography and/or videography is your game and you have the budget to spend, you can't go wrong with the DJI Mini 3 Pro, especially now that the DJI Mini 4 Pro has been released as it's likely to have come down in price.
Or if you're looking for better specs on a budget, we've spotted an amazing deal on the Holy Stone HS720G — now 51% off at just $209.99. It has image stabilization and more functions than the Potensic ATOM SE and is normally $427.99 — we really liked the Holy Stone HS720G when we reviewed it.