Parachute Development a Challenge for Commercial Crew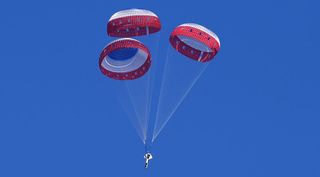 (Image credit: NASA)
WASHINGTON — An incident involving a test of parachutes for one commercial crew vehicle has heightened awareness of the challenges involved in developing those systems, as well as determining what constitutes an anomaly.
During a line of questions at May 8 hearing of the House space subcommittee, a top NASA official said that the parachute system developed for SpaceX's Crew Dragon spacecraft failed during a test in April at Delamar Dry Lake in Nevada. One of the four parachutes was set up not to open, but the other three failed to open fully, causing a test sled to hit the ground faster than intended and damaging it.
"It failed," Bill Gerstenmaier, NASA associate administrator for human exploration and operations, said about the test when asked about it by Rep. Mo Brooks (R-Ala.) at the hearing. "The parachutes did not work as designed."
He noted that the investigation into the incident was ongoing, including determining whether the failure was linked to a flaw in the parachute design or some aspect of the test setup itself. SpaceX, in a later statement, said it had performed five such "parachute-out" tests previously, all successfully.
On May 10, Boeing tweeted a video of a recent parachute test for its own CST-100 Starliner commercial crew vehicle. The video stated that Boeing had completed four of a planned five tests, "meeting all test objectives with parachutes that continually perform as expected."
Check out this behind-the-scenes footage of #Starliner's latest parachute test. It's part of our path to qualify the entire landing system to fly @NASA_Astronauts. pic.twitter.com/rO5a6XLiLuMay 10, 2019
The video didn't give additional details about this test, but Boeing spokesman Josh Barrett said the test took place Feb. 28 in New Mexico, dropping a Starliner test article from a high-altitude balloon. In that test, one of two drogue parachutes had an "intentional failure," while a previous test deliberately failed one of the three main parachutes.
"The objectives of these tests are to demonstrate parachute system performance, loads, deployment sequence and timing and to collect data for model correlation, analysis and certification," he said. "We have successfully completed and met all test objectives for all parachute qualification and reliability tests conducted to date."
Boeing's statement that all its parachute tests were successful seemed to be at odds with comments from others. Gerstenmaier, speaking with a couple reporters after the May 8 hearing, was asked if Boeing had also suffered anomalies in its parachute testing program. He said they had, but didn't discuss specific events.
Parachutes have been a topic of discussion, and concern, at recent meetings of the Aerospace Safety Advisory Panel (ASAP). "Parachutes, for example, remain a critical item for both providers," said Sandra Magnus, a former astronaut and member of the panel, at its latest public meeting April 25. "Parachute design is difficult to understand technically, it's difficult to measure the effectiveness of the design and difficult to model."
At an earlier ASAP meeting in October 2018, panel member Christopher Saindon also discussed parachute issues with Starliner in particular. "The system didn't function quite as expected, so there needs to be some analysis done on that," he said of a recent parachute test. He didn't elaborate on the specific issue, but said further tests were on hold until the "unexpected outcome" was identified.
Barrett said the biggest anomaly he was aware of in the Starliner testing program was that, on the third test of the system, pyrotechnic initiators for the parachutes didn't fire properly. However, he said that issue didn't interfere with the test outcome, which was a success.
In a May 10 statement to SpaceNews, Gerstenmaier noted that both companies had faced "obstacles" and "challenges" in development of parachutes, including test data "that informs how we move forward in the design of the parachutes and execute each test series."
"Boeing and SpaceX are making tremendous progress for their respective parachute design and test campaigns," he said. "Although Boeing and SpaceX have faced obstacles, each company's testing is unique, and each has experienced different challenges and results during their test campaigns."
Barrett said the Starliner parachutes are now qualified for the initial, uncrewed flight test of the spacecraft, known as the Orbital Flight Test and currently scheduled for August. One more qualification test is planned, and data from it, as well as the Orbital Flight Test and a separate pad abort test, will be used to certify the parachutes for the Crew Flight Test scheduled for late this year.
This story was provided by SpaceNews, dedicated to covering all aspects of the space industry.
Get the Space.com Newsletter
Breaking space news, the latest updates on rocket launches, skywatching events and more!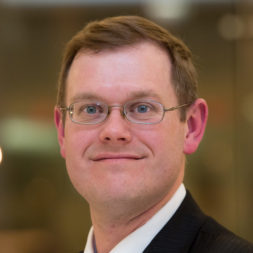 SpaceNews Senior Staff Writer
Jeff Foust is a Senior Staff Writer at SpaceNews, a space industry news magazine and website, where he writes about space policy, commercial spaceflight and other aerospace industry topics. Jeff has a Ph.D. in planetary sciences from the Massachusetts Institute of Technology and earned a bachelor's degree in geophysics and planetary science from the California Institute of Technology. You can see Jeff's latest projects by following him on Twitter.