Celestron's Starsense Explorer DX102AZ makes finding celestial objects simple. Its innovative technology takes the guesswork, star maps, or need for prior night sky knowledge out of the equation.
If you're used to using a smartphone to simplify tasks and quickly bring you up to speed with new tech or hobbies, this model might be just what you're looking for. We posted a deal about this model only recently when it was discounted to $399 offering great value considering this scope's intermediate features.
Now reduced even further for Amazon Prime Day a further $120 has been slashed from the deal price. You can now pick this scope up for just $279.96. Like most Amazon Prime Day deals, this price will likely only last until 23:59 tonight.
While, as we mentioned in our StarSense Explorer DX 102AZ review, some of the controls might feel 'clumsy' for more experienced users, if you're just getting into astronomy or have never used a telescope before, this wouldn't feel like anything out of the ordinary. The convenience of quickly finding any subject in the night sky with the help of your smartphone outweighs the slightly stiff movement.
---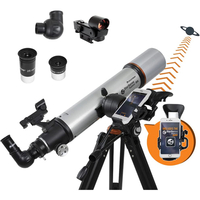 Celestron StarSense Explorer DX 102AZ: was $469.95, now $279.96 at Amazon
Save 40% on this innovative push to telescope. Use your smartphone with the Celestron Starsense app to guide your scope to any subject in its vast database of targets. The package has everything you need to get up and running quickly and is perfect for beginners. This deal ends at 23:59 tonight.
---
The 102mm aperture of this telescope offers superior observation. The 660mm focal length helps afford a good balance between magnification and field of view. In the box, you get everything you need to get up and running as a newcomer to skywatching, including two eyepieces (providing magnifications of 26x and 66x, respectively), a red dot finder scope, a smartphone adaptor and a CG-5 dovetail mount.
With this scope, your smartphone app is your personal guide to the night sky. As well as searching through the vast database of subjects, the app also suggests interesting targets through a 'tonight's best observing list,' which is automatic based on your smartphone's location.
Aside from the smartphone integration, the DX 102AZ features a fully coated achromatic objective lens to maximize light transmission and reduce chromatic aberration. The result is brighter and sharper images.

Don't forget, if you want to make the most of Amazon Prime Day 2023, check out our Amazon Prime Day hub for a roundup of the best discounts and deals on telescopes, binoculars, cameras, star projectors, drones, lego and much more.
Key Specs: The DX 102AZ is an achromatic refractor with a reasonable 4-inch (102 mm) aperture. The highest useful magnification is 240x and the lowest is 16x. The total kit weight is 14.2 lbs (6.44), so pretty heavy but not impossible to move around to different dark skies.
Consensus: As was the verdict in our StarSense Explorer DX 102AZ review, we think this system is more suitable for beginners than dedicated observers, so if you're a pro, you might want to look elsewhere. Newcomers to sky-watching will love how quickly it is to get up and running. You still have to physically move the telescope (rather than it moving by itself automatically) makes it feel a lot more involved than it is, which we think is a good thing.
Buy if: You want to quickly start exploring with all the gear and accessories you need to enjoy the night sky with little previous knowledge. Buy it when it's in the sale for the best value for money.
Don't buy if: You want a telescope for astrophotography with anything other than a smartphone — you'd need an equatorial mount for that.
Alternative models: For comparable models to the one featured here, head over to our best telescopes for beginners guide. These are models that we've selected as models suited to newcomers. The first that springs to mind is the Celestron Astro Fi 102, though this is much more expensive. If you want to dip your toes into deep-sky exploration, consider the Celestron NexStar 4SE. This model utilizes a computerized mount that slews the scope point at the desired subject chosen from a database. While in our review, we didn't think this scope represents the best value for money, that's one more reason to opt for the StarSense Explorer DX 102AZ instead.