Get a clear view of the sky for $200 less.
Canon's 10x32 Image Stabilization (IS) binoculars are just $899 right now on Amazon, an 18% savings over the usual. They're perfect for getting sharp images of stars, planets and other night-sky objects when you know your way around the sky.
Canon is one of our top recommended brands in best binoculars simply because it delivers its products so well for stargazers. In fact, the similar Canon 10x42 image-stabilized binocular set earned a five-star review on our website.
With the Canon 10x32 binoculars' high 10x magnification, along with automatic image stabilization, you can take in stunning detail of night sky sights. This binocular offers a fresh design, too, with an improved and comfortable grip. For those long nights, this is a perfect addition for astronomers. You may be able to pair with one of our best tripods for even more comfort, too.
---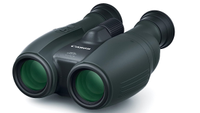 Canon 10x32 IS binoculars: was $1099 now $899 from Amazon.
Save $200 on these highly portable stabilizing binoculars that will let you take in the night sky jitter-free without the need for a tripod.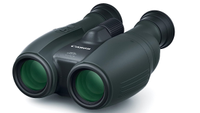 Canon 10x32 IS binoculars: was $1099 now $899 from Amazon.
Save $200 on these highly portable stabilizing binoculars that will let you take in the night sky jitter-free without the need for a tripod.
---
The great thing about binoculars like this is you have most of what you need in a single package. A neck strap, case, lens protectors are provided and the compact, 1.7-lb (0.77-kg) binocular is easy to carry on the road. Do make sure to pack extra batteries after you run through the provided alkaline battery in the package.
The binoculars are also easy to repurpose for watching sports events, birds and nature, or airplanes crossing the sky if you wish. Powerful microcomputer control technology allow you to slew the view to what you want to focus on.
What we really like about this Canon binocular is its image stabilization, which uses lens shift to counteract vibrations, movements and other small issues you may have while gazing at objects from afar. A gyro makes continual adjustments to your viewing field as you use the binocular, making the view consistent.
Still shopping around? We have lots of other binocular deals to recommend. For example, these Celestron SkyMaster binoculars are less than half price for Prime Day. If you're just getting started with binoculars, check out our beginner tips.

Don't forget, if you want to make the most of Amazon Prime Day 2023, check out our Amazon Prime Day hub for a roundup of the best discounts and deals on telescopes, binoculars, cameras, star projectors, drones, lego and much more.
Key Specs: The Canon 10x32 Image Stabilizing binocular is 1.7 lbs (0.77 kg) and includes a neck strap, lens caps, carrying case and an alkaline battery. It uses a gyro for lens shift stabilization, allowing the binocular to stop movements and vibrations you may accidentally create during stargazing activities.
Consensus: Canon is one of the top-rated brands and a very similar type of binocular, the Canon 10x42 binocular set, earned a five-star review on our website. Canon consistently delivers high-quality binoculars for the astronomy community and is well-known for a product that can last decades with proper care.
Buy if: You're an experienced stargazer who knows their way around the sky and enjoys getting a sharp, clear view of faraway objects such as stars, planets and galaxies. Also buy if you enjoy using binoculars for other things, like birdwatching or sports.
Don't buy if: Expense is an issue (it's an advanced and expensive set). Also don't if you're a beginner, as the viewing field is quite narrow and you will have difficulty finding objects. These binoculars come with batteries, so those who prefer to go electronics-free should go elsewhere.
Alternative models:
The Canon 10x42L IS WP binoculars received a five-star review on our website. They provide high-resolution optics that are extremely clear. Though pricey, it has waterproof features and lens stabilization that make the expense worth it for experienced stargazers. It includes an optical image stabilizer, a design that will stand up to outdoor wear, generous eye relief and a built-in tripod thread.
If you don't mind going without image stabilization, the Celestron Skymaster 20x80 binoculars offer even better resolution of night sky objects and it's a far more affordable set. In fact, the set is on sale for Prime Day. These binoculars include an extremely large aperture to capture views of lunar craters, Jupiter's moons or star clusters.