The Nikon ProStaff 3S 10x42 binoculars offer excellent image quality and durability and you can still pick them up for less than $100 at Walmart in this anti-Prime Day binocular deal.
We're a big fan of Nikon's quality optics having reviewed and used many of their cameras, lenses and binoculars over many years. For over a century, Nikon has been a world-renowned producer of high-quality glass for microscopes, camera lenses, spotting scopes, monoculars, and binoculars. These binoculars are now priced even cheaper than Amazon even though they're already discounted there, too.
Multilayer-coated lenses reduce glare and maintain bright views through the ample 42mm objective lenses. This makes the binoculars ideal for birdwatching, wildlife spotting, and astronomy.
10x magnification is strong enough for wide-field views of close subjects (or the night sky), but it is not ideal for viewing planets. For planet observation, we recommend binoculars with higher magnification such as the SkyMaster Pro 15x70. However, 10x magnification is well-suited for constellation observing and viewing larger celestial objects.
The ProStaff 3S binoculars feature a premium finish throughout, including golden logos and rubberized armor around the tubes to protect them from bumps and drops.
Don't forget, if you want to make the most of Amazon Prime Day 2023, check out our Amazon Prime Day hub for a roundup of the best discounts and deals on telescopes, binoculars, cameras, star projectors, drones, lego and much more.
---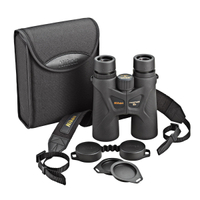 Nikon Prostaff 3S 10x42: was $129.99, now $96.95 at Walmart
Save 33% and pick up the Nikon Prostaff 3S 10x42 for less than $100 at Walmart. This is a good saving, especially if you've been waiting for the right time to purchase a pair of water and fog-proof entry-level binoculars.
---
Key Specs: The ProStaff 3S 10x42 binoculars are waterproof up to 1m for a maximum of 10 minutes. You could use them in the pouring rain worry-free and a shockproof rubber coating also protects them. Though we wouldn't recommend dropping them, it's still extra peace of mind if you're clumsy.
They are also Nitrogen purged, so the lenses will remain clear and fog-free when moving from warm to cold temperatures (such as taking them out of a warm bag at night). At just 20.3oz / 575g, and thanks to the roof prism design, they are slender and lightweight too. You can still adjust the interpupillary distance (the distance between your eyes) from 56-72mm, so they should fit most face shapes. The twist-up eyecups mean they are suitable for glasses wearers.
Consensus: These are a great quality pair of entry-level binoculars that are lovely to hold. They are compact and lightweight but still give a good (10x) level of magnification.
Buy if: You're looking for an affordable pair of binoculars with excellent build quality and the assurance that they are from a respected optics brand.
Don't buy if: You're looking for binos specifically for astronomy and skywatching. Though these will be 'ok,' there are better alternatives for this purpose on the market.
Alternative models: The massive 15x70 binoculars are excellent for viewing large deep-sky objects, and they're currently also on sale (though we admit that deal is on Amazon). If you'd prefer a telescope over a pair of binoculars, there's plenty on sale today too, including the Celestron AstroMaster 90AZ, which is available for a bargain $78!