Space Shuttle Atlantis to Launch European Lab Today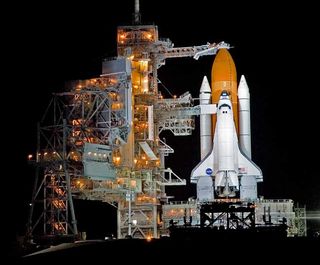 (Image credit: Dave Mosher, SPACE.com)
This story was updated at 5:26 a.m. EST (1020 GMT).
CAPE CANAVERAL, Fla. ? Today is the big day for NASA's launch of space shuttle Atlantis ? maybe.
When the100-ton orbiter launches, it will carry the seven-astronaut crew of the STS-122mission and the European Space Agency's (ESA) new Columbus science laboratorymodule into space.
But rainy weather moving toward Kennedy Space Center has a 70 percent chance of prompting NASA officials toscrub their planned 2:45 p.m. EST (1945 GMT) launch and try another day.
"We're feeling very good about this opportunity," said STS-122 commander Stephen Frick on Monday. "We'll keep looking at the weather, but we're very happy about the condition of Atlantis."
Ready tolaunch
Last night, NASA unveiled the orbiter at launch PAd 39A by rolling back its massive rotating service structure (RSS), which technicians use to service and inspect the shuttle launch system. And with the orbiter nearly prepared for launch, so are its astronauts.
Frick will be joined by pilot Alan Poindexter as well as mission specialists Leland Melvin, Rex Walheim and Stanley Love. ESA astronauts Hans Schlegel and Leopold Eyharts also join the crew.
While in space, Walheim, Schlegel and Love will execute several spacewalks to install the Columbus lab as well as perform some on-orbit maintenance. Expedition 16 astronaut Dan Tani, who has lived on the space station since October 2007, will switch places with Eyharts and head home.
NASA expects the crew to safely return to Earth on Feb. 18 if the agency manages to launch the orbiter today.
Rained out?
George Diller, a NASA spokesperson here at KSC, said mission managers met this morning and decided there were no issues to violate tanking of the orbiter's pumpkin-coloredexternal fuel tank.
"We are go to commence tanking," Diller said. The 3-hour process of loading some 500,000 gallons (1.9 million liters) of cryogenic fluids into the tank, which started at 5:21 a.m. EST (1021 GMT), marks a serious attempt by the agency to launch.
"The only issue [for launch] is weather," he noted. If rain or winds interfere with launch today, NASA testdirector Jeff Spaulding said there will be ample opportunities to make a space shot.
"Wehave a lot of flexibility and a lot of options out there if required," Spaulding said of launch opportunities extending into March, should NASA chooseto scrub. "We're in really good shape."
The nexttwo windows for Atlantis to blast off and catch up with the International SpaceStation (ISS) are Friday at 2:19 p.m. EST (1919 GMT) and Saturday at 1:57 p.m. EST(1857 GMT), should NASA call it quits for the day.
Spaceyscience
If Atlantis does launch this afternoon, it will ferry the Columbus lab to the space station, where astronauts plan to install it during their 11-day mission.
Thehigh-tech, 10.3-ton cylinder will be as big as a small bus and keep ESA astronautsbusy for at least seven years with space-based experiments.
"It'sextremely important after 12 years of working on the [Columbus module] programto have something that gets launched," said Alan Thirkettle, ISS programmanager for the ESA. "We'll own a part of the station, we'll have therights to have our astronauts flying on there ? to be icons for youth of thefuture in Europe."
Thirkettleexplained that the module's on-orbit experiments are expected to help develop newmedicine, materials and water treatment techniques.
NASA will broadcast Atlantis' STS-122 mission live on NASA TV. Click here for SPACE.com'sSTS-122 mission coverage and NASA TV feed.
SPACE.com Video Interplayer: NASA's STS-122: Columbus Sets Sail for ISS
The Great Space Quiz: Space Shuttle Countdown
VIDEO: ISS Commander Peggy Whitson Takes Charge
Get the Space.com Newsletter
Breaking space news, the latest updates on rocket launches, skywatching events and more!
Former Space.com contributor
Dave Mosher is currently a public relations executive at AST SpaceMobile, which aims to bring mobile broadband internet access to the half of humanity that currently lacks it. Before joining AST SpaceMobile, he was a senior correspondent at Insider and the online director at Popular Science. He has written for several news outlets in addition to Live Science and Space.com, including: Wired.com, National Geographic News, Scientific American, Simons Foundation and Discover Magazine.